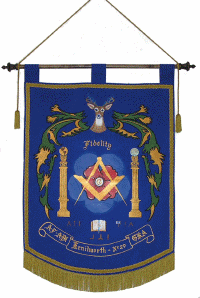 About Kenilworth Lodge
Published: June 10, 2008 12:07 PM - Red Deer Advocate , Used With Permission - exerpts from original article
In May 1908, Kenilworth Lodge No. 29 of the Freemasons was chartered.
It was an indication of the growth not only of the freemasonry in Red Deer and area, but also the great growth and development of the community as a whole
in June 1894 — three years after the townsite of Red Deer was first established —eight Masons met in the old school room, above Burch's Store on the corner of Gaetz Avenue and Ross Street. It was agreed that the time had come to pursue the formation of a lodge in the fledgling hamlet.
While all of those present were Masons, they had diverse backgrounds. One was a veterinarian and the village overseer (reeve), another was Red Deer's first lawyer, two were merchants, one was the local school principal, two were local farmers and the eighth man owned the local brickyard.
With this promising indication of interest, Red Deer Lodge No. 59 was instituted under a dispensation granted by the Grand Lodge of Manitoba. Almost immediately, two more members were proposed.
One was a local merchant who had acted as the community's first postmaster. The other was the local CPR station agent.
.