The Waller Masonic Lodge #808 AF & AM
P.O. Box 158 - Waller, TX 77484
Worshipful Master David "Dave" Reagan - Secretary John "Corky" Daut
The Mailed Version Of The September 2009 Newsletter
It's Happening At Waller Lodge
By Corky
It was decided at the August meeting to construct a memorial garden of evergreen shrubs and other low growing plants between the front wall of the building and the front sidewalk.
A $20.00 donation will have a shrub or low growing plant planted as a memorial for Masonic Brothers who have past away. Do you have a favorite Brother, maybe the one who taught you the work or a any past Mason you wish to be remembered.
We already had a small arborvitae for James "Jim" Brown and donations have already been received for plants to remember Brothers Kelly Cox by Bob Podvin, George Burton by Fred Loofs, A.W. Umland by Clem Reynolds, "Bill" Garrett by Calvin Trapp, C.L. Garrett by Greg Williams and W.N. Daut by John "Corky" Daut
- - - - - - - - - - - - - - - - - -
A decision was also made to go ahead with the plans to remodel the Lodge kitchen to make it more efficient and add dish washers.
Brother "Wes" Mersiovsky the Senior Steward for 2009/2010 made the suggestion that the Lodge should be a leader in helping the world live green (Avoid waste and preserve resources). We will save money and stop throwing away foam plastic plates, bowls, silverware and cups that last forever in landfills. This will be accomplished by installing dish washers and using real china and silverware
The project will be funded by a fundraiser by selling embroidered Masonic emblem shirts. Dress knit shirts in assorted colors with a square and compass embroidered on them and with the Lodge name and the Brother's name if wanted. The dress knit shirts will go for a donation of $25 or more. Plain tee shirts with same embroidery will go for a donation of $20 or more. Dress shirts will soon also be available
And, if you have a favorite shirt, it can be embroidered the same way for a suitable donation.
- - - - - - - - - - - - - - - - - -
Becky Brown stopped by the Lodge at the July stated meeting night in order to express her appreciation for the donation and tell everyone how blessed she feels to be a member of the Waller Lodge family.
+ = + = + = + = + = + = + = + = + = +
SICKNESS AND DISTRESS
Please say a prayer for,
+ = + = + = + = + = + = + = + = + = +
As Bob Scarborough used to say, "Everyone is disgustingly healthy this month. Thank goodness, no one was reported sick or in distress.

Relief Lodge No. 236 AF & AM Observes 150th Anniversary
Relief Lodge No. 236 AF & AM in Navarro County
Buddy Wigley, a past master of Corsicana's No. 174 lodge and noted area Masonic historian, spoke at length about the history of the Kerens lodge. He noted the feeling he gets each time he enters Kerens Masons' present lodge hall, one they have used for the past 92 years. "Every time I go into the lodge, I look at the pictures and think of these men," Wigley said, "the lives they lived and the integrity with which they lived it." The historian gave context to the time period around the founding date of the Kerens lodge — 16 June1859. He noted that date was about two years before the first shot of the Civil War was fired at Ft. Sumter in South Carolina. Wigley said that the Navarro County population in 1859 was listed at 7,159 people. The population for Rush Creek/Wadesville — the towns that would later become Kerens after moving to Kerens' present location — was 52 people that year.
The initial lodge building was in Wadesville and was a two-story structure, Wigley said. He said Masons used the second floor as their meeting place and opened a public school in the ground floor, even paying the teachers that instructed the town's children. He noted that Masonic lodges across the state often see their ages mirror that of the communities where they are located. They often were formed in the communities' early days, after businesses and schools came in, and usually around the time of the formation of the first churches there.
Robert Stucker, worshipful master of Relief Lodge No. 236 in Kerens, presents Billy McManus with the Golden Trowel Award, the highest honor a Masonic lodge can present one of its members.
Relief Lodge No. 236 of Kerens Worshipful Master Robert Stucker opens the celebration ceremonies for the lodge? 150th anniversary, held Saturday in the Kerens Alumni Center. Also at the head table were, from left, 50-year lodge member Joe White, Stucker, Texas Grand Master W. David Counts Jr., and District Deputy Grand Master (110th District) Hughie Libhart. Robert Stucker, worshipful master of Relief Lodge No. 236 in Kerens, presents Billy McManus with the Golden Trowel Award, the highest honor a Masonic lodge can present one of its members. McManus is a past master of the Kerens lodge and a former Navarro County commissioner for Precinct 2 Otis Ray Spurlock, center, has his pin for 50 years of membership in Relief Lodge No. 236 in Kerens pinned on his lapel by his wife Ann as Texas Grand Master W. David Counts Jr. looks on.
Relief Lodge No. 236's present worshipful master, Robert Stucker, gave the opening welcome at the event. Longtime lodge member Joe L White was the master of ceremonies. White, along with Otis Ray Spurlock and Oscar Christman, were presented with 50-year membership pins for their long association with the Kerens lodge. Billy McManus — a past master of the lodge and a former county commissioner from Precinct 2 — was awarded a Golden Trowel award for his service to the lodge. The Golden Trowel award is the highest honor a lodge can bestow to one of its members. Saturday's sesquicentennial celebration for the lodge was liberally attended by many dignitaries from across the county and from the state's Masonic organization.



'The Temple Unfinished

Tina Hinz
WCF Courier
Waterloo IA
The Virgin Weeping A rendition of
Bro 0Amos Doolittle's art as a mural
at King Hiram;s Lodge, Province-
town MA.
The Masonic Temple has a secret: The third and fourth floors were never finished. Local Masons have long been baffled by the mystery of their intended use. "I've looked at the plans on the building, and I've looked at them with others," said Jons Olsson, a member of Martin Lodge No. 624. "My father was a structural steel engineer, and he couldn't figure (it) out. "Gosh only knows."
On Hold
The unfinished portion is a disappointing but fascinating exhibit compared to the magnificence of the basement and first two levels, which feature marble details, a grand staircase and ornamental railings. The ballroom was once the largest in the city. "It's truly a mystery with the money that was put into this," Olsson said. "All the marble -- this was hugely expensive to be put in when it was put in."
The Lodge in Waterloo town MA.
Unfamiliar World
The Masons were formerly at East Park Avenue and Sycamore Street. They purchased the lot at East Park Avenue and Mulberry Street in 1920 to accommodate a 90-by-142-foot building and to move outside of what was then downtown. Construction proceeded as money became available. Interior work didn't begin until the organization's previous home sold in 1927. The building cost an estimated $350,000 and was dedicated 22 November1928. According to Courier articles from that time, the top floors would be finished later. "We know they ran out of money, but they didn't run out of space," Olsson said. "They didn't need to finish off the upper floors."
Olsson stepped from the terrazzo-finish staircase of chipped marble and aggregate into the project abandoned decades ago. "Now we're entering into a world unknown by most people," Olsson said, untying a rope to open the door. A large room makes up the third floor. The fourth consists of a mezzanine-type layout overlooking the floor below. A walkway connects the mezzanine to a roof access in the building's southwest corner. Support beams also indicate a potential fifth floor accessible via "stairs to nowhere," Olsson said. "That was being readied for ... a concrete floor to be poured on top of it," he said. "See how close together these beams are?"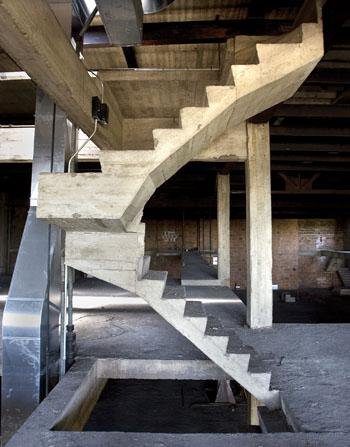 Stairs to nowhere.
Unfamiliar World
Olsson can't help but think construction crews were proceeding with a specific design before they ran out of money, especially with partially finished floors and elec trical conduit installed. Also, multiple stairways --- some blocked --- and an elevator shaft lead to the unused space. "When you look out here and you see the tremendous support in the middle of the building, and then the other reinforced beams and support for clear span, there were obviously some intended uses," Olsson said. Speculation"
The two floors were considered for rental property as a source of revenue for the building project. The idea was dropped as too expensive. "In the long run, that was not a good decision," Olsson said. "The Masonic Temples that really are financially successful today are the ones who don't have to try and cover their overhead with dues. They have other income." Other Masonic Temples in Iowa feature theaters. Members possibly had a similar idea in mind for Waterloo. According to the Courier on 18 September 1928, "the top two floors, which will be finished later, are composed mostly of a mammoth two-story lodge room."
Future plans
Realtors have toured the space to suggest ideas, like condominiums or offices. Another suggested an Olympic-sized swimming pool. The thick-walled structure is "solid as a rock" and was designated the No. 1 bomb shelter during World War II, Olsson said. John Ralston, Clinton Shockley, Mortimer Cleveland and Howard Burr --- then leading architects in Waterloo --- chose a bridge girder design typically used for spans that carry pedestrian, automobile, truck and rail traffic. More energy-efficient windows were installed in the 1970s or 1980s. "Quite a view from up here," Olsson said, gazing over downtown. "We'd love to see it be used in some way," he added. "We did work with a firm a few years ago on the possibility of them.



Fiji Detains Freemasons Over 'Magic Rituals' Daily Telegraph
London UK
16 July 2009

Police in Fiji detained 14 members of a masonic lodge after villagers complained that they were practicing 'sorcery' with wands, compasses and a skull. Eight Australians and a New Zealander were among those jailed for 24 hours after their Tuesday night meeting was raided by police. A member of the lodge blamed "dopey village people" for the raid on the island of Denerau.

The Australian foreign ministry said the group was detained for convening a Masonic meeting without the right permit. The New Zealand Herald quoted an unnamed police spokesman who said officers acted on reports from villagers of "strange goings-on" at the lodge. The lodge secretary showed police a permit for the meeting but was told it was not relevant and the group was locked up. The Canberra Times reported that Fiji's prime minister, Frank Bainimarama, ordered their release but investigations were continuing. Emergency regulations imposed by Fiji's military regime allow police to detain people for up to 48 hours without charge.

(Newspaper Editor: The Fijians do much harm to themselves by such outrageous action. The phrase 'dopey village people' has now spread over the web.)
Presidents And Freemasonry
It is reported that Lyndon B. Johnson (U.S. President 1963-1969) was a Freemason in the sense that he took the Entered Apprentice, or 1st Degree, but did not continue to the 2nd and 3rd degrees. Some would consider him to have been a Freemason, but others would not. EA Oct. 30, 1937, in Johnson City Lodge #561, Johnson City, TX.
There have been reports that Thomas Jefferson (U.S. President 1801-1809) was a Freemason, but most researchers now believe there is no evidence of this.
At least one U.S. President, John Quincy Adams was a very active Anti-mason. He wrote and spoke about his views that Freemasonry was against the ideals of the United States, and that it would be better for the country if Freemasonry were to disappear. His father, John Adams, was probably at least mildly opposed to Freemasonry.
Masonic Anniversaries
Brother
Years
James B. Riley
53
Clem Reynolds
51
Maurice Tucker
50
Eric. Flanagan
34
Kenneth L. Cones
11
Happy Birthday To
Brother
Age
James B. Haney
77
J. Fred Loofs
73
Robert J. Blackman
62
Louis Schiel
54
Michael Risley
52
Michell R. Bosarge
37
The Small Town Texas Masons E-Magazine
The day finally arrived.Forrest Gump dies and goes to Heaven.He is atthe Pearly Gates, met by St. Peter himself., the gates are closed, and Forrest approaches the gatekeeper.

St. Peter said, 'Well, Forrest, is certainly good to see you.have heard a lot about you.must you, though, that the place is filling up fast, and we have been administering entrance examination for everyone.The test is short, but you have to pass it before you can enter.'

Forrest responds, 'It sure is good to be here, St. Peter, sir.nobody ever told me about any entrance exam.sure hope that the test ain't too hard. was a big enough test as it was.'

St. Peter continued, 'Yes, I , Forrest, but the test is only three questions. First; two days of the week begin with the letter T? Second; How many seconds are there in a year? Third; is God's first name?'

Forrest leaves to think the questions over. He returns the next day and sees St. Peter, who waves him up, and says, 'Now that you have had a chance to think the questions over, tell me your answers.'

Forrest replied, 'Well, the first one, which two days in the week begins with the letter 'T'?, that one is easy.would be Today and Tomorrow.'

The Saint's eyes opened wide and exclaimed, 'Forrest, that is not what I was thinking, but you do have a point, and I guess I did not specify, so I will give you credit for that answer.about the next one?' asked St. Peter.

'How many seconds in a year? Now that one is harder,' replied Forrest, 'but I thunk and thunk about that, and I guess the only answer can be twelve.'

Astounded, St. Peter said, 'Twelve? ?, how in Heaven's name could you come up with twelve seconds in a year?'

Forrest replied, 'Shucks, there's got to be twelve: January 2nd, February 2nd, March 2nd. . . '

'Hold it,' interrupts St.. 'I see where you are going with this, and I see your point, though that was not quite what I had in mind....but I will have to give you credit for that one, too.us go on with the third and final question. Can you tell me God's first name'? 'Sure,' Forrest replied, 'it's Andy.'

'Andy?' exclaimed an exasperated frustrated St Peter. Ok, I can understand how you up with your answers to my first two questions, but just how in the world did you come up with the name Andy as the first name of God?'

'Shucks, that was the easiest of all,' Forrest replied.'I learnt it from the song, ANDY WALKS WITH ME, ANDY TALKS WITH ME, ANDY TELLS ME I AM HIS OWN.' St. Peter opened the Pearly Gates, and said: 'Run, Forrest, run.'

Lord, Give me a sense of humor Give me the ability to understand a clean joke, To get some humor out of life, And to pass it on to other folks! (Thanks to Calvin Trapp)




<! -------------------------------------------------------------------------------------------------------------------------------------------------------------- >
The Waller Lodge
Electronic Newsletter Subscriber's
Extra Features
<! -------------------------------------------------------------------------------------------------------------------------------------------------------------- >

The Masonic Fables Series


Reprinted With Permission Of The Author Bro. Terence
Satchell - From The Phoenixmasonry, Inc. Web Site


What is All This Secrecy About?

I sat down on a bench and pulled out my pipe. I rubbed out a flake of my beloved Virginia tobacco, struck a match, and puffed as I contemplated the subject of the meeting I was about to have with a Brother. He was new to the lodge and had questions, so I had agreed to meet him in the park between our places of business. I noticed him approaching me, smiling and waving as he progressed along the sidewalk.

"Good afternoon," he said, "I really appreciate you taking the time to meet me here. I have so many questions about the degrees, but everyone else seems to change the subject when I bring them up."

"Well, that isn't much of a surprise," I replied, "chances are that they lack the knowledge to give you a proper answer. Their silence is the best way to maintain their intelligent reputation. What kind of questions do you have?"

"Well, I'm kind of ashamed, but I don't really get the whole concept of secrecy...I mean, what is secret and what is not. My wife is constantly bugging me about what we do in lodge, but I guess I don't know what to tell her. I am excited about the lodge and want to share my excitement with someone, but well...you've heard the, uh, penalties, and I don't need to be going around getting myself into trouble." He had a sincere expression of anxiety on his face. "So, just how secret are we?"

I chuckled at his nervous demeanor. The older members had certainly put the fear of God into this lad. It is always an unfortunate side affect of the rigid atmosphere that some of our stalwart members brought into lodge.

"First of all my Brother, the penalties are symbolic. They are simply meant to represent the sincerity with which you hold your obligations. You needn't be worried about them, as long as you walk upright and life and strive to be a good Mason and don't go around announcing our secrets, you will be a welcome member of our fraternity."

"But, what are those secrets? How do I know when I am announcing them to everyone if I don't know what they are?"

I paused for a second and watched as a businessman hustled by, munching on a hot dog. "Well, are the ideas of equality, truth, enlightenment, and honor hidden from the world?"

"Absolutely not!" he replied with enthusiasm.

"Well, just as these are not hidden from the masses and are also taught in a Masonic lodge, so are all of the lessons and concepts which the order teaches common knowledge. There is nothing secret about the lessons we teach. Many people believe in God, morality, and the immortality of the soul, there is nothing esoteric about that. You can tell your wife all about what you learned in lodge and how it has made you a better man."

"That's a relief," he said as he wiped the perspiration from his forehead with a handkerchief,"so what is off limits?"

"What makes Masonry esoteric is the forms by which we teach these lessons. The system of hieroglyphic moral instruction which we use to teach these lessons is secret. Symbolism has long been the best way to express abstract concepts and you witnessed that. There are doubtlessly many lessons taught to you in Masonry that you were already aware of, but their presentation deeply imprinted them upon your mind."

I stopped to relight my pipe, the still, humid summer air had caused the embers to be extinguished. "Go on..." my friend said.

"So, we keep the forms secret so that they may have the maximum impact upon you. Also, they are how we can identify one another, lest someone undeserving of our lessons receive them and misinterpret their meaning. These are known as the modes of recognition, you didn't think that it was just a silly handshake did you? Everything in Masonry has a special meaning. I am still learning many of those and you will continue to learn, as well. We never become true Master Masons, because we are always improving our craft. The secrets are simply the esoteric symbols and forms by which we may know a man to be a Brother. This teaches us to be trustworthy and protects our craft from fraud."

"Oh, I see, so I can tell my wife all about the lessons which have improved my character, but I just can't show her how they were taught to me!"

"You got it!" I replied with a grin. I always enjoy watching the Masonic light burn in a new Brother's eyes.

"My lord, I am famished, I haven't eaten a thing all day. I'd better grab a frank and get back to work!"

"You'd better do that," I said, "I hope I helped out a bit."

"You sure did, say you want to meet here tomorrow?"

"Absolutely," I replied, "but next time, bring your lunch!"

Easy Computer Back-ups
I have been recommending Mozy to people for some time now.  I have people ask me quite frequently how to back-up their computer.  With external hard drives? It works but people forget and it still leaves data prone to theft, fire and other things.  More often than not my recommendation goes to the Mozy product.  Quite simply… It's easy to install… You don't have to remember to download because you schedule it, and it saves all data remotely with 128-bit SSL encryption and stored with 448-bit Blowfish encryption, so your data is protected from theft, fire and computer malfunction.  Just sign-up, install and follow the initial directions. It works for Macs also…
I recommended this to my father over a year ago and he loves it.  It never occured to me until the other day when he was asking me about it… Every morning he get's up and goes to the computer.  A message is waiting for him telling him his files have been backed-up.  He is reassured that if somethign goes wrong that day he has the manner to get just about everything back.  At under $5 a month he thought it was a steal and I was happy because he doesn't call me every night asking how to back-up the computer. That doesn't get me off on all Tech service calls to my parents house but it's progress.
It would work to back-up lodge files also…
If your interested here is the sign-up page.

Bro Washington, Distiller
by Emily Brown
USA Today
Revolutionary War hero. Father of our country. Master distiller? George Washington boasted many honorifics in his life, but owning the country's largest and most successful whiskey distillery in the late 1700s is perhaps one of the least known accomplishments of the first president. Washington-the-entrepreneur was an early American success story. At his sizeable Mount Vernon plantation in Virginia, some 15 miles south of Washington DC, the general had a lucrative distillery, fishery, meat processing facility, gristmill, blacksmith shop, textiles production and seized opportunities in farming— making his plantation nearly selfsufficient and creating enough goods to turn a profit.
In April, the Mount Vernon distillery and adjacent gristmill will open to the public for the season. And for the first time in nearly 200 years, liquor fans will soon be able to purchase whiskey made in the distillery, following Washington's own recipe." There's nowhere else in the country you can see what a distillery was like in the 18th century," said Dennis Pogue, Mount Vernon's associate director of preservation who oversaw the distillery's reconstruction. And the experience shows visitors an intriguing side of George Washington. "It's an opportunity to talk about different aspects of Washington's career that most people don't know about," he said.
Whiskey was one of Washington's most important business ventures at Mount Vernon. At peak production, the distillery used five stills and a boiler and produced 11,000 gallons of whiskey. With sales of $7,500 in 1799, it was the country's largest distillery at the time. Today it is the only distillery in North America that demonstrates the 18th-century distillation process.
"The science doesn't change, it's the application of the science that's different," said Dave Pickerell, a master distiller and former vice president of operations for Maker's Mark who oversaw the distilling of Washington's recipe for Mount Vernon.
In the 18th century, water was brought into the distillery by wooden channels, there were no thermometers to assist in measuring alcohol content and knowing when chemical reactions took place, and the role of yeast's fermentation wasn't quite understood, Pickerell said. Early distillers used "lots of visual and olfactory cues you can go by to get to the same point, but it took a lot more experience."
Pickerell and a few helpers distilled about 100 gallons of Washington's whiskey in late February, the first time since the early 1800s that Washington's recipe was made. The gristmill processed the grain, allowing the two buildings to operate together as they did in Washington's day. Mount Vernon workers empty a finished pot of whiskey into a jug for storage. The whiskey is clear until it is aged.
WASHINGTON HOOCH
A $2.1 million grant from the Distilled Spirits Council and the Wine and Spirits Wholesalers of America allowed for the excavation, research and reconstruction of the distillery. The archeological investigation began in 1997 and the distillery opened to the public in March 2007. Surprisingly detailed documentation about Washington's operation allows historians to know which families frequented the distillery, quantities and prices paid for the whiskey and a record of the distillery's construction and operation.
"There is no better way to showcase the industry's proud heritage and shine a light on it than show the important role George Washington played in the industry," said Peter Cressy, president of the Distilled Spirits Council. Just as Washington sold his spirits immediately –not aging his whiskey as is the standard practice today –the first bottles of whiskey will be for sale around June at the estate's gift shop. Washington's whiskey will be noticeably clear, as it is the barrel-aging process gives whiskey its darker color.
The former president's consent to start the business came with a push from his plantation manager James Anderson, a Scottish man with distilling experience, and from practicality — his gristmill had leftover ground wheat, corn and rye that was unsellable.The distillery was originally built in 1797 and burned to the ground in 1814. Washington's death in 1799 curtailed its quick success. Visitors to the distillery, about three miles down the road from the Mount Vernon estate, can watch costumed distillers demonstrate daily between April and October how whiskey is made, though the distillers are actually using water.
The distillery also has a storage cellar, office and two furnished bedrooms where the site manager and assistant would have lived. The adjacent gristmill is a four-floor water-powered mill which produced, among other things, flour that was exported around the world. "Everything he did set a precedent," Cressy said. "It's extraordinary.
A Little Military Humor From Iraq
Sometime A Flyer
Always A Lady



Paul Harvey, DeMolay

By Gerald A Edgar


The attached tribute to Sr. DeMolay Paul Harvey, America's most famous and popular radio newscaster for over a half century was published in several daily newspapers, including the largest ones in Iowa (Des Moines Register) and Nebraska (Omaha Herald)

The author is a Mason & Sr. DeMolay - as (pardon the immodesty) am I. In any case, your readers may enjoy it, especially 'the rest of the story'.

Fraternally, Gerald A Edgar Mosaic #125 AF&AM, Dubuque IA Allen Chapter - Order of DeMolay, Dubuque IA

Recently most Americans lost a dear friend we never met but whose voice we anticipated for years and welcomed into our kitchens and automobiles. For the "greatest generation" such as my parents, it was the "Noon News with Paul Harvey". In the 1950s Dad would come home every weekday for lunch (as did my sisters and I from school in Dubuque). Mom always made sure the radio station was tuned in at the stroke of noon. Whether a summary of major news stories, a humorous tidbit or his stupid criminal stories, we finished lunch with a smile on our face and a clearer understanding of what was going on outside eastern Iowa. When we went on trips, Dad would always find Paul somewhere in the radio dial so no matter where we went, his reassuring voice reminded us the world, as battered as it might be, was still there under Paul's watchful eye. No one else had a voice like Paul Harvey's and no one could use it better. His well-timed pauses, inflection and expression could take the most mundane news and make it memorable.

Serving in the Air Force in the early 70s, I listened to his show on Armed Forces Radio in Japan. As a young adult in the 80s I listened to his morning show as I fought the Chicago rush hour. Although away from home hundreds or even thousands of miles, there was that same voice and somehow I was still "home".

Our children, now young adults themselves, looked forward to his unique 'Rest of the Story'. Much of what my wife & I experienced as kids, we could not replicate with our children yet one part of our youth was still there for our kids: Paul Harvey. They could sit at the kitchen table at noon and be just as entranced as we had been thirty years before.

The bridge of common experience from my 90 year old parents to our 22 year old daughter was Paul Harvey. Yes, he updated his news, continued to bring unique words to our vocabulary but there was still the reassuring "Paul Harvey… Good day" at the end of the broadcast.

However there has to be a "rest of the story" and there is. In high school I was fortunate to have success in State Speech competition in no small part due to Paul Harvey's influence. I did not have his unique voice but could learn his phrasing and expression. At age fourteen I had become an active member of the Order of DeMolay for Boys, a service fraternity sponsored by Masonic groups. I was able to take part in the little dramas used during initiations to inculcate moral values.

Although national in scope since 1919, DeMolay boys are few in number but gain an inordinate amount of speaking ability that serves them well in adulthood. They also learn of Jacques DeMolay, the namesake of the fraternity, whom when seized with his fellow Knights Templar by King Philip the Fair of France on a Friday the 13th in 1314, inadvertently created the superstition of bad luck attributed to that date ever since. Every year during at least one Friday the 13th broadcast, Paul Harvey would explain the story of Jacques DeMolay and his tie to that common superstition. What Paul didn't say was that he, Walter Cronkite, John Wayne, Mel Blanc, Dan Rather, Fred MacMurray, William Holden, Willard Scott, Walt Disney, Bill Clinton and Burl Ives, had all been DeMolay boys.

Now you know the rest of the story! Thank, Paul and may God bless you and your family.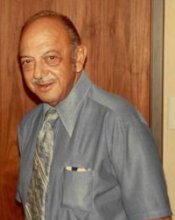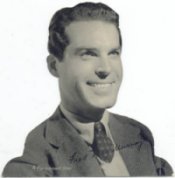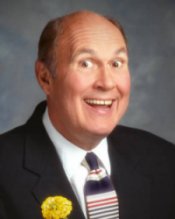 A Few Famous DeMolays



Here are some of the "funnies" our grandparents enjoyed.



Hep! Hep!

From the Old Tiler's Talk - by Carl H. Claudy, The Temple Publishers
Thank you for tiling," smiled the Old Tiler, as he resumed his sword after a trip for ice water. "What are they doing in there now?''

"Fighting like a lot of snarling puppies!" responded the New Brother disgustedly. ''My idea of Masonry is not a red-hot discussion every meeting, as to whether or not Jim Jones is or isn't, or we ought or ought not, to spend eleven dollars for something or other."

"Go on, tell me what your idea of Masonry is!" The Old Tiler's voice was sardonic.

The New Brother had crossed swords with the Old Tiler before. ''Not much I won't, and have you blow my ideas full of air holes!" he retorted. "But you tell me why some lodges pull so well together, have such harmonious conception of their goal, and others, like ours, are always fighting. "

''Did you ever see I do-fight, with only one dog?" asked the Old Tiler. ''Did you ever see a boiler explode without too much steam and not enough water in it? Did you ever see a team of horses take a heavy load uphill all pulling different ways?

"A lodge can't fight unless it has something to quarrel about. We are having a series of floor fusses because we have about three or eleven alleged brothers who don't know anything about military drill! If they had heard an old drill sergeant say, 'hep, hep, hep,' a few thousand times, they'd get 'hep' to themselves. At first they'd be like the soldier son of the proud old Irish mother watching her boy parade and saying, 'Ah, do yez moind, they is all out o' step but him!' After a while they'd learn that they couldn't keep in step by going as they pleased -- they'd learn to watch the fellow to the right and the chap to the left.

"In a lodge there are brothers who won't stay in step, not because they can't, but because they are too busy watching their feet to see the other fellow's shoes. Take Biggsby, now; Biggsby is the big fellow with the overgrown grip on a nickel, who is forever and always blocking business by insisting on a detailed explanation of every appropriation. He isn't in step. Our lodge is rich enough to spend some money without worrying. Biggsby thinks that if we don't pinch ten cent pieces until they coppers, we are going to the Masonic Home!

"Isn't it right to have someone watch the appropriations?" interrupted the New Brother.

"Watch 'em by all means," answered the Old Tiler, "and kick if anyone tries to slip something over. But watching is one thing and objecting to the wishes of the majority because of private beliefs regarding the sacredness of two-bit pieces is another. No one cares if Biggsby wears out a dollar's worth of shoes saving a ten-cent car ride. They are Biggsby's shoes and that's Biggsby's business. But in lodge he should get in step and not object to lodge expenditures on personal grounds.

"There should be no politics in Masonry, but there never was a lodge that didn't have politics in its elections. If Jim Jones lobbies trying to get Bob Smith elected, and Frank. Robinson spends time and effort to get Bill Brown elected, no special harm is done, unless they keep up their fight after it is won and lost. 'Some people never know when they are licked' is not always a compliment. In a lodge with real spirit, Bill forgets after he loses his fight and works for the successful candidate. In a lodge where Bill isn't 'hep' to his Masonry or himself, he carries a grouch, tries to make the successful chap unhappy, gets in the way of the machinery and generally stirs up trouble.

"You are just beginning in Masonry. You have joined a good lodge. What's happening in there is just a phase. Those fellows will learn, in time, that when ten or forty or four hundred men form a real Masonic lodge, as a body they are something bigger and better than ten or forty or four hundred times the bigness and goodness of the individuals. A true lodge spirit provides a lot of give and not much take. When every member is 'hep' to the other fellows' ideas – when every member makes a distinction between conduct for himself and what his organization should do – when each of us thinks of his fellow-member as his brother in heart as well as in organization, then your lodge develops real lodge spirit and stops foolish fighting."

"I see," answered the New Brother. "A lodge, like a piece of machinery, squeaks if it isn't well oiled. If any part of it is out of order, the whole suffers. And because Masons are human beings, we are not perfect and so no lodge is ever perfect. But we can make our lodges better by sinking individual desires for the good of the organization."

"Well, well!" said the Old Tiler. "Almost do you persuade me you have the makings of a real good . . . "

But then there were three raps, and the New Brother is still wondering what the Old Tiler meant to say "fellow" or "Mason" or "officer!"
Copyright © 2009 Waller Masonic Lodge #808 AF & AM.