The Waller Masonic Lodge #808 AF & AM
P.O. Box 158 - Waller, TX 77484
Worshipful Master David "Dave" Reagan - Secretary John "Corky" Daut
The Mailed Version Of The August 2009 Newsletter
Freemasonry And The French Revolution

By: Gail McGuffie PR

A major UK exhibition examines the impact of the French Revolution on Freemasonry at the Library and Museum of Freemasonry

Freemasons' Hall, Great Queen Street, Covent Garden, London WC2B 5AZ

The French Revolution which began in 1789 changed forever the relationship between freemasonry and the state. In England, freemasonry was non-political and the discussion of politics at Masonic meetings was forbidden (as continues to be the situation today) but after 1789 English freemasons had to deal with the consequences of revolutionary politics and Masonic lodges avoided closure only by agreeing to register lists of their members with local authorities. This remained a legal requirement until 1967 when the Labour Government, led by Harold Wilson, abolished the Unlawful Societies Act. Freemasonry had spread from Britain across continental Europe in the early 1700s and there freemasons were blamed for causing the Revolution and the subsequent political and social unrest which many countries experienced. The suspicion of freemasonry which arose at that time has had a long lasting impact on politics and society. The 'Freemasonry and the French Revolution' exhibition at the Library and Museum of Freemasonry at Freemasons' Hall in London's Covent Garden traces the impact of the Revolution on freemasonry in England and Europe. Freemasonry and the French Revolution runs from Wednesday 1st July to Friday 18th December 2009 and is free of charge to all visitors.

Before 1789 French Masonic lodges were often dominated by the aristocracy. After 1789 many aristocrats went into exile or died on the guillotine. Napoleon revived freemasonry and annexed it, as part of the machinery for the maintenance and dissemination of the Napoleonic cult, even though he himself never actually joined. Empress Josephine and both of his brothers, Joseph and Lucien, were freemasons. Publication of accounts of Napoleon's campaigns in Egypt touched the popular and Masonic imagination and encouraged the use of Egyptian architecture and motifs in the decoration of Masonic aprons and documents. Examples of these will be on show together with French ceramics of the revolutionary period, including a double handled Sèvres porcelain cup and saucer and medals celebrating the role of Napoleon's family and associates in freemasonry.

At the time when the Bastille prison was stormed by the Paris mob on 14th July 1789, English freemasonry was approaching a peak of respectability and prestige. The following year, the Prince of Wales, later King George IV, was elected Grand Master, having become a freemason in 1787. The Grand Lodge commissioned a ceremonial throne and two warden's chairs, replete with Masonic symbolism, to be used in its new Freemasons' Hall in central London. The London cabinet maker Robert Kennett charged 157p 10s and took three months to complete the set in gilded limewood. It has taken 3 years at a cost of 100,000p, to restore this enormous (3.25 metre) ornate throne, together with the other two chairs, to its former glory. Last used in 1992 and only brought out for very important ceremonial occasions, the complete set will be on display until Friday 18 September 2009 only.
France went to war to defend the Revolution. As a result of the land and sea battles against Britain, an estimated 120,000 French soldiers and sailors were brought to England as prisoners of war. Other objects and documents in the exhibition include the intricate miniatures and medallions, known as 'jewels', with Masonic symbols produced by them, elaborately crafted from bone, straw and any other scraps they could find, as well as documents and records relating to the lodges established by these prisoners of war in England.
1789 also saw the start of a publishing phenomenon – books about "secret societies" and conspiracy theories - which is one of the Revolution's most lasting legacies. The display will draw on the Library and Museum's extensive collection of such material.
Freemasons' Hall in London has been the centre of English freemasonry for 230 years as the headquarters of the oldest Grand Lodge in the world. The first Hall had just been built when the Revolution broke out. The current Freemasons' Hall, on the same site, is a magnificent Art Deco edifice which also houses the Library and Museum of Freemasonry, the venue for this latest exhibition 'Freemasonry and the French Revolution'.
'The Masonic Rifle
David Abraham Ragains
CAPTAIN DAVID ABRAHAM RAGAINS (1812-1887)
David Abraham Ragains probably acquired his "Masonic" rifle before the Civil War. David joined the 60th Illinois Infantry Regiment on January 7, 1862 as a private in the Union Army. The following month, he was promoted to Captain in command of Company H.
It is likely that Captain Ragains carried this rifle with him as the 60th Illinois Infantry Regiment joined forces with the U.S Army of the Mississippi in capturing the strategically important Island Number Ten, on the Mississippi River. After the capture of this island, David participated in the siege of Corinth and led his Company in several clashes with the enemy. By February of 1863, the 50 year old Captain was forced to resign because of poor health. Hemorrhoids, caused by dysentery, had become so painful that he could no longer perform his duties.
David was born in South Carolina, lived in Tennessee, Kentucky and Georgia before settling in Pope County, Illinois. At the beginning of the Civil war David was supporting a family of eight children by working his small farm. He supplemented his income as both deputy clerk and deputy sheriff. While serving his community as a clergyman, he founded County Line Baptist Church. This church came by its name because it was located on the Pope and Johnson County Line. This little church is still going strong after 150 years.
During his lifetime, David had seven wives and twenty children. He died on February 17, 1887 at age 74. He was a member of the Vienna, Illinois Lodge No 150 A.F. and A.M.
David left his rifle to his son, Pleasant Green Ragains. The next owner was P. G.'s son, Frank Ragains who was a member of the Bokoshe, Oklahoma Lodge No. 358 and Murrow Lodge No. 49 in Spiro, Oklahoma. The next owner was his son, Frank Edward Ragains The gun then went to his son, James Edward Ragains and then to his son, James Grant Ragains. David Ragains' gun has been in the Ragains' family for over 150 years.
Charles Edward Sterling
February 5, 2009

DAVID RAGAINS' MILITARY HERITAGE
On the 7th of April 1862, David Ragains answered Abraham Lincoln's call to arms by joining Company H, 60th Illinois Regiment as a private. In recognition of his maturity and ability to lead men, he was promoted to Captain and placed in charge of a newly formed company. Despite the fact that he was almost fifty, David felt compelled to join the struggle to preserve the Union. David's loyalty and enthusiastic patriotism can be traced to his grandfather Thomas Ragains' and his great grandfather, Gabriel Ragains' records of military service.
Gabriel was a "Gentleman Solger" on call to the North Carolina Militia. When the French and Indian War erupted, Gabriel's unit was activated and made part of the Virginia Regiment under Colonel George Washington. Gabriel's service ended abruptly when he was killed by friendly fire near Fort Ligonier in western Pennsylvania. Gabriel was survived by his wife, Susannah Gandy and his five year old son, Thomas.
When Thomas was twenty-three years old, he married thirteen year old Elizabeth Featherkille on Valentines Day in 1776. Thomas and Elizabeth enjoyed a short honeymoon before he marched off to war. Thomas survived the war suffering only a minor leg wound. He served one year as a private and another two years as a sergeant. During his three years of service, he managed to obtain enough furloughs to father two sons. After the war he and Elizabeth went on to have six more sons and three daughters.
It is likely that David grew up listening to his grandfather, Thomas, recalling his military experiences. Thomas probably told of his father Gabriel's military valor also. David Ragains was twenty-three when his grandfather, Thomas, died.



Genesis of Freemasonry
Runcorn Memories: New book tells of town's place in masons' lore Runcorn & Widnes Weekly News

RUNCORN'S 'unique footprint' in the history of Freemasonry has been recorded in a new book.

The Genesis of Freemasonry, written by Liverpool University history lecturer Dr David Harrison, cites a famous town watering hole as one of the country's oldest Freemason centres.

The Masonic pub was one of the earliest meeting places used by the organisation in the 1860s, according to Dr Harrison.

He said: "It was one of the earliest halls used by the Masons - it was three storeys high back then and is still a nice building.

"Lord De Tabley, a famous 19th century aristocrat, was involved in the masons and used to attend the lodge in Runcorn, too.

"The town has got its own individual history and left a unique footprint on the history of the masons, which is still thriving in the town now."

Dr Harrison said the nature of the organisation is still often misunderstood. He said: "From the Victorian period onward, the masons were more concerned with networking and became more of a social club."

The author will be signing his book at The Curiosity Bookshop, High Street, Runcorn, on Tuesday 16 June.

This book is a revealing but thoroughly enjoyable journey through the intricate history of English Freemasonry. Historian Dr David Harrison reconstructs the hidden history of the movement, tracing its roots through a mixture of mediaeval guild societies, alchemy and necromancy. He examines the earliest known Freemasons and their obsessions with Solomon's Temple, alchemy and prophecy to the formation of the Grand Lodge in London, which in turn led to rebellions within the Craft throughout England, especially in York and with the formation of the 'antients'.

Harrison also analyses the role of French immigrant Dr Jean Theophilus Desaguliers in the development of English Freemasonry, focusing on his involvement with the formation of the mysterious modern Masonic ritual.

All Freemasons and more general readers will find much of interest in this fascinating exploration of the very beginnings of Freemasonry, still one of the most mysterious brotherhoods in the world.



In Memory Of Past Master James P. Brown

Jim Brown was born in Houston on November 19, 1970 and passed away July 12, 2009 at 38 years old. He spent his early years living near Humble, then attended high school in Bellville, After high school Jim served a hitch in the U.S. Navy. Following his discharg he lived and worked in California for a few years before returning to Houston.

He petitioned Waller Masonic Lodge in 2003, just before marrying Becky Daut Huber, because his Grandfather was a Freemason and his soon to be father-in-law and brother-in-law were Freemasons. After he was raised, Freemasonry became a large part of his life. He became the Worshipful Master of Waller Lodge in the 2007/2008 Masonic year. He was a hard worker for the advancement of Freemasonry and the benefit of his Lodge

Jim was the only Brother I knew that had a Square and Compass tattooed on his arm as well as a Masonic belt buckle, Masonic ring and Masonic stickers on the car. He is survived by his wife Becky Anne Brown, daughter Jennifer Brown and son Bryan "Gus" Brown and other daughters Rachel Hughes and Paige Brown and numerous other relatives and friends.

Last but not least, he was a darn good son-in-law.and I will really miss him

Corky




The examination of a candidate for proficiency in the previous degree was first introduced in 1850 in Louisiana.



Masonic Anniversaries
Brother
Years
Glen H. Canon
49
Darrell R. Bloodworth
43
Frank B. Hoke
39
Gary V. Mosmeyer
27
John A. Garrett
15
Michell R. Bosarge
11
Walter "Bubba". Schiel, III
08
Larry D. Hargrave
07
Delane Z. Corley
03
Happy Birthday To
Brother
Age
Everett A Bozarth
85
Derwood O. Ralston
70
Frank B. Hoke
68
Darrell R. Bloodworth
67
Gregory D. Williams
60



The Small Town Texas Masons E-Magazine

Don't miss reading the monthly Small Town Texas Masons E-Magazine at,

http://www.mastermason.com/STTM-Emag/

This Month features Lee Masonic Lodge No. 435 AF & AM and When the War Stood Still in Galveston




This Month's Humor

The day finally arrived.Forrest Gump dies and goes to Heaven.He is at the Pearly Gates, met by St. Peter himself., the gates are closed, and Forrest approaches the gatekeeper.

St. Peter said, 'Well, Forrest, is certainly good to see you.have heard a lot about you.must you, though, that the place is filling up fast, and we have been administering entrance examination for everyone.The test is short, but you have to pass it before you can pass in to heaven.'

Forrest responds, 'It sure is good to be here, St. Peter, sir.nobody ever told me about any entrance exam.sure hope that the test ain't too hard. was a big enough test as it was.'

St. Peter continued, 'Yes, I know, Forrest, but the test is only three questions.

First; two days of the week begin with the letter T?
Second; How many seconds are there in a year?
Third; is God's first name?'
Forrest leaves to think the questions .returns the next day and sees St. Peter, who waves him up, and , 'Now that you have had a chance to think the questions over, tell me your answers.'

Forrest replied, 'Well, the first one, which two days in the week begins with the letter 'T'?, that one is easy.would be Today and Tomorrow.'

The Saint's eyes opened wide and exclaimed, 'Forrest, that is not what I was thinking, but you do have a point, and I guess I did not specify, so I will give you credit for that answer.about the next one?' asked St. Peter.

'How many seconds in a year? Now that one is harder,' replied Forrest, 'but I thunk and thunk about that, and I guess the only answer can be twelve.'

Astounded, St. Peter said, 'Twelve? ?, how in Heaven's name could you come up with twelve seconds in a year?'

Forrest replied, 'Shucks, there's got to be twelve: January 2nd, February 2nd, March 2nd. . . '

'Hold it,' interrupts St.. 'I see where you are going with this, and I see your point, though that was not quite what I had in mind....but I will have to give you credit for that one, too.us go on with the third and final question. Can you tell me God's first name'? 'Sure,' Forrest replied, 'it's Andy.

' 'Andy?' exclaimed an exasperated frustrated St Peter. Ok, I can understand how you up with your answers to my first two questions, but just how in the world did you come up with the name Andy as the first name of God?'

'Shucks, that was the easiest of all,' Forrest replied.'I learnt it from the song, ANDY WALKS WITH ME, ANDY TALKS WITH ME, ANDY TELLS ME I AM HIS OWN.' St. Peter opened the Pearly Gates, and said: 'Run, Forrest, run.'

Lord, Give me a sense of humor Give me the ability to understand a clean joke, To get some humor out of life, And to pass it on to other folks! (Thanks to Brother Calvin Trapp)




<! -------------------------------------------------------------------------------------------------------------------------------------------------------------- >
The Waller Lodge
Electronic Newsletter Subscriber's
Extra Features
<! -------------------------------------------------------------------------------------------------------------------------------------------------------------- >

The Masonic Fables Series


Reprinted With Permission Of The Author Bro. Terence
Satchell - From The Phoenixmasonry, Inc. Web Site


The Late Brother Abi's Disenchantment with American Freemasonry

Here he lays, cold and mute, wrapped in the icy cloak of death. Our late Brother Abi, setting his working tools down for the last time. His long life in Masonry comes to such a lonely end after such auspicious beginnings. Brother Abi was there in the beginning, at the small meetings held in the back of a local tavern. The best and most noble men from the town would meet to feast on Cornish game hens, stuffed mushrooms, and tankards of ale. They would discuss the issues of the day and enjoy fellowship with their closest friends. These men were few in number, but had incredible prestige. Only men of the finest character were allowed to become members of the Royal Craft. Kings, generals, and philosophers had long been promoters of the craft, leveling themselves with common men who shared the same values. It was the most beautiful of societies, completely Utopian, in a world where men often were more interested in persecuting those with different opinions.

Brother Abi worked hard to learn his work, it was not always perfect, but he advanced through the chairs with a true effort. At that time, not everyone was deemed qualified to be Master of the Lodge. He memorized and retained the floor work, the opening and closing ceremonies, and a good share of the Masonic lectures. He even devoted himself to learning the Masonic funeral ritual and took the time to impart the same knowledge on his younger Brothers. The beauties of the lessons in the Masonic ritual were important to him and he took the time to make sure that he was able to communicate them properly. When he was not in Lodge he took the time to individually relieve his distressed Brethren. He would visit the ill, run errands for widows, and insure that no Mason in need of some brotherly love was left wanting. This was how Masonry was: a beautiful set of rituals designed to instill morality on the minds of good men and to promote brotherhood and individual charity.

Masonry changed throughout Brother Abi's life, however, and developed into something different. The Brethren began to champion large numbers of members, regardless of the quality, and seemed to adopt the idea that no one was undeserving of Masonry. They allowed anyone through the west gate, often allowing men without a true love of Masonry's tenets into the lodge. The Masons used these greater membership numbers to fund grand buildings and even grander charitable programs. This led to meetings consisting solely of business and Brothers bickering about the finances of the building. Philosophy, brotherhood, and even ritual were no longer important. It was perfectly acceptable to read the ritual and not understand it. Where Masons once were able to engage in the beautifully archaic language of proficiency, new Masons would respond with "Oh I didn't know I needed to remember the grip."

This empty shell of the formerly grand society had to be filled. The unenlightened called for chili feeds, organized charities, and fund raisers. Perhaps if Masonry looked enough like the local Kiwanis or church group it would flourish. Men no longer helped out their fellow Brothers, Masons were too busy exploiting another charity in an attempt to gain new members and too busy putting on another dinner to beg for a few more cents from the public to keep their building open. It was no longer the job of the Masons to improve society, but rather the job of society to keep the Masons alive. Masonry had become an abstract portrait of what it once was.

Brother Abi lost interest. When he became bedridden, no Brothers came to comfort him. The majority of the membership didn't know who he was. This man, who had spent so much time teaching his younger Brothers and working to be the best Mason he could be, a Mason who had carried the flame of the order for so long and had attempted to provide his Brothers with all the rights and benefits of the society has now shuffled off this mortal coil. There will be no Masonic funeral rights, because no one knows them. There will be no Brethren at his side, because they are too busy preparing for a spaghetti dinner to fund their lodge building.

Here lays the body of the late Brother Abi, SO MOTE IT BE!
The Computers For Masons Series


By Bro. Shane Stevens The Masonic Tech - From The Freemason Information Web Site

Wordprocessing and more….FREE
Who doesn't have a need to type, or organize, information in a digital form? The problem for many is that the most popular wordprocessing suite (wordprocessing, database, and spreadsheet) is Microsoft's Office. Office, however, comes with a lofty price tag of $125 or more. For this reason, I recommend Open Office Suite, "the leading open-source office software suite for word processing, spreadsheets, presentations, graphics, databases and more." Open Office can not only do everything Microsoft can do, but it can also read most of the other office software formats, and of course best of all…it is FREE. In this article, I wish to provide to you the tools needed to install and begin using this outstanding software.
First, you can download the software HERE. Installation is simple, and the program itself does a nice job of walking you through the process. However, you can use this Step-by-Step Installation, to help along the way. Please note that although the process in the Step-by-Step is for version 2.4.1, the process is the same for the newest version.toologo
Once the software is installed it operates like most any other wordprocessing program you may have already used. The following is a list of basic tutorials found on the Tutorials for OpenOffice website, which is a good starting point for those brothers who have little to no experience with wordprocessing.
* Writer (similar to Microsoft Word)
* Calc (similar to Microsoft Excel)
* Impress (similar to Microsoft PowerPoint)
* Draw
* Base (similar to Microsoft Access) - THIS IS NOT FOR THE BEGINNING COMPUTER USER!!
OpenOffice can be used by any Mason, or Lodge, to easily and freely document, organize, and edit any information needed by the craft. It's usage can range from simple printouts of notices to more complex mail merges. Create labels, fliers, and envelopes all while having the computer automatically fill in pertinent information such as name and address.
The overall rating for OpenOffice - 5 out of 5 stars (basic functions)/3 out of 5 stars (complex functions)
* 5 out of 5 stars for Masonic usefulness (basic and complex functions)
* 5 out of 5 stars (basic functions) / 2 out of 5 stars (complex functions) for ease of use for those brothers with less technology experience but willing to try.

Celebrating 150 years of Masonry in northeastern California
by Alicia Knadler
Indian Valley Editor

What began as an Old West tale of whiskey and women in an old gold miner's journal became worthy of a sesquicentennial celebration for 150 years of Masonry in northeastern California.
The celebration attracted dignitaries from all over California to Greenville Saturday, June 27, where Sincerity Lodge No. 132 of Free and Accepted Masons is now located..
The lodge was started by several men, some of whom had built a tavern in the Gold Rush town of Rich Bar that was quickly burned down by their wives..
The moniker they chose was to let their women and state dignitaries know that the men were sincere in their wishes to better themselves in the virtues they still strive toward to this day, including temperance, fortitude, prudence and justice..
The location of the lodge moved with the times of economic boom and bust to Taylorsville, then Greenville, where spaces were sometimes shared with other fraternal groups, such as the Odd Fellows..
Most recently, the lodge was consolidated with the Westwood Lodge in 2001..
The Westwood Lodge was formed back in 1918, and meetings were conducted at various locations around town until a new hall was built by the Red River Lumber Company and finished in fall 1925..
The hall was used for many town functions and purposes over the years, including as a schoolhouse after the real one burned down. It has since been sold..
Worshipful Oarn "Pete" Hargraves, chaplain of Sincerity Lodge, read the separate histories to those assembled..
Celebrants included Masons and their wives from towns all over northeastern California, including Past Grand Master Tony Wordlow, who introduced current Grand Master Larry Adams of Santa Clarita.
Adams spoke about how men have always been builders, and so have Masons- builders of character..
"Masons have given many things to mankind," he said. "Masons helped pave the way not only for freedom of speech, but for human rights and man's intellectual emancipation.".
Masons strive to strengthen core virtues within themselves, including those of brotherly love, relief and truth..
"These are virtues that ennoble common man and make them better husbands, fathers and sons," Adams said..
He spoke in awe of his trip up the Feather River Canyon, a sight that amazed him as totally different from the Southern California rivers enclosed in concrete..
"This is a great time to be a Mason in California," he said..
While there was a 30-year decline in membership, 2009 marks the ninth consecutive year that membership numbers have risen to those of the early 1980s..
The average age of those now applying for membership are men of 35, and the fastest-growing segment of population are young men of 18–27, whose numbers have more than doubled in the last year..
"So young men do find relevance in Masonry," he said to the surprised murmurs from his fellows..
They are smart, he said of the young men, and they will challenge older members with their knowledge of what Masonry is..
They are not looking for the lodge to be the center of their social circle, like men of the past, Adams said. Rather, they look toward their brothers to keep the promise of Masonry to make men better with lessons, which in turn will make their communities a better place to live..
"Whether 83 or 18, when Freemasons apply their lessons to communities, men are attracted to Masonry," Adams said..
He urged members not to forget their obligations to community and to rebuilding the Masonic youth organizations of DeMolay and Job's Daughters, which have declined to fewer than 5,000 members statewide..
From his experience in working with the homeless, he insists Masons need to do everything in their power to rebuild the youth orders..
One of the honors of being a grand master is to introduce a program important to him, like youth programs that fill the gap between high school and adulthood..
He spoke of past Masonic involvement at universities in the form of clubs that have since disappeared..
The Grand Master's Project introduced by Adams is the Advance of the Study and Understanding of Freemasonry..
With his leadership, officers of the Grand Lodge of California have formed a partnership with leaders at the University of California, Los Angeles..
"The academic world is now positioned to define Masonry's history in credible, fact-based terms," he wrote in a description at freemason.org..
Project funds will be used at UCLA for faculty research into the history of Freemasonry; financial support for research related to the history of Freemasonry and democratic society; establishment of a permanent chair for Masonic studies curriculum development; support for development of a course in the history of Freemasonry and democratic society; and graduate student support for work and interest in the history of Freemasonry and democratic society; lectures on the topic of Freemasonry; and public lectures on topics related to Freemasonry delivered by invited scholars..
Dr. Margaret C. Jacob, professor of history at UCLA and one of the world's foremost Masonic scholars, is developing the curriculum for two classes that she will lead in spring 2010..
To support the Grand Master's Project, call the Office of Philanthropy at (415) 292-9117..
For more information about the Masonic youth orders, visit masons4youth.org, where adults are asked to help tomorrow's leaders today.
Tim Bryce
A Little Military Humor From Iraq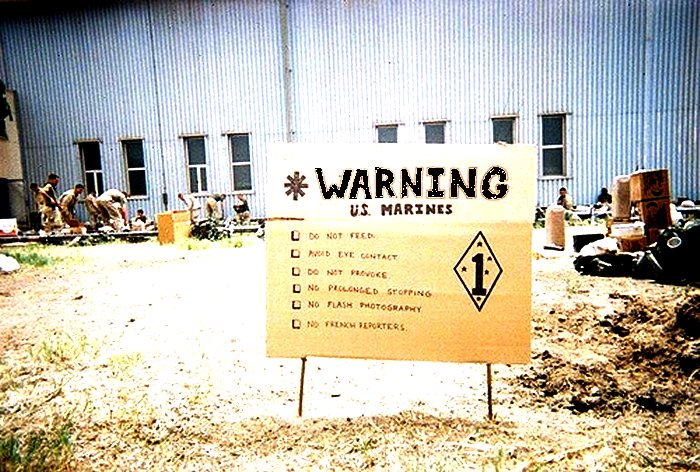 Caution

Learning a Lecture

By The Euphrates
From Freemason Information

Memorizing Masonic ritual has long been an important part of carrying on the work of Freemasonry. Those that masterfully perform Masonic lectures have long been revered as prestigious members of the fraternity and have been pointed out as men worthy of emulation. However, while many Masons have relished the opportunity to memorize one of the lectures, many have avoided such an undertaking.

In modern times, it isn't unusual to hear Masons say things like "I sure wish I could perform lectures like that" or "I'm going to memorize that lecture one of these days" without ever taking the time to actually do so. Some cite the inability to memorize, which is true in some cases, and others claim that they don't have the time. It often seems like the few Brothers that are willing to memorize a large part in the ritual end up memorizing all of these parts, while the majority of Masons avoid memorizing anything above and beyond the minimum requirements.

This is a frustrating observation, but the point of this article isn't to demean the Brothers that haven't learned a lecture. Instead, it is meant to show those Brothers that haven't done so what they can gain by making the effort to learn one of the prominent parts in Masonic ritual. The key to becoming motivated to memorize ritual is simple: learn it for your own benefit, not the benefit of the lodge.

But what do I mean by this?

In all Masonic degrees, the lecture contains a vast amount of information that explains the ritual. In the three symbolic degrees, the lectures actually contain the majority of information given to the candidate in the degree. Like with all orations, the listener retains very little information from the lecture given to him when he receives the degree. This is a travesty, since this limits a Mason's understanding of the symbolism of the ritual. To illustrate this point, think about a lecture that you have not memorized and then consider how much of that lecture you can actually recall. Chances are that it is little to none. In order to properly grasp the degrees of Masonry, learning the lectures is essential.

The Mason that has memorized a lecture has its teachings impressed upon his mind and his heart. The slightest reference to the symbolism of the lecture that he knows brings the explanations Masonry's allegories to the front of his mind. A person that has not learned a lecture can never understand the full benefit of having this information memorized. It expedites and enhances Masonic study and often serves as a reminder when we are about to do something of an un-Masonic nature. There is also another benefit to memorizing ritual. Most Masons regard their passage through the degrees of the order as one of the most impressive and influential experiences of their lives. However, there is a Masonic experience which supersedes receiving the degrees: conferring the degrees. Most Masonic lecturers have had the special experience when they see the light of Freemasonry shining in the eyes of the men to which they are reciting the ritual. To see the new candidates "get it" is an incredible feeling. It is the most fulfilling of any opportunities afforded in the fraternity.

Learning a lecture is hard work. Contrary to the misconception by many that those that learn lectures just read them once and are able to perform them, most men that have taken it upon themselves to memorize large parts of the ritual spend months memorizing the work and perfecting their recitation. But the work is worth it and learning a bit of Masonic ritual is like riding a bike, you never lose the ability to perform it.

Understanding Masonic symbolism and transmitting the lessons of Masonry form the instructive tongue to the attentive ear are the actions that preserve Masonry. Do yourself and Masonry a favor and dust off that ritual and take some time to learn a lecture. You will reap what you sow.
Continued Stories


Articles and Stories To Long for One Issue
The Old Past Master & Lodge Foreclosure

by Frederic L. Milliken
The Beehive
Phoenixmasonry Executive Director
www.phoenixmasonry.org

Part III

As the Old Past Master pulled into the Lodge parking lot he knew he was early enough to get the Master's ear for a bit.  He and the Master had cooked up one bang of an evening for tonight's Communication. He needed to do more than cross his fingers though.  He needed to pray to the Grand Architect of the Universe to help guide the Lodge and see us all through this night.

Upon entering the Masonic building he went straight to the office.

"Evening Worshipful, are we all ready for tonight?"

"Ready as we're ever going to be. Do you really think the members are going to go for this idea?"

"Well what other choices are there?"

"As usual your logic wins the day."

"Let's hope I am really as persuasive as you think I am."

The two parted, the Master to greet the Lodge arrivals and The Old Past Master to look over his notes.

Lodge started right on time and as has been the case lately the Master breezed through the usual business, tabling some measures until the next meeting.

When he rose to speak you could hear a pin drop.

"Brethren, as charged at the last meeting, I led a delegation of three, the other two being Past Masters Schmidt and Crowley, into a conference with the Grand Master.  We had received an offer from a charitable non-profit agency for us to donate our building to them whereupon they would make the necessary repairs and then give us a 99-year free lease.  This seemed like a win/win proposal but we lacked the ability to dispose of our building, it being the property of Grand Lodge. So the meeting with the Grand Master was a plea to wave that Grand Lodge regulation and allow us to go through with the agreement with the Non Profit. "

"The Grand Master said he could not do that. It would set a precedent for the entire jurisdiction, for how could he do it for us and not for everybody. While once again he sympathized with our plight he explained that Grand Lodges had to maintain possession of all Lodge buildings for liability reasons, for in the event a Lodge went bankrupt and left significant creditors, the courts had previously ruled that Grand Lodge was liable for those debts. The only way for Grand Lodge to be able to protect itself was to have full rights of ownership of its chartered Lodges building and property. Once again he suggested a merger or a rental someplace else."

"I told the Grand Master that his refusal pretty much stymied us. We had investigated a merger, I told him, and it was not possible in the only other Lodge in our area. To travel a greater distance to another Lodge would result in poor attendance and be a death knoll. I reminded him that we still had a $40,000 mortgage on the building and faced with continuing to pay that off and a rental someplace else at the same time was beyond the means of the Lodge to accomplish. I told him that we had a grand old building that now was in serious disrepair and that unfortunately the Lodge had all its money tied up in the building. What we had now was a grand old albatross around our necks."

"And lastly, before parting, I informed the Grand Master that it was entirely possible, based on a vote of the Lodge at its upcoming meeting, that the Lodge would turn in its charter and disband."

"And that's it, Brethren. Now I would like to hear your thoughts on the subject."

The Master was playing it really cool. He had The Old Past Master waiting with his surprise but on his advice he was going to let the hand play out until their was no solution left but what The Old Past Master would lay on them.

Brother Hughes asked to be recognized. "I think we out to ask all our members for an emergency donation,' he said.

"That might mean a thousand dollars per member, Brother Hughes", replied the Master. "Do you realistically think that in these terrible economic times that we can expect that kind of immediate, and I do mean immediate, donation from each and every member? Many of our members are retired and on fixed incomes."

"Have we," asked Brother Hathaway, rising and get the nod of recognition, "investigated the bank forgiving the mortgage and /or spreading the payments out over a longer period thus reducing the monthly amount and the town of giving us four or five years to update the electrical wiring?"

"That's the first thing we did before we called these emergency meetings," retorted the Master.

Past Master Schmidt you wish to speak. "Well Worshipful," Schmidt despairingly spoke, "I don't see any other choice than for us to surrender our charter and disband."

Not a sound could be heard in the Lodge room as Past Master Schmidt was one of the Lodge's oldest and most respected members, next to The Old Past Master, that is. Nobody had another good idea. Most of the Brethren just stared at the floor in sadness. If you looked really hard you might have even seen a tear or two. That was the moment The Old Past Master was waiting for as he rose and spoke in a clear, loud voice of authority, "Worshipful Master."

"Old Past Master", responded the Master.

"As of this morning I now hold the note for the mortgage on this building, having paid off the bank with $40,000 plus fees. What I propose that we do is just what you have come to the conclusion that we must do. But I have a plan for the Lodge to rise again out of the ashes."

"First we surrender our charter. Next I will foreclose on the building. Then I will convince the Building Inspector who is a friend of mine to immediately condemn the building and put large signs to that effect on the outside. Now the repairs total about $40, 000 and the balance on the foreclosure will be $40, 000 with an additional $10,000 in interest, fees and other charges. That's $90,000 Grand Lodge is going to have to invest to get the building in a position to be resold. Furthermore I will call in the entire amount of the note immediately which I can do on a condemned building. Now I will hold the note through a series of holding companies so that my name is hidden in all this."

"After that I will make an offer to the Grand Master to purchase our building for $40,000. He gets the mortgage paid off free and clear and I get the building. I doubt he is going to want to invest all that money to get the building resalable because there are no buyers out there for the building. We are headed for a depression in the economy and nobody in their right minds is investing in real estate of any kind."

"Once I have the building back I will deed it to the Lodge with the stipulation that they take up the Non Profit on their offer. Now we will have a 99 lease free of charge on the building we are in now but we will no longer be a Lodge because we have no charter. I have been bending the Senior Warden's ear a lot lately. He and I go back many, many years. He has assured me that if we apply for another charter in good financial shape after he assumes the East in three months he will grant us a brand new charter and we are back in business. I will simply tell him that a wealthy donor who wishes to remain anonymous came forward to bail us out and that we are now financially stable thanks to him."

The only thing I ask is that the Lodge, now with no rent, heat, light or repairs to pay reimburse me at the rate of $200 per month for the rest of my life. When I die any balance due is forgiven."

After the period of shock and awe had subsidized, Past Master Schmidt rose and said, "I think I can speak for most all of us. That, Old Past Master, was a right generous thing you did for the Lodge. And your plan is well thought out and just deserts for a Grand Master who seemed very reluctant to bend any rules to help us. Now if your plan works the Grand Master will give up his right to the building with no gain, he getting rid of this albatross around his neck in order not to get stuck with many years of taxes and ultimately a loss. It's a shame that the end result for us via a circuitous route is the same as if the Grand Master had found a way to be our benefactor. My only concern is that if we go through with your idea, Old Past Master, the Grand Master might not take the bait."

"In that case," replied The Old Grand Master, "we are no worse off because without launching this plan the only real option we have is to desert the building, and either meet at somebody's house or disband."

With that the Master declared, "The East will now entertain any motions."

A motion was made, seconded and passed to accept The Old Grand Masters plan and for everybody to keep their finger crossed. Lodge closed at 10:21 PM in short form, after which most everybody retired to O'Reilly's where many stories of past good times at the Lodge in this building were recounted.



Here are some of the "Funnies" our grandparents enjoyed. Or, In some cases, our great grandparents



New Cut Trails

From the Old Tiler's Talk - by Carl H. Claudy, The Temple Publishers
Old Tiler, I have made up my mind that there is a fundamentalism and a modernism in Masonry, as well as in the church. And I am a Masonic fundamentalist," began the New Brother.

"That's a fine mouthful of an expression," commented the Old Tiler. " 'Masonic fundamentalist.' If I just knew what it meant, now, I'd go spring it on someone."

"Don't make fun. This is serious!" protested the New Brother.

"Then be serious and tell me what kind of an animal, if any, a Masonic fundamentalist is," begged the Old Tiler.

"Why, he is one who finds the ritual all-sufficient as a source of Masonic light; one who doesn't hold with the higher criticism of Masonic documents and the old charges and constitutions; one who believes in the exact truth of the Masonic legends; one who can bridge the gap between written history since Grand Lodges and the time of King Solomon without a mental effort; in other words, one who has faith without proof in the reality of the continuance of Masonry as a system of morality and philosophy right down from Solomon's time to now!"

"Guess I can't use the expression after all," answered the Old Tiler. "Too much of a mouthful."

"Don't you agree that a Masonic fundamentalist is the happier and better Mason than the modernist Mason?"

"You ask me if I think the ignorant Mason is happier than the educated one!" returned the Old Tiler, vigorously.

"If a cow is happier than a philosopher, I'll agree. But what is happiness? If it makes you happy not to use your mind, to believe legends and fairy tales, I suppose Masonic fundamentalism is your proper, meat. I am not built that way. I have found the real story of Freemasonry, as it has been patiently unfolded from the mists of the dim past by earnest students, a great deal more fascinating than the legendary history. I have loved the legends more as I have been able to distinguish between legend and fact. Santa Claus and Hans Andersen's fairies are much more real to me now than they were when I was a little boy.

"Instead of being a Masonic fundamentalist, I like to think of myself as a Masonic adventurer. And that reminds me of something I cut out of a magazine; maybe you'd like to read it." The Old Tiler produced a well-worn pocketbook, from which he extracted a clipping. "Listen to this and see if it doesn't fit-almost. - He read softly Marie LeNarl's beautiful verse, "The Adventurer."

"God, in the name of Jesus' blood and tears, Loose us from slavish bondage to dead years, To dogmas that, encrusted in the mould Of age, no virtue have, save to be old. Lo! A new era has been ushered in. Lo! now the new wine bursts the ancient skin. Then gird us, Lord, dispel our cowards' fears, Give us the daring hearts of pioneers. What though in quest of truth we sometimes stray? Better to seek fresh morsels day by day Than feed, like swine, on husks before us thrown From which the inward nourishment has gone. Better to stray-and struggle back again If we too far surpass our mortal ken Old paths for sheep, but new-cut trails for men!"

"Old paths for sheep, but new-cut trails for men," repeated the New Brother, softly, as the Old Tiler finished.

"That's rather fine, isn't it?"

"It seems fine to me, whether we speak of religion, or Masonry, or science, or kn6wledge, or politics, or government. That which is good and also old, is not good because it is old, but old because it is good. If it isn't good in itself, we ought to toss it overboard, regardless of its age. To persecute those who think differently from constituted authority is an old doctrine. It was old when the Inquisition made it new. But it wasn't good, was it, just because it was old? Slavish obedience to a king, regardless of right and justice, was an old idea when the Magna Carta was signed; it was older when the Liberty Bell first rang in this country, but it wasn't good just because it was old.

"Brotherly love was known long before King Solomon; it is as good today as it was then, but not because Of its age, but because of its goodness.

"'Old paths for sheep.' I am no sheep! As best I can, I keep my feet upon new-cut trails. But I hold fast to the staff of the Ancient Landmarks, and all that is good in our order; I try to cast overboard the superstition and the slavish adherence to doctrine. I do not, for instance, believe that certain consequences which we agree shall follow failure to keep our obligations are to be taken literally. If William Morgan was slain by Freemasonry in 182-6 (which he was not!) I don't believe it was right, even though it was deserved. Neither did the Freemasons of that age believe it was right. But a Masonic fundamentalist must take such things literally. I do not believe that Solomon established a Grand Lodge, and met, as Grand Master, with two other Hirams, also Grand Masters. Yet I believe in the essential truths contained in the Solomon legend, and in the essential truth and beauty of the Hiramic legend.

"What difference does it make whether George Washington did, or did not, cut down a cherry tree, and refuse to tell a lie about it? Washington is an ideal, an embodiment of truth. If that ideal can be taught to children with a story, then the story is true, whether it ever happened or not. If men are taught fidelity and loyalty and bravery and honor and honesty by the Hiramic legend, it is true, whether it ever happened or not. Santa Claus is true, whether the children's saint be an actual fat old man living in a toyshop at the North Pole, or just happiness in men's hearts.

"To my mind the more of the truth we know, the more we value the legends. Therefore, I try to be a student of the real history of Masonry, that I may love its stories, its myths and its symbols the more. No sheep, the new-cut trail is under my feet and will be, while these old eyes can follow it-." The Old Tiler's voice trailed off into silence.

"I'm following after, if you'll give me a hand," answered the New Brother, gently. " 'New-cut trails for men!' "
Copyright © 2009 Waller Masonic Lodge #808 AF & AM.