Surviving The Big Ones

By John "Corky" Daut
Editor's Note; A long time ago, in a different life (1998), I began writing some 500 word short stories about growing up during the Great Depression so my kids would know what it was like. The editor of the "The Humble Observer" newspaper saw some of them and said she would love to run them as a weekly column if I could make them 1,000 word stories (The length of the one below) and I said sure. I ended up writing 180 columns, that were soon also running in the The Kingwood Observer, The Spring Observer, The Atascosa Observer and The Southeast Montgomery County Observer newspapers

Just as a reminder to our older Brothers and a "how it was back then" for the younger ones, I decided to run a few in this newsletter. Corky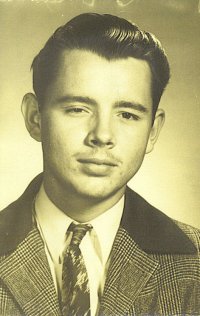 Corky Back Then
What were the "Big Ones" all of you young people under 50 may ask? They were the Great Depression and World War II. I knew them well. I grew up during the big ones. I was born the year before the stock market crashed in 1929 and started the great depression. The depression was just ending, when W.W. II started and by the time WW II ended I was almost 18 and ready to go off on my own.
The 1930's were tough enough for finding enough money to pay the rent and buy groceries. There certainly wasn't much money left over for toys and games for the kids.
So we invented our own no cost, games. One that all the school children in our area played, was called "Stoppers". In those days, milk came in quart, pint or half pint bottles. Each bottle of milk was sealed with a round flat waterproof cardboard stopper about an inch and a half in diameter. That meant that the milk stoppers were obtainable by almost anyone, but not in large quantities. The object of the game was to win all of your friends stoppers. To begin, one of the boys threw a stopper on the ground and the next boy tried to throw his stopper down so that some part of it overlapped the one on the ground. Throwing meant a fast overhand motion, throwing the stopper as hard as you could toward the ground. Any throw less then enthusiastic was disqualified If the one thrown didn't cover any part of a stopper on the ground, the next boy threw a stopper down. Each player took a turn until someone succeeded in covering part of one of those on the ground and he won all of the stoppers laying on the ground. It was a very popular game played at home, but particularly popular at school during lunch time.
Another no cost game we invented was called "Sticks". Each boy would get a stick about two feet long and whittle a point on one end. It was usually a piece of broom stick or something similar, even a piece of limb would work One of the boys gripped his stick by the "handle" end and threw it down as hard as he could, driving the pointed end into the ground. The next boy threw his stick down as hard as he could with two objectives. First, he wanted to knock the first boy's stick down flat on the ground and second, his own stick had to stick in the ground. If he failed, the first boy pulled his stick out and took his turn. The winner held the loser's stick out at arm's length and batted it as hard as he could with his own stick. Then the loser had to trot down and retrieve his own stick and return to play again.
Playing the "Look Up Game." didn't require any special equipment, only an audience. Billy and his cousin Dale and I were standing in downtown Houston on the corner of Walker and Travis. The movie was over and it was time to go home when it struck one of us to play the "look up game." Almost as one, our heads tilted back and without another word between us we all focused on the same spot in the night sky. Most of the people strolling past us on the sidewalk just sneaked a look upward as they walked by. A few even stopped near us for a minute or two, looking up in vain trying to discover the elusive object that only we could see. But, not a single one of them ever ask what we were looking at in the dark sky above. After a little while we begin to add a little finger pointing and an occasional "wow" or "golly" to add a little spice to the game. But, the game begin to wear thin after thirty minutes or so and we begin to get bored.
Boredom caused us to play "The night of the living dummies". We had worked our way a little west on Walker Street when I noticed the show window of the store building beside us. Something was wrong. For one thing, there were only a few sawhorses and some scraps of lumber in the show window. Then it registered, the window didn't have a glass in it. Evidently workmen were doing some remodeling during the day and had picked up their tools and left everything else as is, at quitting time.
The next couple that walked down the sidewalk looked back at the window three different times as they passed by. Billy was sitting on one saw horse and I was sitting on the other one with Dale standing between us. We were frozen stiff as people walked by, unless they happened to turn the other way as they walked by. Then we would make a few quick changes, like moving an arm or looking in the opposite direction. The double takes were hilarious when they looked back and tried to decide if their eyes were playing tricks on them.
After a while we changed our style and begin creating little vignettes. For instance, one of us would be frozen in the act of swinging a fist at the other, while the third one cheered them on. Then there was the one where one of us was on his knees, bent over backward while his hands gripped the arms of the one who was choking him.
These frozen action tableaus got a lot of attention, but human nature being what it was, no passerby's ever stopped to investigate. Most looked at least twice and some looked back the third or forth time before they begin walking a little faster.
All in all that night was probably the most fun we had during the two weeks when Billy's cousin Dale came to visit.
The Monthly 'Computers For Masons' Series


Understanding Computers - Part 4 of 5

Introduction to Computers

Classification of Computers

Computers come in sizes from tiny to monstrous, in both appearance and power. The size of a computer that a person or an organization needs depends on the computing requirements. Clearly, the National Weather Service, keeping watch on the weather fronts of many continents, has requirements different from those of a car dealer's service department that is trying to keep track of its parts inventory. And the requirements of both of them are different from the needs of a salesperson using a small laptop computer to record client orders on a sales trip.

Supercomputers

The mightiest computers-and, of course, the most expensive-are known as supercomputers (Figure 1-6a). Supercomputers process billions of instructions per second. Most people do not have a direct need for the speed and power of a supercomputer. In fact, for many years supercomputer customers were an exclusive group: agencies of the federal government. The federal government uses supercomputers for tasks that require mammoth data manipulation, such as worldwide weather forecasting and weapons research. But now supercomputers are moving toward the mainstream, for activities as varied as stock analysis, automobile design, special effects for movies, and even sophisticated artworks (Figure 1-7).

Mainframes

Figure 8: Mainframe Computer
Figure 9: Mainframe Computer

In the jargon of the computer trade, large computers are called mainframes. Mainframes are capable of processing data at very high speeds-millions of instructions per second-and have access to billions of characters of data. The price of these large systems can vary from several hundred thousand to many millions of dollars. With that kind of price tag, you will not buy a mainframe for just any purpose. Their principal use is for processing vast amounts of data quickly, so some of the obvious customers are banks, insurance companies, and manufacturers. But this list is not all-inclusive; other types of customers are large mail-order houses, airlines with sophisticated reservation systems, government accounting services, aerospace companies doing complex aircraft design, and the like.

In the 1960s and 1970s mainframes dominated the computer landscape. The 80s and early 90s had many people predicting that, with the advent of very powerful and affordable personal computers, that mainframes would become extinct like the huge dinosaurs in nature's progression. However, with the incredible explosion of the Internet in the mid 90s, mainframes may have been reborn. The current World Wide Web is based on the client/server paradigm, where servers on the Internet, like LL Bean's Web Server, provide services, like online shopping, to millions of people using personal computers as clients. The capacity required of these servers may be what saves the mainframe!

Personal Computers

Personal computers are often called PCs. They range in price from a few hundred dollars to a few thousand dollars while providing more computing power than mainframes of the 1970s that filled entire rooms. A PC usually comes with a tower that holds the main circuit boards and disk drives of the computer, and a collection of peripherals, such as a keyboard, mouse, and monitor.

In the new millennium there are two main kinds of PCs: the Apple Macintosh line, and "all of the others". The term "PC" or "IBM" refers to "all of the others", which is a historical artifact back to the days when IBM and Apple were the two main competitors in the market and IBM called its machine a "personal computer". So, although a Macintosh is a personal computer, the term "PC" often means a machine other than a Macintosh.

Macintoshes and PCs, in general, can not run software that was made for the other, without some special technology added to them. They run on different microprocessors. A PC is based on a microprocessor originally made by the Intel company (such as Intel's Pentium, although other companies such as AMD now make "Pentium clones" that can run PC software.). Macintoshes use a PowerPC processor, or on older Macintoshes a processor made by Motorola. Also, the operating system software that runs the two kinds of computers is different. PCs usually use an Operating System made by Microsoft, like Windows98 or Windows2000. Macintoshes use a different operating system, called MacOS, made by Apple. There are efforts to make the two kinds of computers compatible. As Apple continues to lose its share of the market, Apple has the incentive to either join the rest or disappear.

Notebook Computers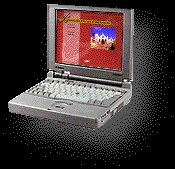 Figure 10: Notebook Computer

A computer that fits in a briefcase? A computer that weighs less than a newborn baby? A computer you do not have to plug in? A computer to use on your lap on an airplane? Yes, to all these questions. Notebook computers, also known as Laptop computers, are wonderfully portable and functional, and popular with travelers who need a computer that can go with them. Most notebooks accept diskettes or network connections, so it is easy to move data from one computer to another. Notebooks are not as inexpensive as their size might suggest; many carry a price tag equivalent to a full-size personal computer for business. They typically have almost as much computer capacity in terms of speed and storage. They do not offer the full expandability for supporting peripherals as a personal computer. For instance a MIDI computer music keyboard may not be adaptable to a notebook computer. However, more and more peripherals are providing connectivity to laptops through a technology called PCMCIA which allows peripherals to be plugged into notebook computers through credit card sized cards that easily slip into the side of a notebook computer. Normal sized PCs are still more powerful, flexible, and cheaper, but notebooks are becoming more competitive every day.

Getting Smaller Still
Figure 11: Handheld Computer

Using a pen-like stylus, pen-based computers accept handwritten input directly on a screen. Users of the handheld pen-based computers, also called personal digital assistants (PDA), like the Palm, enjoy having applications such as calendars, address books, and games readily available. Recent PDA's offer Internet access, email, and cellular telephoning.

Internet and Networking

The Internet is the most widely recognized and used form of computer network . Networks connect computers to each other to allow communication and sharing of services. Originally, a computer user kept all the computer hardware in one place; that is, it was centralized in one room. Anyone wanting computer access had to go to where the computer was located. Although this is still sometimes the case, most computer systems are decentralized. That is, the computer itself and some storage devices may be in one place, but the devices to access the computer-terminals or even other computers-are scattered among the users. These devices are usually connected to the computer by telephone lines. For instance, the computer and storage that has the information on your checking account may be located in bank headquarters. but the terminals are located in branch banks all over town so a teller in any branch can find out what your balance is. The subject of decentralization is intimately tied to data communications, the process of exchanging data over communications facilities, such as the telephone.

A network uses communications equipment to connect computers and their resources. In one type of network, a local area network (LAN), personal computers in an office are hooked together so that users can communicate with each other. Users can operate their personal computers independently or in cooperation with other PCs or mainframes to exchange data and share resources. We discuss computer networks in detail in a later chapter.

Software: Telling the Machine What to Do

In the past, when people thought about computers, they thought about machines. The tapping on the keyboard, the clacking of the printers, the rumble of whirling disk drives, the changing flashes of color on a computer screen-these are the attention-getters. However, it is really the software- the planned, step-by-step instructions required to turn data into information-that makes a computer useful.
Continued Next Month

The True Secret Word Of A Master Mason

By: David J. Llewellyn
Bro. David Llewellyn is a P.M. of East Point Lodge #288 and a dual member of Gate City Lodge #2, both in Georgia. In this Short Talk Bulletin, Bro. Llewellyn demonstrates that the words used in our degrees are not just symbolically beautiful, but also have practical and everyday life values

-Editor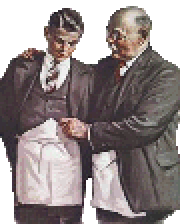 At the beginning of his Masonic career each candidate for initiation is instructed that Freemasonry is a beautiful system of morality, veiled in allegory and illustrated by symbols. The design of the Masonic Institution is to make its members wiser, better and consequently hap- pier...." To that end we are reminded by symbols to circumscribe our desires and to keep our passions within due bounds. Our Lodges are universally opened with a prayer. In many jurisdictions we beseech the Grand Architect of the Universe, whom each of us worships privately in his own way, to "grant that the sublime principles of Freemasonry may so subdue every discordant Passion within us, so harmonize and enrich our hearts with Thine own love and goodness, that the Lodge at this time may humbly reflect that order and beauty which reign forever before Thy throne."
Our degrees teach and constantly remind us of our duties to ourselves and our fellow creatures. In the Entered Apprentice Degree we are taught to extend true charity to all. Not just material charity, but also that more noble charity of mind and spirit that inspires us to help every other human being who is in need.We are reminded to act with Temperance, Fortitude, Prudence, and Justice. The last of these cardinal virtues - Justice - "enables us to render to every man his just due without distinction." The Fellowcraft Degree instructs us to engage ourselves in the pursuit of knowledge, not just during the degree, but always. In particular it encourages us to study the classical liberal arts and sciences, which lead to a liberal and enlightened mind. That mind is free from the dross of all Prejudices, national, cultural, ethnic, racial and religious. It could hardly be otherwise, for we are also taught that Masonry is universal, extending its benevolence throughout the entire terrestrial globe. By so freeing our hearts and consciences from all prejudices we are taught that we will earn, not be given, wages of spiritual nourishment, refreshment, and joy. The Sublime Degree of Master Mason goes even further. It is called "sublime," that is "elevated in thought," "inspiring awe," because it teaches us of our further duties to each other and, indeed, to all humankind. In that degree we undertake certain serious and solemn obligations to each other as brothers. But these duties are not exclusive to us. The true, mature Mason understands that they apply to all persons in every situation. We bind ourselves to each other only as a starting point, a point from which the real Mason travels onward.
The Master's degree, however, comes with a warning. That warning is conveyed in the most dramatic fashion. It is that we must guard against the worst ruffians of our natures and oppose them, even to death, if we hope to be placed as living stones in that "House not made with hands, eternal in the heavens." We must act. We may not just hope. The Master's degree also informs us that the secret word of a Master Mason has been lost to us through the perfidy of our unseemlY desires and passions - the ruffians that confront us daily and to which we so often succumb. It is our duty to seek out that secret word, that hidden meaning, even though it will always remain ineffable and inexplicable to others. It is our individual duty to become worthy of receiving it by subduing our passions and controlling our desires. Only then may we hope to obtain and understand it - the true meaning of Freemasonry - within our hearts and soul.
He who would receive the true secret word of a Master Mason must come to understand that it can only be learned by the constant practice of the virtues inculcated by our degrees. We all will one day stand naked and defenseless before the Grand Architect of the Universe. Before that Throne there will be no distinctions of nationality, class, or race. All those artificial distinctions meaningful only to sinful man' will be worthless to us' If we would finally receive the true secret word' the word that has been lost' we must constantly resist the ruffians of our natures that keep us from it' We must not sow discord' We must resist the temptation to treat only those who look and think like ourselves as our neighbors and brothers'.
He who allows the three ruffians of religious bigotry and intolerance' ethnic and cultural blindness' and racial animosity and hatred to dominate his thoughts and control his actions will no more discover the true secret word of a Master Mason' no matter how hard he cries "Give it to me!!", than did those ruffians whose evil deed bloodied the ground at the building of King Solomon's Temple. This is the great teaching of the Third Degree' It is of greatest importance than any haled word or sign. And it is the hardest one for most of us to grasp' But grasp it we must if we are ever to become true Master Masons' One does not become a Master mer ing and living that which our ceremonies teach. In the end it is up to each of us to become a Master Mason in spirit as well as in body. Only then will one be worthy to receive the true secret word of a Master Mason. Whether one ever reaches that goal, whether one ever becomes worthy to be placed as a living stone in that celestial Temple, will be known only to him and to our Infinite Creator when he finally stands before Him. Therefore it is well that we constantly strive to make smooth our rough natures by embracing and following the great lessons of Freemasonry * the lessons taught by symbols and allegories in the Three Degrees in all our thoughts and actions inside the Lodge, as well as in the profane world.
A Little Military Humor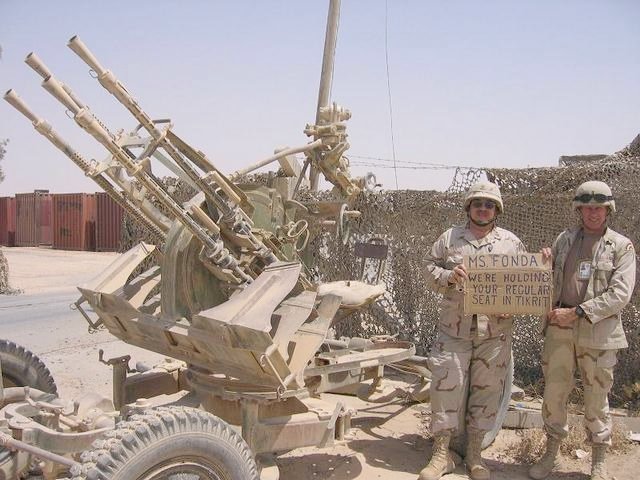 Some Of Jane's Fans

Bartow MasonicTemple full Of Symbolism About Secretive Organization

From the Rural Masonic Lodge Newsletter
By Paula Stuart
News Chief
Winter Haven FL
A wall of photos of Past Masters of the Masons lodge in Bartow dates back to 1865.
BARTOW - Inside the Bartow Masonic Temple, a lodge of Freemasons, are displayed photos of past leaders of this local group of civic-minded men. The photo gallery of "Worshipful Masters," meaning "those honorable" or "most respected," includes one of the original founders of Bartow, Jacob Summerlin.
Many recognizable local last names are on this wall of fame - names like Boyd, Parker, Judson, Hollingsworth, Fulton and Wilson; three generations of Oglesbys; and Knowles, the first Bartow man killed in World War I. The photo of former Florida governor and U.S. Sen. Spessard Holland is prominently displayed near the lodge dining hall.
The Bartow lodge was established on June 12, 1865, as Bartow Lodge No. 9, by 13 Master Masons. This lodge can boast of having two Grand Masters for Florida as part of its history. James W. Boyd was Grand Master in 1895 and 1896. Harry Gordon Taylor was the second representative from Bartow, for state service in 1935.
With such prestige and high caliber of individuals who are often associated with this group, it's no surprise that to be a member, a person must be of good moral character.
Casey Fletcher, past master, stands surrounded by symbolism in the Bartow Masonic Temple.
"A brother has to vouch for you," said Casey Fletcher, a member of the Tuscan lodge in Bartow and the 2008 Worshipful Master. "Character matters. You must profess a belief in the Deity and possess a desire to be a better human being."
Jacob Summerlin financed the first Bartow Masonic temple in 1867, after the city of Bartow had been laid out and named for Confederate Gen. Francis Bartow. There was a church and school on the first floor of the lodge building. The lodge meeting room was upstairs. The lodge disbanded from 1879 until 1883 and was reconstituted as Tuscan Lodge No. 6. The present-day lodge building on South Florida Avenue sits on a Masonic cornerstone laid in 1927.
It is the sixth oldest Masonic lodge in Florida. It is called the "father of lodges" in Fort Meade, Winter Haven, Lake Wales, Mulberry and Frostproof. Approximately 100 Masons are in the Bartow group. Many have pursued Masonic degrees in addition to the highest "rank" of Freemasonry, the Master Mason. One example, the York Rite bodies of Freemasonry confer degrees of spiritual, Biblical and scripturally based natures. The conferral ceremonies are theatrical and dramatic, resembling that of a play, and portray recognizable Bible characters.
The additional degrees of the Scottish Rite are more intellectual, philosophical and historical.
"Both the York Rite and Scottish Rite are like continuing education," Fletcher said. "A Master Mason who has received the York Rite degrees is designated a Knight Templar, while Scottish Rite Masons are designated a 320 Mason."
Although membership into the Masons is reserved exclusively for men, Freemasonry sponsors the Order of the Eastern Star, a co-ed organization, as a way to have spouses and daughters involved. The minimum age for a man's membership recently changed from 21 to 18.
Although most Mason groups meet in buildings that were not originally built to be a Masonic temple, the building in Bartow was built to be a temple only. When Masonic temples, or Masonic lodges as they are now called, are built, they always face east, symboliz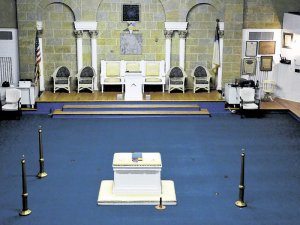 The meeting room at the Bartow Masonic Temple.
In the center of the inside lodge room is an altar that cradles "The Book of Sacred Law."
"The book displayed in all Florida lodges is the holy Bible," Fletcher said.
Three lights around the altar remain lit during meetings. The Worshipful Master always sits in the east of the room and displays the builder's square tool on the front of his podium. Other officers sit in locations with specific meaning. The Senior Warden sits in the west and displays a level. The Junior Warden sits in the south and shows the plumb line on his lectern. There are also two deacons and two stewards.
Masonry drips with allegory and is full of lessons, history and symbolism.
"The number three appears a lot in Freemasonry," Fletcher said, "as do five and seven. In all cases, the individual brother assigns the meaning to our symbols or to lessons demonstrated in a degree and decides how to apply them to his life."
A few common sayings have come from the Masons. Some people use these sayings daily without knowing their origin is. The phrase "black balled" came from a vote that was not unanimous. When Masons need to take a vote, they place a black ball among white cubes inside of a box. Each Mason places his hand inside this box, which conceals his action to move a black ball for "No" or a white cube for a "Yes" vote into the front section of the box. After all voting is complete, the front chamber of the box is opened, thus revealing if there are any black balls.
"Some of the items that we vote on must be unanimous," Fletcher said.
Some of the things always seen in every Masonic lodge are a depiction of winding stairs, the same arrangement of officers' stations, the altar, The Book of Sacred Law and two pillars referred to II Kings in the Bible. On the winding stairs may appear the seven liberal arts and sciences - grammar, rhetoric, logic, arithmetic, geometry, music and astronomy - and the five human senses - hearing, seeing, feeling, smelling and tasting. Atop the two pillars will be found a celestial globe and a globe of the Earth.
Masonic symbols can be found everywhere in the Tuscan lodge. Even the door knobs are embossed with a compass and a square tool.
One of the three light bulbs with a Masonic emblem as the filament is shown n the meeting room.
The five orders of architecture are pictured in the hall - Tuscan, Doric, Ionic, Corinthian and Composite - each representing some virtue, such as morality, charity or wisdom.
Things not seen at the Tuscan lodge are windows and alcohol,
"At many times in history, not having windows in a building was important. Being a Mason was a dangerous activity, so the tradition of no windows was preserved," Fletcher said. "Alcohol is never allowed in any Masonic lodge for any reason or any occasion."
The core allegory, or story-line, of Freemasonry is the building of King Solomon's Temple. The organization might have evolved from the Stone Masons Guilds of Great Britain and Western Europe.
"That is one of the explanations that can be traced fairly accurately back into the 1500 and 1600s," Fletcher said. "Some scholars trace it back to the Knights Templar of the 1300s."
This all-male civic organization went public in 1717, but Fletcher said that some research traces its origins to Scotland, France and Germany as early as 920. The Bartow group meets twice per month at its lodge, which displays the Knights Templar and the Royal Arch Mason emblems, in addition to the square and compasses, on the outside of its building.
The Masons are known for their charity. The group in Bartow supports the Church Service Center, the Women's Care Center and the Boy Scouts. Joining other Polk County lodges, the Bartow lodge sponsors the Child ID program, which takes children's DNA samples, fingerprints and photos for their parents' safekeeping. The Bartow lodge members also support a Masonic retirement home in St. Petersburg for their fellow brethren, spouses and widows, and they sponsor the annual Summerlin Bell scholarship at Bartow High School.



Here are some of the "funnies" our grandparents enjoyed.






Gambols on the Green
From the Old Tiler's Talk - by Carl H. Claudy, The Temple Publishers



It's disgusting!" began the New Brother. "Morton must think more of his stomach than he does of his Masonry. Insisting on expensive refreshments for ladies' night. What's the use of a ladies' night, anyhow? Jenkins is trying to start a ball game and Elliot wants a picnic! All this isn't Masonry!"
"Why isn't it?" asked the Old Tiler.
"What a foolish question. You know that Masonry isn't just enjoyment and foolishness."
"I've been a Mason half a century," said the Old Tiler, "but maybe I. don't know what Masonry is. Certainly I don't know all that it is. Who told you these chaps who want refreshments and ladies' nights and ball games and picnics thought these were all of Masonry?"
"But they are not dignified! Masonry is grave, impressive, grand, solemn. Picnics and ball games and entertainments are frivolous. They can't mix."
"Go on, you interest me strangely," commented the Old Tiler. "Tell me, is it irreligious for a church to have a picnic or a social?"
"Why-er-I suppose not. But it isn't the church that has 'em, it's the Sunday School."
"Where they train children to be good, love God and come to church. The minister should know better than to try to impress children with the Fatherhood of God by holding a picnic! Any church entertainment which makes people come and laugh and know each other better and make money to decorate the church is wicked. I would speak to the district attorney about it, if I were you."
"Now you are laughing at me!" protested the New Brother.
"That's more than anyone else will, if you keep on chattering," went on the Old Tiler. "Masonry is all you have said it is, and a great deal you haven't said. Religion is more than going to church. If God call stand seeing His ministers, and those who love and follow Him, having innocent enjoyment in an entertainment or a ball game or a picnic, it should not hurt Masonry to do tile same thing.
"Masonry is strong only as its bonds are strong. Its greatest bond is not charity, relief, knowledge, learning, ritual, secrecy-but brotherhood. The feeling you have for one who has sat in lodge with you is brotherhood. You have sworn the same obligations, seen the same work, experienced the same emotions-there is a bond between you. Whatever makes that bond stronger is a help to Masonry.
"A picnic brings Masons together informally. It brings children together to play. You learn that Smith is different from what he appears in the lodge-there he is shy, retiring, almost insignificant. On a picnic lie is in his element; playing with the children, having a good time with the men, helping the women-and you like Smith better. There are a thousand Smiths and a thousand of you, and it is a picnic or a ball game or an outing of some sort which brings you together.
"Ladies' nights show women that Masonry is innocent, happy, good. They learn what sort of men their husbands and brothers and sweethearts and sons see every week. They learn to associate a name and a personality with a position; they discover that the Master s human, the Secretary is nice, the junior Warden decent, the Senior Warden delightful. Such contacts spread the good repute of the order. Some men don't get as much out of the lodge as they might; it's their fault, perhaps, but we are not supposed to look for our brothers' faults. If the ladies' night makes the come-but-seldom brother feel that his lodge is doing something for him, it is worth while.
"There are other uses for money than hoarding it. There are better ways of spending it than upon new costumes and furniture. One good spending is to make someone happy. If this lodge has spare funds to provide some pleasure for it's ladies, we should so spend it. If we have cash to finance a picnic or a ball game, it's wise to use it so. The gravity and solemnity of the third degree will not be hurt by the fun you have, any more than our reverence for the Creator is damaged by a Sunday School picnic or a church entertainment.
"Son, Masons are human. We arc not better or different or larger, finer or more learned than our fellows. We strive toward perfection by means of a fraternal vehicle which the years have proved to be strong, well made, able to carry us to happiness and honor. If it could be damaged by picnics and ladles' nights, it would have fallen to pieces long ago. If its dignity was so slight that it was injured by a Masonic ball game, it would have been a laughing stock the day after baseball was invented.
"Get outside of Masonry and look in on it; see it for what it is, not for what it merely appears to be during a degree. When you see Masonry as love for one's fellow, brotherhood between men, charity to all, and reverence for God, you won't think that gambols on the green of life can hurt it."
"I have to go in lodge now," the New Brother announced.
"What's your hurry?" asked the Old Tiler.
"Got to support the motion to spend enough to give the girls a real feast!" grinned the New Brother, as he retied his apron strings.
No © Copyright. Free To Use.