Worshipful Master Bart Harvey - Secretary & Editor John "Corky" Daut
The May 2011 Issue
It's Happening At Waller Lodge
By Corky
We will be having the Spaghetti Dinner and Silent auction on May 21st.
- - - - - - - - - - - - - - - - - -
We enjoyed a visit from Past Grand Master Brian Dotson at the April stated meeting, who spoke on ways to invest money in safe and profitable ways for both Lodges and indivuals.
- - - - - - - - - - - - - - - -
The Lodge changed the date of the planed Spaghetti Supper and Silent Auction again, from the 30th of March to May 21st due to outside conflicts.
+ = + = + = + = + = + = + = + = + = +

Sickness And Distress

Please say a prayer for,

+ = + = + = + = + = + = + = + = + = +
Brother Jimmy Hooper went in the hospital to have some arteries cleaned out.
- - - - - - - - - - - - - - - - - -
Brother Aubrey Chudleigh was in the hospital for a couple of heart valve replacements.
LATE UPPDATE; Brother Chudley passed away this morning Thursday, May 5, 2011.

Warning To Texas Lodges
Brother John Wallace reports that Onion Creek Lodge No. 220 in Austin, Texas recently suffered its fourth vandalism incident in the past year and a half. Its signage has been destroyed, at least two break-in attempts were made, windows have been broken, and the American flag in the front yard was turned upside down. Most recently, at the end of March, a Molotov cocktail was hurled through a window of the dining hall. Fortunately, the bottle didn't break, and the flames did not spread, but some fire damage did occur, including to a piano. It could have been far worse.
There have also been reports of other Austin-area lodges, as well as some across Tarrant County (the Ft. Worth area) having anti-Masonic material taped to their doors.
Because of the previous repeated attacks, the Austin Fire Department installed motion activated cameras and the images are being studied to see if faces and vehicles can be identified. The arson attempt raises the acts from vandalism to a 2nd class felony.
Onion Creek Lodge is an historic building—it's the second-oldest lodge building in Texas still in use today, along with being one of the oldest public school houses in the state. It is a state-designated historic site.
Unfortunately, reports of vandalism and worse activities are increasing against Masonic lodge buildings, as Freemasonry gets greater exposure in the press. And sad to say, not everyone who comes to your open houses has angelic motives. If your lodge doesn't have bright exterior lighting and a decent alarm system, with a monitoring service and an updated contact list of your officers, you need to bring it up at your next lodge meeting.
And it never hurts to remind brethren to drive by the lodge on their way home from work, or after a night out. Too many Masonic buildings sit empty 29 days a month, which makes them an easy target for bored miscreants or devious Masonophobes.



The Fantastic Teeth Fan Club

By Corky

Waller Masonic Lodge #808 AF & AM, in Waller Texas, joined the Texas Masons "Fantastic Teeth Fan Club" in April.

What is the Fantastic Teeth Fan Club?

The Fantastic Teeth Fan Club focuses on preventing tooth decay in children—and the resulting pain, suffering, and the cost of dental services—by teaching children and parents good dental habits. The program, sponsored by Masonic Children & Family Services of Texas, will provide approximately 5,000 Texas children in 2010/2011 with free prevent tooth decay kits. In coming months, we will roll out an online awards program with children's brushing/flossing charts and rewards for achieving dental care goals. Similar programs have cut severe decay by 50% in participating schools

About a dozen of our members used part of our study night time on Monday April 18 to assemble 300 tooth saving kits for first graders in the Waller ISD elementary schools. the kits.

The kits consisted of a tooth brush, a tube of toothpaste, a pack of dental floss, a timer and information about good dental care in both English and Spanish.

Brothers PM Calvin Trapp and our own Grand Senior Deacon W:GaryV. Mosmeyer volunteered to deliver the kits to the different elementary schools the following Tuesday.

The kits were furnished by the "Masonic Children & Family Services", the organization that replaced the old Masonic Home and School after it's closing a couple of years ago. It started in the spring of 2010.

A key factor to the program's success is the involvement of Masonic Lodge members. MCFS provides up to 300 free kits per Lodge.

Lodges can easily bring the Fantastic Teeth Fan Club to first graders in their community—even a single Mason can launch the program. Just give us a call at (817) 503-1503 and let us know you want to help local children and their parents avoid the pain and expense of toothaches.

Consider the widespread effect your efforts can have—with the involvement of just one Mason—the Fantastic Teeth Fan Club can bring free prevent tooth decay kits to 300 children. The Fantastic Teeth Fan Club efforts are doubled when a child shares this information with a brother or sister.

Information about the MCFS programs may be found at - "http://mcfstx.org/".
Big Spaghetti Dinner And Silent Auction May 21, 2011
After a number of resetting dates because of conflicting events, we will be having the Spaghetti Dinner, Silent auction and a free movie on Saturday May 21 at Waller Masonic Lodge starting at 5:30pm.
Please bring any items, new, used, and antiques you can donate for the silent auction before the sale date. If you can't bring something, in call one of the brothers and we will try to pick it up.
We will be showing a movie recently made in Waller titled "The Deed". It is the story of God's Mercy Store in Waller. I remember as a little kid, going to that store. I also remember being scared to death and peeking around the corners to see if God was standing there to check on me. Not that I needed checking on of course. (Corky)
God's Mercy Store
This story takes place in Texas where in the town of Waller "God's Mercy Store," a unique general store, was opened in 1918. Goods were marked at cost, and customers paid cost plus whatever profit percentage they felt was appropriate. Owner Mr. A. D. Purvis an ex-farmer claimed that the store was established "by the spirit of Christ which is love, mercy, and self denial." The store always showed a tidy profit and was still operating in the 1930s.
To trace the beginnings of this unique enterprise one must go back to the time when Purvis was a poor Texas farmer who was shunned by his God-fearing neighbours as a heathen, though never an actual atheist. At that time Mr Purvis never attended church nor professed to believe in God, tiny doubts about his Creator had started to creep into his mind because many religious people he knew, after attending revival meetings would announce that they had been 'born again,' and then continue to live the same old way as they had always done.
Yet Purvis, desperately eager to believe, strove with all his might against the doubts he had. Because of his extreme poverty and the necessity of working hard to make a bare living, he had very little leisure time yet devoted every moment he could spare to reading the Bible and tried to grasp its meaning. It was a painfully hard task for, having had little schooling, he was all but illiterate.
One Sunday evening he came across the following quotation from St Mathew:
"And every one that hath forsaken houses, or brethren, or sisters, or father, or mother, or wife, or children, or lands for my name's sake, shall receive a hundred fold and shall inherit everlasting life."
He read it over and over again, and all next day whilst working in his tiny cotton field he kept thinking about it. "If the Bible is true," he reasoned, "I should live according to its teachings because there is a hereafter. If the Bible is not true, then there is no hereafter and only my life here on earth matters. Would I gain or lose by accepting the Bible?" Finally, Purvis was determined to spend the rest of his life following the dictates of his well-thumbed Bible. But this proved less simple than it appeared at first. Where did one begin serving the Lord and how?
When farmer Purvis told his neighbors that he wanted to serve the Lord and asked them for advice, they smiled incredulously. Disappointed in their reaction he sadly went home. Then one day a miracle happened he had a vision in which he was ordered to sell his tiny farm and open a store in which goods would be sold without profit. The next day Purvis started searching for a buyer of his farm and equipment and succeeded in disposing of them. With the money from the sale he built and stocked a small general store in the little town of Waller.
The legend he placed above the door read:'Jesus Christ the Same, Yesterday and Today and Forever. Heb. Xlll, 8.'
Inside was a sign that announced: "All goods in this store are sold at cost, nothing is added for profit. The store is kept by free-will offerings. Any thing you may add to your purchase will be received with many thanks."
At first the people of Waller and the surrounding countryside came to the new store only out of curiosity. The idea of associating religion with business made them sceptical. But the great faith of the man who kept the store as his way of serving the Lord, and the fact that the merchandise there actually was being sold at cost soon won them over. There were few who did not leave a free-will offering before departing.
After a year or so, trade became so brisk that Mr Purvis had to employ extra help, as time passed more room was needed until the store covered a floor area of 7,500 sq ft; also a hairdressing saloon and gasoline station were later added.
As with farmer Purvis and his store; from a tiny seed of love and faith has grown a great ministry. And in all of this only the Lord has done the work. We have but followed where He directed, for we of ourselves are nothing.
Masonic Anniversaries
Brother
Years
Tom A. Kenney
57
Calvin C. Trapp
51
Derwood O. Ralston
47
Mark A. Herrington
29
Clovis M Wade
??
Brack Whitehead
05
Happy Birthday To
Brother
Age
L.C. White
80
Richard E. Patterson
69
Leslie Kit Scruggs
67
Robert Podvin
62
John A. Garrett
46
Membership Dues, Our Sometime Neglected Duty
Chapter 18 – Title II (Grand Lodge Of Texas Law Book) "Art. 319. (354)
"Lodge dues are due and payable one year in advance on January 1st of each year (unless otherwise exempt) and if not paid on or before that date a member shall be in arrears for his dues;"
As of this date, 2 members have still not paid their 2011 dues. That means those 2 members do not have a valid dues card, are not currently members in good standing and legally can not be allowed to attend any Lodge meetings.
It appears that since members are not suspended for non-payment of dues until June 14, some members mistakenly think that is the due date.
Brotherhood
Submitted By Brother Mike Thomas

Be the kind of man that, when your feet hit the floor each morning, the devil says "Oh Crap, He's up!", life is too short to wake up with regrets. So love the people who treat you right. Forgive the ones who don't, just because you can.

Believe everything happens for a reason. If you get a second chance, grab it with both hands. If it changes your life, let it. Take a few minutes to think before you act when you're mad.

Forgive quickly. God never said life would be easy, He just promised it would be worth it. Today is Brothers' day; send this to all your brothers, fathers, sons. If you get back 7, you are loved.

Happy Brothers' Day! I LOVE YA BROTHER!!! To themen that have touched my life. Here's to you!! A real Brother walks with you when the rest of the world walks on you. Send to all your real Brothers, because theones won't bother.
The Small Town Texas Masons E-Magazine
Don't miss reading the monthly Small Town Texas Masons E-Magazine at,
http://www.mastermason.com/STTM-Emag/
This Month features the Eureka Masonic Lodge #1060 A. F. & A. M. and Texas Masonic History - Brother Juan N. Seguin

This Month's Humor
Paddy's pregnant sister was in a terrible car accident and went into a deep coma.
After being in the coma for nearly six months, she wakes up and sees that she is no longer pregnant. Frantically, she asks the doctor about her baby.
The doctor replies, 'Ma'am, you had twins ... a boy and a girl. The babies are fine, however, they were poorly at birth, and had to be christened immediately, so your brother Paddy came in and named them.
The woman mutters, ' Oh Bejasus no, not me brother, he's a clueless idiot ... '
Expecting the worst, she asks the doctor,' Well, what's my daughter's name?
'Denise' says the doctor.
The new mother is somewhat relieved,
'Wow, that's a beautiful name. I guess I was wrong about my brother'…
'I really like Denise.'
Then she asks, ' What's the boy's name?'
The doctor replies 'Denephew.'
<! -------------------------------------------------------------------------------------------------------------------------------------------------------------- >

The Waller Lodge Electronic Newsletter Subscriber's Extra Features

<! -------------------------------------------------------------------------------------------------------------------------------------------------------------- >


Freemasonry in Winchester

From Brother Chris Hodapp's

BLOG

«Winchester Cathedral, a carved stone of the Freemasons' Arms» (Ars Quat. Cor. 1894).
Here we can see the Old Masonic Lodge of Winchester which was part demolished in 1990 to make way for the newsagents WH Smiths, but we still see today the masonic symbols on the outside.
It was a tradition of the German Masons that they were first formed into a brotherhood at the building of the Cathedral of Magdeburg, which was commenced about the year 1211. Bishop Lucy, a few years before, in 1202, created a company of builders for the construction of the Cathedral of Winchester . Hence Findel suggests that they were most probably the founders of the Fraternity of Freemasons in England. We have no positive authority for this, but the coincidence of time is, at least, remarkable» (New Revised Enlarged Mackey's History of Freemasonry by Robert Ingham Clegg with the co-operation of many eminent authorities including William James Hughan. vol. 3 The Masonic History Company, Chicago, New York, London. 1921). In 1552, John Poynet, Bishop of Winchester, became the patron of the fraternity, and presided over the lodges till the death of the king Edward VI in 1553.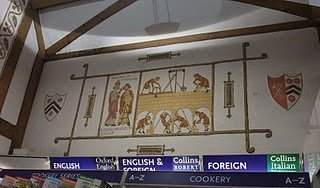 The second painting is of Bishop William of Wykeham building Winchester College.
Ye Olde Bargate Lodge: following the war, on 12th June 1946, there was a Masonic Service of Thanksgiving and Remembrance in Winchester Cathedral, and brethren attended in full regalia.
Having earlier requested burial with masonic honours, Jonathan Inggs' funeral and interment by the west door of Winchester Cathedral in 1819 attracted a crowd of thousands and rated several columns in the local paper. His Brethren marked the grave with a footstone bearing the square and compasses and a headstone inscribed:
This Stone was erected by the Brethren
of Lodge CXI of
Free and Accepted Masons
As a Token of Refpect for their departed
Brother
JONATHAN INGGS
who received a summons from the
Great Architect of the Universe
at the hour of High Twelve on the
24th Day of October
AL 5819
AD1819
About a generation ago the headstone was smashed by vandals. Lodge of Economy, now No. 76, always hoped eventually to restore it. It was to mark the bicentenary of Chapter of Economy in 2003 that an operative mason, a member of the Lodge, cut the inscription on a replacement stone. Negotiations with the Dean and Chapter having finally borne fruit, the replica was recently erected and the grave restored to its original form.

Surviving The Big Ones

By John "Corky" Daut

The big ones for me were that 16 year period between the Great Depression and World War II. Being born in 1928, I grew up during the hard times between the stock market crash of 1929 and the end of World War II in 1945.
Corky Back Then
During the 1930's it was tough enough trying to find money to pay the rent and buy groceries. There certainly wasn't much money left over for entertaining a whole family. That's how it became popular for families to spend an hour or so on summer nights parked in the entrance of a cemetery.
The Forest Park Cemetery on Lawndale Street in Houston's east end was that place. There was a large pool with a fountain on the west side of the entrance with spaces to park in front of the pool. Actually the fountain was a number of different fountains in the pool that were choreographed to work together. The height of the streams and turning each spray head off and on for was controlled by a central control panel along with the lights.
The lights were what made the fountains so spectacular at night. There were different colored spotlights and floodlights in and around the pool that colored the water streams and sprays and changed colors as the water's spray patterns and highs changed every minute or two.
It was very dramatic to park and watch as beautifully colored jets of water shot up, some as high as 10 or 15 feet high and some only a foot or so, as they forming intricate patterns against the night sky.
There was enough variation in the patterns of light along with the different heights and textures of the spray that it was almost impossible to tell when the pattern begin to repeat it self. That made it possible to watch for a longer period of time without becoming bored.
It was a particularly good place for young courting couples to park. There were enough families parked in the area and enough light to where a young girl didn't have to worry to much about things getting out of hand. The main thing though was that it was free and money saved could be spent later at Princes Drive In for burgers and cokes.
I was with one of the family cars. I would sometime be invited to go with the Henry family from next door. Mr. and Mrs Henry along with their 3 girls and myself.
We were always looking for something to do that didn't take money. Like most young boys (the early teens or so) we wanted to want to build something with tools. Our little gang of friends, Billy, Pete, Buck and I decided to build a little club house to hold our secret meetings in. Pete had a hard time getting permission to leave his yard sometime so we decided to build it beside his house. We scrounged the neighborhood for old pieces of lumber and our dad's coffee can collection of used screws, bolts, nuts and bent nails. People didn't throw those kinds of things away back then, not even bent nails, because they could be straightened and used again.
We built a frame work about 6 feet square and 6 feet high out of assorted pieces of 2 by 4 and 2 by 6 lumber against the back of Mr. Otto's garage. The garage wall formed the back wall of the club house, saving boards and it leant stability to our building.
We enjoyed that project so much, that a few weeks later we decided to expand so we added a second story. By the time we finished the second floor, we realized that the club house, being about 50 or 60 feet back from the street was susceptible to attack from our enemies, since we couldn't see them coming. That problem was solved by building a platform up in the tree beside the club house, from where one of the club members could keep watch over the house.
That worked well except that we finally realized there was a blind spot across the rear of Pete's house. We solved that problem when we discovered a 20 foot length of 2 inch pipe. It fit exactly between our tree platform and a tree about 20 feet further toward the rear of the property. With an old piece of rope stretched between the trees, a few feet above the pipe to serve as a hand rail, we could scurry between the trees without coming down to the ground.
"Now we will be safe from a surprise attack by any enemies." We said, congratulating each other.
"Unless they come down the sidewalk in front of the house." Someone said.
Back to the drawing board we thought. There was one insurmountable problem however. There wasn't a board anywhere in the neighborhood that wasn't already nailed down. We finally solved the last problem by installing a tin can phone from the tree platform to another tree at the front sidewalk. This security system may seem to be excessive, but it worked perfectly. We were never attacked by an enemy (whoever they were) that whole summer.
Billy, who was the secretary, still has the original notebook with the club rules. Number1. was, "Any one breaking wind inside the clubhouse gets two pokes on the arm from each member present.

The World's . . . . . . .?
WORLD'S MOST COMPLEX INTER-CHANGE... HOUSTON , TEXAS
Interstate 10 Highways Interchange... Houston , Texas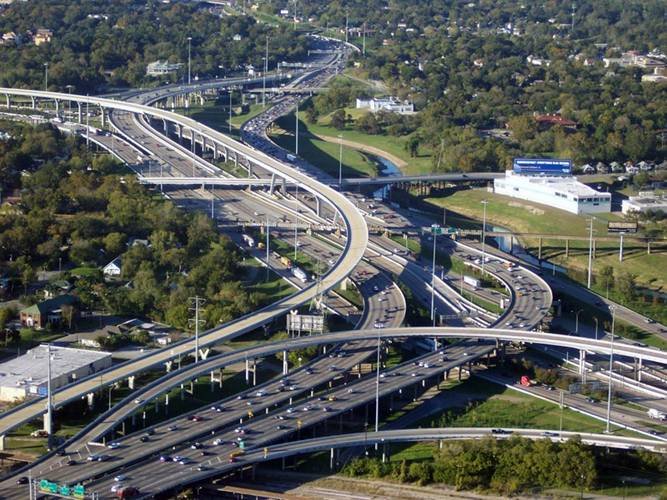 Is Our Fraternity Just A Little Too Common? By Most Worshipful Brother James T. McWain
- This piece was written by Most Worshipful Brother James T. McWain, the Grand Master of the Grand Lodge of Connecticut and posted to the Connecticut Freemasons Website. Currently, I serve M:.W:.B:. McWain as his District Deputy of Masonic District 4A and have been deeply awed by his vision of our great fraternity. Brother Jim has worked tirelessly to remind the brothers of our state that we can be better and that as Freemasons we should set an example for the rest of society. I hope that my readers will take a moment to read this article and reflect on some of his points.
Is our Fraternity just a little too common?
Thoughts about the fraternity from the 19th Century---------
"A real Freemason is distinguished from the rest of Mankind by the uniform unrestricted rectitude of his conduct. Other men are honest in fear of punishment which the law might inflict; they are religious in expectation of being rewarded, or in dread of the devil in the next world. A Freemason would be just if there were no laws, human or divine except those written in his heart by the finger of his Creator. In every climate, under every system of religion, he is the same. He kneels before the Universal Throne of God in gratitude for the blessing he has received and humble solicitation for his future protection. He venerates the good men of all religions. He gives no offense, because he does not choose to be offended. He contracts no debts which he is certain he cannot discharge, because he is honest upon principle."
- The Farmer's Almanac, 1823
Are we ashamed today to think that our fraternity is an elite organization? Or, perhaps, we do not believe that it is!
We have high standards; admit no one who is not moral, upright before God and of good repute before the world. We do "good works" throughout the United States that are worth billions of dollars. The secret is that it is okay to be elite; but we should not be elitist. Elite is to have high standards; elitist is to consider yourself better than everyone else and to let them know it.
To be an elite organization requires constant effort. It can never be satisfied with the status quo; the standards can always be lifted.
Masonic meetings are places of learning, a fostering of ideas, and the lodge is a sanctuary for nurturing and developing friendship. It is where we go to celebrate our brotherhood. In the 18th Century, Benjamin Franklin, Voltaire, Mozart all joined a Masonic Lodge to be with gentlemen who would debate the great questions of the day.
We must understand who we are and the road we've traveled. The philosophy of Masonry required centuries to develop and should be understood and venerated by all members of the fraternity.
Each lodge should have high standards. We need to foster the joys of gentlemanly behavior. Not phony gentlemanliness, but genuine fraternal good behavior. Consequently, at times, it may be necessary to give good counsel to a brother. This can be difficult, especially when it is misunderstood as criticism.
As gentleman, we should advocate a minimum standard of dress. When initiating, passing and raising a candidate, think of just how important an event that new man will consider it to be if the entire lodge membership looks first-class and is dressed for the occasion.
Good behavior is essential. We should not allow rude, coarse behavior among Masons. There was an Internet discussion recently regarding whether a brother, who showed up at a funeral home in jeans and a golf shirt to perform the solemn Masonic funeral service, should have been excluded. It should not be necessary to even discuss proper dress at a funeral, and it is sad that lodge members would condone such a lack of respect to a deceased brother and his family.
One may rationalize that society is more casual now. And some would add that it is "the internal, not the external qualifications of a man that Masonry regards."
We also say that our providence is to make good men better. If we are to polish the rough ashlar into a perfect one than we must conduct ourselves as the BEST men in society.
I have previously written that the Masonic fraternity is "out of step" with current society because we have higher standards. In other words, we should not lower ourselves to the behavior of the common group. If we are to be elite, when the world around us is rude and common, it should be our stated purpose to improve that world by improving men.
In Europe, Freemasonry is taken seriously because Freemasons take themselves seriously. We should also feel that our fraternity is solemn, noble, exclusive, dignified and special.
I am not advocating that our lodges should be stern, joyless places of strict, dreary ritualists. Not at all! A lodge should be, first and foremost, a place of brotherhood, of friendships, and close personal bonds. It is not a degree mill to be opened, closed and fled.
The degrees of Masonry should be formal, sincere, instructive and enlightening.
The business meeting should be brief.
The Feast, Philosophy and Fellowship should be the centerpiece.
Oops?



Bin Laden Slaying Used In Smuggling Case
By Allyson Bird
Entertainment promoter Rashad Muhammad is charged in connection with nearly 500 pounds of marijuana found in North Charleston.
Attorneys on both sides of entertainment promoter Rashad Muhammad's drug smuggling case used news of Osama bin Laden's death to ask for "justice" in their opening arguments in federal court Monday.
Assistant U.S. Attorney Matthew Modica outlined a case with DNA evidence linking 40-year-old Muhammad to a high-speed chase in a minivan that authorities found abandoned with hundreds of pounds of marijuana inside. Modica described drug ledgers discovered in an alleged supplier's home near the Mexican border in Arizona and Rubbermaid containers filled with pot at Muhammad's business in North Charleston -- along with scales, bags and guns.
"Today is clearly a historical day as it relates to justice," Modica said. "Justice isn't one side or the other. Justice exists in a plane by itself."
Muhammad's attorney, Russell Mace, instead described a case marred by "a lack of evidence and inconsistency in witnesses." Touching on some of the prosecution's points, he explained that Muhammad strayed from his marriage and fathered a child in Arizona, where he also ran a clothing business.
"He was in the business of selling clothes, not in the business of selling marijuana," Mace said. "The government is going to put before you so much information to try to overwhelm your common sense. This is a simple marijuana case. How many witnesses do you need?"
The lengthy witness list means the trial could last a week and a half, a fact that U.S. District Judge P. Michael Duffy took seriously when a juror failed to show and delayed the trial's start by more than an hour. After court officials could not reach the woman through repeated phone calls, deputy U.S. Marshals retrieved her.
Duffy made her apologize to the other 13 jurors and returned her, in shackles, to a holding cell for hours until court recessed for the day. He emphasized that the aforementioned "justice" depended upon jurors doing their job.
Muhammad faces 25 years to life in prison on five counts related to the alleged drug trafficking. A well-known member of the local community, he ran a company called The Invisible Men Entertainment, along with a Masonic lodge and a colorectal cancer foundation -- all from an office on Air Park Road in North Charleston.
Prosecutors contend that investigators captured surveillance of a drug shipment arriving at that office in August 2008 and then Muhammad driving away in a rented minivan later found abandoned and loaded with about 275 pounds of pot. Mace maintains that Muhammad was in the Pennsylvania Poconos the very next day and speaking at a Masonic convention.
Two brothers stand trial with Muhammad, each charged with two counts related to the alleged drug smuggling.
Marco Torres, an attorney representing Gary Milford, said his client was not transporting drugs but merely helping another member of the Masonic lodge move after an eviction, when investigators recorded him unloading a truck at the Air Park Road office. Although questioned in 2008, Milford was not arrested until more than two years later.
"By then there was no more lodge, and Gary Milford had long forgotten about this incident," Torres said.
Pam Polzin, who represents brother Damon Milford, laid out a similar argument, saying, "There can only be one version of the truth."
All three men have pleaded not guilty to the charges.

Not One Person
by W:. Dan Weatherington, PM.