Worshipful Master Bart Harvey - Secretary & Editor John "Corky" Daut
The April 2011 Issue
It's Happening At Waller Lodge
By Corky
- - - - - - - - - - - - - - - -
We would like to welcome Brother Zane Williamson back to Waller Lodge. Brother Zane had to demit a couple of years ago due to personal problems.
- - - - - - - - - - - - - - - - - -
We were honored with the first official visit of our friend, D.D.G.M. Rightful Worshipful C. E. "Bud" Dumesnil at the March meeting.
- - - - - - - - - - - - - - - -
The Lodge changed the date of the planed Spaghetti Supper and Silent Auction again, from the 30th of March to May 21st due to outside conflicts.
+ = + = + = + = + = + = + = + = + = +

Sickness And Distress

Please say a prayer for,

+ = + = + = + = + = + = + = + = + = +
Brother Calvin Trapp's wife Shirley has been sick.
- - - - - - - - - - - - - - - - - -
Brother Wes Mersiovsky's mother-in-law is still in the nursing home.
- - - - - - - - - - - - - - - - - -
Brother Aubrey Chudleigh was in the hospital for a number of weeks with congestive heart failure and lung problems. He is doing better now.
- - - - - - - - - - - - - - - - - -
Brother John Reese has received a pacemaker.
- - - - - - - - - - - - - - - - - -
Hargrave's Barber Shop
By Molly Ryan
(Editor's Note; Waller Lodge's Brother Hargrave hits the big time in the northwest Community Impact Newspaper
Not much has changed at Larry Hargrave's first and only business, Hargrave's Barber Shop, over the past four decades. Old rodeo pictures still hang on the wall, a handful of barber chairs are lined up in front of a mirror and a well-worn shoe-shining stand sits in the one-room shop. Hargrave has no plans to make any changes in the years to come.
"I never want to quit or retire," he' said. "This is an old-fashioned barber shop, and my customers are my friends."
Hargrave, a Cy-Fair native, first started cutting hair at 16 when he got his barbering license and began working at a shop in Houston. He said he had always aspired to become a barber.
"When I was a kid, you had to go to Washington Avenue or Tomball to get your hair cut he said. "I wanted to be barber, because I saw [the barbers] were reading the paper in an air-conditioned place, and I said to my dad, 'that's what I want to do."
In 197I, a barber on FM 1960 decided to sell his shop, and Hargrove jumped at the opportunity to purchase the store for $1,000. After settling the purchase, he officially started his own business at the age of 25.Today,he still offers the same services as he did then, including men's haircuts, razor shaves and children's haircuts.
"We give good haircuts, and we can do just about anything," Hargrave said. "We also treat people more personally here. People like personal service, and we are good at that."
Many of Hargrave's customers have been visiting his shop most of their lives, and he has cut hair for four generations of some families. Hargrave said he still has fond memories of his first generation of customers, many of whom were farmers.
"When I started, there were a lot of dairy and rice farmers, and Fridays were a good day because that's when everyone got their pay," Hargrave said. Now, he said Saturdays are his most popular day, and his clients have to wait for a cut from one of his six barbers.
While customers are waiting, they can take part in an established tradition at Hargrave's - getting a shoeshine from a "shine boy." Hargrave said he has almost always had a high school "shine boy" come in to shine shoes on the busy days. The boys charge $5 per shine and are allowed to keep all of their earnings.
Hargrave said the shine boys, his barbers and his clients are like a family to him.
One of his customers, Mark Petrzelka, has been visiting the shop for more than 30 years.
"This barber shop was the only one out here for a while," Petrzelka said. "I like what I get here-a good, short men's haircut."
Hargrave said some of these customers drive across county lines to come visit him whenever they need a good trim.
"People drive from all over to come here," he said. *We have something here that is special."
Larry's Barber Shop
9218 FM 1960 W.
Houston, TX
The Words Of A Mason
"No man ever took the oaths and subscribed to the obligations with greater watchfulness and care than I exercised in receiving the various rites of Masonry, and I say with due deliberation and without fear of breaking the faith. I have never encountered a lesson, never witnessed an example, never heard an obligation uttered which could not be openly proclaimed to the world." The words of a Mason who was also a President of the United States, Warren G. Harding.



All The Knight Moves

By Margaret Turton

The gentlemen of the United Grand Lodge of England are well versed in many virtues, and our guide is a man who wouldn't easily abandon politeness. But best-selling novels have a way of disrupting proceedings at Masonic HQ and, as questions come thick and fast, he rolls his eyes.

We have been through the emblems of freemasonry.

Set squares and compasses - symbols of life "inside defined bounds" and "on the square", life lived in an upright and proper fashion.

We've learnt how the rules of freemasonry are taught through ritual dramas using stonemasons' tools symbolically.

The stonemasons' gavel - used to knock off unnecessary lumps - represents human passions best kept under control.

The chisel - used to further prepare the stone - equates with the capacities of calculation, classification, analysis and rational thought. The 24-inch gauge - a tool of measurement constructed in three parts - represents the division of the day into prayer, labor plus refreshment, and attention to those in need.

And so, as we stand before a massive set of solid bronze doors depicting the building of the Temple of Solomon in Jerusalem, I, for one, refrain from mentioning the legend of the masonic pyramid hidden in a great fortress. Or Dan Brown. Or his character Robert Langdon, professor of Symbology in The Lost Symbol.

I'm sufficiently delighted that the Grand Lodge at 60 Great Queen Street, London, has allowed me to wander through these hallowed halls.

And besides, I'm more interested in freemasonry links with the Templars - medieval Knights of the Temple of Solomon who were granted great privileges in recognition of their service to Jerusalem.

It is believed that some Templar rituals survive in freemasonry today. For example, Grand Masters are common to both groups.

And any place name containing the word Temple has Templar connections, as is the case for London's Temple Church, where Langdon and his companions searched for the burial place of a Templar knight as they rushed to unravel secrets of the legendary Holy Grail in Brown's novel, The Da Vinci Code.

Owing to that novel's success, the Master of Temple Church must now contend with inordinate numbers of visitors pouring over effigies of medieval knights while retracing Langdon's footsteps. Nevertheless, he welcomes us.

Consecrated in 1185, it was modeled on Jerusalem's Church of the Holy Sepulcher. At the time, London Templars had landholdings from the spot where the Royal Courts of Justice now stand on The Strand, through to the Inns of Court legal chambers, down to Temple Tube Station and on to the London Embankment and the Thames. It's an interesting area to stroll around today.

By the 14th century, European kings and the papacy were in fear of Templar power and every Templar in France was arrested. English Templars escaped to Scotland. Some went underground, turning the group into a secretive organization.

Which brings me to Rosslyn Chapel near Edinburgh, famously linked to Templars, Freemasons and, now, the Holy Grail through Dan Brown, whose words infuriated the Vatican, played havoc with freemasonry, and turned this little-known chapel into a movie set and high-volume tourist attraction.

With or without Brown's works it is intriguing. Founded in 1446 by William St Clair, third and last Prince of Orkney, its carvings are decidedly heavy on symbolism. Restoration projects and guided tours are well under way as Rosslyn Chapel rushes to keep up with its reputation.

Rugged up against the Scottish chill, our guide looks around, inviting questions. Yes, those are Templar crosses above the iron chandeliers. And the Lamb of God motifs are similar to those seen on Templar seals.

Yes, the Apprentice Pillar is said to depict the legend of a master stonemason who murdered his apprentice. And, yes, those angels are adopting positions said to come from rituals seen in freemasonry.

But what of the 100 or so carved "green men" and other pagan elements thought to recall St Clair's Nordic background? "Hmm. Did he throw those in to annoy the Roman Catholic Church" our guide wonders aloud.

The truth is, Rosslyn Chapel presents a string of wonderful stories, all impossible to prove conclusively.

The St Clair family may be linked to the Templars, but only by marriage. A plinth inscribed "William St Clair Knight Templar" has been introduced from elsewhere.

And despite Brown's claim that the Knights Templar modeled Rosslyn Chapel on Solomon's Temple in Jerusalem, others are convinced that it is based on the 12th-century blueprint for St Giles' Cathedral in Edinburgh.

Resting place of the Holy Grail? Highly unlikely. Still, some claim that Rosslyn is Scottish Gaelic for "ancient knowledge down the line".

So, back to our guide at the United Grand Lodge of England. Met with the words "ever to conceal, never to reveal" or "the inner circle of freemasonry", he simply sighs.

"World War II put a cloak over freemasonry," he says "In nazi-held Europe Freemasons were persecuted, Temples were attacked and freemasonry went underground."

But that cloak is lifting. In Britain women are becoming Masons.

These hallowed halls would also be familiar to anyone who's seen the Matt Damon movie Green Zone. And any fan of the British spy series Spooks would immediately realise that MI5's headquarters is also the headquarters of the United Grand Lodge of England.
Masonic Anniversaries
Brother
Years
John Lewis Thompson
62
L C. White
48
Leslie Kit Scruggs
35
George E. Talbott
29
Richard J. Ventrca
14
Jerry R. Shields
01
Happy Birthday To
Brother
Age
Bart C. Harvey
47
Thomas Reagan Rape
45
Paul B. Cox
44
Jason K. Tones
34
Brack Whitehead
33
Membership Dues, Our Sometime Neglected Duty
Chapter 18 – Title II (Grand Lodge Of Texas Law Book) "Art. 319. (354)
"Lodge dues are due and payable one year in advance on January 1st of each year (unless otherwise exempt) and if not paid on or before that date a member shall be in arrears for his dues;"
As of this date, 3 members have still not paid their 2011 dues. That means those 3 members do not have a valid dues card, are not currently members in good standing and legally can not be allowed to attend any Lodge meetings.
It appears that since members are not suspended for non-payment of dues until June 14, some members mistakenly think that is the due date.
The Seven Main Criticisms of Masonry
From The Lodge Tawhiri Newsletter N.Z.

Here are answers to seven criticisms made of Masonry by a few religions:

(1) "MASONS USE OFFENSIVE TITLES"

The leader of a Masonic Lodge is called the Master of the Lodge for the same reason the head of a Boy Scout troop is called a Scout Master; the leader of an orchestra is called the Concert Master; and a highly-skilled electrician is called a Master Electrician. Masonically, 'Worshipful' is a term of honour and is a term still used in many countries today (the Mayor of Hamilton is addressed as "Your Worship the Mayor."). The term is a matter of history, not religion.

(2) "AND DON'T MASONS USE BLOODY OATHS?"

The alleged bloody oaths refer to the penalties associated with the Masonic obligations and originated in the medieval legal system of England. Freemasonry's obligations do not contain any promise ever to inflict any of the penalties or to participate in the execution of them. In Freemasonry they are entirely symbolic, and refer to the shame a good man should feel at the thought he had broken a promise.

(3) "AREN'T SOME MASONIC ORIGINS PAGAN?"

Certain critics claim that some of the readings for the Degrees of Freemasonry are "pagan" in origin. What do they mean by "pagan"? They simply mean "pre-Christian." The Old Testament is pre-Christian. The idea that a physician must act in the best interests of a patient comes from the pagan Hippocrates, and the concept that the Government can not break into your house and take what it wants on a whim comes from the pagan Aristotle. None of us would want to live in a world without these pre-Christian ideas.

(4) THE BIBLE REFERRED TO AS "FURNITURE"

Ironically. some people complain about the Bible used in a lodge being referred to as the "furniture" of the lodge. No disrespect is intended. Indeed, the opposite is true. Masons use the word "furniture" in its original meaning of essential equipment. Since no lodge can meet without an open Volume of Sacred Law (which is almost always the Bible), the Bible is essential and given a special place of honour as the "furniture" for every regular lodge.

(5) THE MEANING OF "LIGHT"

The Masonic use of the term "light" is often misunderstood by non-Masons. This leads some to think Masons are speaking of salvation rather than knowledge or truth. Nowhere in Masonic ritual is "light" implied to mean anything other than knowledge.

(6) "SALVATION BY WORKS?"

Freemasonry does not imply salvation may be attained by one's good works. The closest Freemasonry comes to this issue is to point to the open Bible, and to tell the Freemason to search there for the path to eternal life. The path to salvation is found in each Mason's house of worship, not in his Lodge.

(7) "UNIVERSALISM"

Universalism is the doctrine that all men and women are ultimately saved. Freemasonry does not teach universalism or any other doctrine of salvation. Again, that is the responsibility of the churches, not Freemasonry.
The Small Town Texas Masons E-Magazine
Don't miss reading the monthly Small Town Texas Masons E-Magazine at,
http://www.mastermason.com/STTM-Emag/
This Month features the Blanco Masonic Lodge #216 AF & AM and Texas Masonic History - Lawrence Sullivan "Sul" Ross

In the Wisconsin Masonic Journal we find it stated that John Wesley, the Founder of Methodism was made a Mason in Downpatrick Lodge #36, in Ireland, on October 30, 1738.However, according to Brother Alphonse Cerza writing for the Masonic Service Association, a thorough investigation of this statement was made by Brother W. J. Chetwode Crawley who says: "Reviewing the circumstances of the supposed initiation of the Reverend John Wesley ... we are driven to the conclusion that the idea is altogether illusory, and based on a palpable confusion of identity."
Also, the Reverend Wesley's diaries prove that he was in England on the night another John Wesley was made a Mason in Downpatrick, Ireland.
This Month's Humor
A husband walks into Victoria's Secret to purchase a sheer negligee for his wife.
He is shown several possibilities that range from $250 to $500 in price -- the more sheer, the higher the price.
He opts for the sheerest item, pays the $500, and takes it home.
He presents it to his wife and asks her to go upstairs, put it on and model it for him.
Upstairs, the wife thinks (she's no dummy), "I have an idea. . . it's so sheer that it might as well be nothing. I won't put it on, I'll do the modeling naked, return it tomorrow, and keep the $500 refund for myself."
She appears naked on the balcony and strikes a pose.
The husband says,............
"Good Grief! You'd think for $500, they'd at least iron it!"
He never heard the shot.
Funeral is on Thursday at Noon.
The coffin will be closed.--
<! -------------------------------------------------------------------------------------------------------------------------------------------------------------- >

The Waller Lodge Electronic Newsletter Subscriber's Extra Features

<! -------------------------------------------------------------------------------------------------------------------------------------------------------------- >


New Novel: "The Mozart Conspiracy"

From Brother Chris Hodapp's

BLOG

In the wake of Dan Brown's The Lost Symbol comes a new novel by Welsh author Scott Mariani. The Mozart Conspiracy is the first of six thrillers in his series about British Special Air Services officer Ben Hope.

While Brother Wolfgang Amadeus Mozart's official cause of death has long been blamed on rheumatic fever (or on Antonio Salieri as depicted in Amadeus), Mariani's new novel finds a different villain. You guessed it: the Freemasons. Or at least a vaguely Masonic group called the "Order of Ra." The tale goes that the brethren were peeved at Mozart for spilling Masonic beans in his opera "Die Zauberflöte" (The Magic Flute), and poisoned him. Apparently, Ben Hope is hot on the trail of this horrid conspiracy.

From the advance publicity for the book:

Ben is on his way home from a mission when he receives a message from Leigh Llewellyn, an old flame and international opera star, saying she needs his help. Leigh is the sister of Ben's late friend, Oliver, who was at work on a book on Mozart when he died under mysterious circumstances. When Ben takes Leigh to the English countryside to guard her, deadly thugs attempt to kill them both. A lost Mozart letter, written in 1791 shortly before the composer's death and first discovered by Leigh's father, implicates a shadowy European group known as the Order of Ra, which remains a powerful secret force in Europe today. None of this matters much to either Ben or the reader as he singlehandedly kills his way to the top of the evil cabal.

Don't get your history from novels and movies.

Mozart became an Apprentice in Vienna's "Zur Wohltätigkeit" ("Beneficence") Lodge on December 14th, 1784. He was passed to the Fellow Craft degree less than a month later. He was raised to the Master Mason degree sometime before April 22, 1785 in Lodge "Zur Wahren Eintracht" ("True Concord"), considered to be the most aristocratic lodge in Vienna, and the mother lodge of Ignaz von Born.

Mozart's Mother lodge, "Zur Wohltätigkeit" was forced to consolidate in 1785 with two other lodges because of a royal decree by King Joseph II on December 1st, 1785 (the Freimaurerpatent, or "Masonic Decree") that was issued in reaction to the the breakup of the Illuminati in Bavaria, and the subsequent scare throughout France, Austria and the German states. The capital city of each province was allowed to have just one lodge, and each one was forced to report its membership list to the secret police on a regular basis. Vienna was allowed just two. After Christmas, "Zur wahren Eintracht" Lodge merged with the "Zu den drey Adlern" and "Zum Palmbaum" Lodges to form the "Zur Wahrheit" Lodge.

Meanwhile, Mozart's mother lodge "Zur Wohltätigkeit" merged with "Zur den drei Feuern" and "Lodge Zur gekrönten Hoffnung," under the new name "Zur Neugekrönten Hoffnung" (New Crowned Hope). Joseph's decree was lifted in 1789, but many members left, spooked about being associated with "secret societies" the King was suspicious of.

Mozart's father, Leopold, became a Mason in 1785, and Mozart wrote "Fellow Crafts Journey" for his father's second degree ceremony. His brother-in-law Joseph Lange was also a Mason, as were many of his friends and patrons.

Mozart was an incredible hypochondriac, and while it's largely accepted that fever killed him, there's also a theory that he might very well have over-medicated himself to death with a deadly patent medicine. Interestingly, in the last year of his life, Mozart's wife Constanze became alarmed that the chronically depressed composer believed he was being poisoned, and he told her he was writing his famous "Requiem," not for a commission, but for his own death. She persuaded her husband to set the depressing work aside and instead to complete the "Freimaurerkantate," a cantata he was working on for the dedication of a new lodge building for "Zur Neugekrönten Hoffnung" on November 15, 1791. He happily finished the Masonic work, but soon fell into depression again afterwards, when he returned to working on the "Requiem."

Mozart died at 35 on December 5, 1791 in his home at No. 4 Rauhensteingasse in Vienna. The building was demolished in 1849, but a plaque marks the spot today. His lodge met at Rauhensteingasse Number 3 near the corner of Ballgasse. There is a clothing store in the building today, but there is still a small Masonic rough ashlar hanging over the arched doorway in an iron frame.

Apart from the hoary theory about being killed for breaking his oath of secrecy by putting Masonic secrets in his opera, some have also suggested Mozart was in debt up to his eyeballs from gambling with lodge brothers, who may have gotten tired of waiting for repayment. But there is another Masonic conspiracy, of a sort, associated with Mozart's death. It seems he may have been dallying with Magdelena Hofdemel, the 23-year old wife of lodge brother Franz Hofdemel. The day after Mozart's funeral, Hofdemel slashed his wife with a razor, then cut his own throat and died. Magdelena somehow survived the attack, and gave birth four months later to a bouncing baby boy, whom she named after both her dead husband and Brother Mozart. But the rumor was that Franz Hofdemel discovered the affair, and then poisoned Mozart as Step One of his murder/suicide plot. Magdelena's child was a walking billboard for Mozart's purported indiscretion, and Ludwig Von Beethoven, reputed to be a Vienna Freemason as well, refused to play in any venue Magdelena was attending.

Tales of an evil Salieri bent on destroying Mozart seem to be largely an artistic invention, as well. Salieri was a pallbearer and one of only five people at Mozart's burial. In fact, after Mozart's death, Constanze hired the composer to tutor her youngest son, Franz Xaver Wolfgang Mozart. Salieri was scarcely the hack he was portrayed as in Amadeus, and his many pupils included Beethoven, Franz Liszt and Franz Schubert.

Surviving The Big Ones

By John "Corky" Daut

The big ones for me were that 16 year period between the Great Depression and World War II. Being born in 1928, I grew up during the hard times between the stock market crash of 1929 and the end of World War II in 1945.
Corky Back Then
It's hard to realize now, the condition that this country had reached after the Stock Market Crash of 1929. There was rampant unemployment and economic despair throughout the whole country. People were standing in long lines everyday to get a free bowl of soup that was distributed by churches and charitable organizations.
President Franklin D. Roosevelt had promised the people a "New Deal" to solve the problems of the Great Depression if he was elected,. In the early 1930's, three programs were initiated in an attempt to solve those problems.
The federal government had a fascination with initial names for programs even back in the 1930's. The three programs that meant the most for the people were the CCC, WPA and NRA.
The CCC was originally established by an act of Congress in 1933 as the Emergency Conservation Work Act to provide jobs and alleviate the nations suffering due to the lack of jobs during the Great Depression. Another act in 1937 changed the name to the Civilian Conservation Corps. When the CCC was formed they accepted young men from 18 to 25 who were physically fit, unemployed and unmarried. In 1935 the age requirement was change to from 17 to 28. The men were paid $30.00 per month, YES per month. $25.00 of that was sent home to the man's family and he received $5.00 for expenses.
The first 25,000 men were enrolled in 1933 and they had increased to 507,782 men by 1939. The average number of camps open at any one time was 1,600. The War Department administered the program and despite the "Civilian" part of it's name it was a military organization. That was probably where earned their nickname, "The Tree Army". The men were grouped into companys which reported to District Headquarters which were associated with Army Corps commands. Its equipment was military in origin - one feature of the CCC was that the young men driving to and fro to projects in the backs of open bed Army trucks. Its officers too, were military men on active duty, Colonels and Captains and Lieutenants who had fought in the last war and would fight in the next.
During their time, they planted 2,356,000,000 trees. Yes, that's billions. A very large part of their projects were related to forestry and building camp grounds, hiking trails and roads in national forests and parks. Some of their more notable projects included the Skyline Drive in Virginia, the Pacific Crest Trail and the great Appalachian Trail.
Nellie's uncle Bill was in the CCC in the 30's. We still have some of the letters he wrote to his mother and father during that period. Like most men in the armed service, he was always broke and needed money for stamps if he was going to write letters home.
The WPA, which was established May 6, 1935, originally stood for the Works Progress Administration. The name was changed in 1939 to the Works Projects Administration. Its original purpose was to provide economic relief for the hundreds of thousands of unemployed workers during the Great Depression. Like the CCC money earned in the WPA was sent to the family. The men were paid from $15.00 to $90.00 per month, depending on the job he or she had. When the job required it, housing and food were included.
In 1943, after eight years, the program was phased out. During that time they built 651,087 miles of highways, repaired 124,087 bridges, constructed 125,110 public buildings, established 8,192 parks and 853 air strips. They built things like courthouses, schools, hospitals, playgrounds and libraries with many still in use. They did much more than put shovels in workers' hands and construct buildings however. The WPA provided free or inexpensive puppet shows, dance recitals, musical presentations, and dramas. They gave jobs to actors, directors, playwrights, scene designers, make-up artists, and orchestras-people who would have remained on breadlines. The WPA also provided jobs to musicians, historians, dancers, actors, cartoonists, writers, and artists.
I remember when the WPA built a community cannery in Montgomery, Texas. My grandmother used to work in the cannery during the summer while the crops were coming in.
The National Recovery Administration (NRA), sometime called the "Blue Eagle" because of the signs that businesses were required to post to show they were in compliance with the law. The NRA was supposed to establish codes for each industrial sector and, had it worked as such, would have caused a fundamental change for the role of government in business. However, the NRA did not bring this change.
Many people were opposed to the NRA because they feared set price levels would be too high. One reason it didn't work was that large business still continued to dominate the economy because they created most of the codes. At the same time, NRA labor agreements were unpopular with both small business, who feared rising costs, and labor, who felt the agreements did not go far enough. This almost universal opposition to the program, combined with the administrative problems, made it impossible for the agency to effect any fundamental changes. These problems were all solved however, when the Supreme Court declared the NRA unconstitutional and shut it down.

The World's . . . . . . .?
WORLD'S LARGEST INDOOR SWIMMING POOL
World Water Park … Edmonton , Alberta , Canada …5 Acres

The Secrets of Freemasons By Sofia Diana Gabel
Sofia Diana Gabel
I think the craft of Freemasonry was far more popular years ago, but the brotherhood is still around and going well these days, although not everyone knows what it is. It seems to have faded from the limelight over the years. Most people I've met seem to think of it as an all-boys club where they sit around talking about nonsense, maybe as an excuse to get away from the women folk for a while at their 'lodge'.
Well, things they are a'changing. Yes, Freemasonry is still basically all-male, at least according to the United Grand Lodge of England, the umbrella order of most Masonic orders. But, there are also women's Masonic orders and 'mixed' Masonic orders that have both men and women that are every bit like the male orders. And, I'm one of those women Masons. I belong to Le Droit Humain.
This is the order that was co-founded by the woman, Maria Deraismes, who is the protagonist in my novel. We know the secret passwords and handshakes and all that, and we do not simply practice Masonry for the social aspect, although we are a fraternal organization. Our goal is to perfect ourselves so we are better able to serve humanity. Now, isn't that a lofty goal?
We are all imperfect beings, but Masonry, at least for me, helps guide me to a better place in life. We don't sacrifice animals or children or dance naked under the full moon. Masonry is a way of life, one that I follow happily. We believe in equality, freedom and human rights, and charity to all. I'm proud to be a Mason and proud that women broke through the boundaries of the male-dominated restrictions to this incredibly learning tool.
A Woman's Way - Synopsis: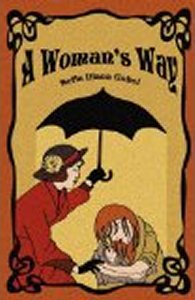 A Woman's Way
A Woman's Way is a novel based on the life story of the 19th century French Feminist, Maria Deraismes.
Sofia Diana Gabel blends historical fact with fiction as she details Maria Deraismes' struggle against misogynistic men and the French government during the turbulent 1870s in Paris.
Maria gets involved with the Paris Commune in 1871 and rallies behind the new socialist government, thinking it will end inequality, but it doesn't. Violence soon erupts when troops break through the barricades on April 2nd and begin a bloody week to overthrow the Commune.
Maria tries to speak for the people, but ends up in front of a firing squad. Will she manage to escape death and bring equality to Paris, or will her hopes and dreams die with her?
Oops?



Revealed At Last: Ways to spot a Mason!
From The Lodge Tawhiri Newsletter N.Z.

If you look on YouTube or on a number of conspiracy and 'hate' sites, you will probably find all kinds of alarmist and conspiracy theorists claiming that they know how you can spot a Freemason.

They say it is something about pressing the thumb into the centre of the back of the other man's hand.... But surely not?

Surely you cannot identify a man as being a Mason solely based on how he shakes someone's hand?

A Mason is identified by his habits.

If you are REALLY interested in spotting a Freemason, here are the things you should be on the lookout for:
A man who believes in a Supreme Being
A man who is most trustworthy
A man who is honourable
A man who has a high and strict moral character
A man who supports justice
A man who has sound judgment
A man who does not prejudge people based on their religious or political views
A man who actively practices tolerance
A man who is of mature age
A man who has no criminal background
A man who is a friend and a brother amongst peers.

Nazis Couldn't Stop These Masons
From The Lodge Tawhiri Newsletter N.Z.
Few people know Masonic lodges were formed within Nazi concentration camps in World War II.
One such lodge was called Loge Liberté Chérie (Beloved Liberty Lodge).
On 15 November 1943, seven Belgian and resistance fighters founded the lodge inside Hut 6 of Emslandlager VII. The name of the lodge was derived from the song La Marseillaise.
The original seven Freemasons of Loge Liberté Chérie were: Paul Hanson, Luc Somerhausen, Jean De Schrijver, Jean Sugg, Henri Story, Amédée Miclotte, Franz Rochat, and Guy Hannecart. They later Initiated, passed and raised, Brother Fernand Erauw, another Belgian.
According to M. Franz Bridoux, former prisoner in Esterwegen's hut N° 6, the founding members of "Loge Liberté Chérie" were Messrs Rochat, Sugg, Hannecart, Hanson, Somerhausen, Degueldre and Miclotte.
A PRIEST STOOD WATCH
Paul Hanson was elected to be Master. The Brethren met for Lodge Work in Hut 6 around a table, which was otherwise used for cartridge sorting. A Roman Catholic priest stood watch, to enable the Brethren to hold their meetings; and he protected their secrecy. Hut 6 was used for foreign Nacht und Nebel ("Night and Fog"), prisoners.
Altogether, 15 camps were established on the Netherlands border, with central administration in Papenburg.
These ceremonies (for whose secrecy they asked the community of Catholic priests for assistance, "with their prayers"), took place with a very simplified ritual. After the first ritual meeting, with the admission of a new brother, further meetings were prepared.
One was dedicated to the symbol of the Great Architect of the Universe, another "The future of Belgium", and a further, "The position of women in Freemasonry".
Sadly, due to the killings in the camp, the Lodge stopped "working" at the beginning of 1944.



Here are some of the "funnies" our grandparents enjoyed.






The Meanest Master
From the Old Tiler's Talk - by Carl H. Claudy, The Temple Publishers



We have the meanest Master in captivity!" stormed the New Brother to the Old Tiler.
"Softly, softly!'' cautioned the Old Tiler. "What has the poor man done now?"
"Refused to help me out of trouble!" answered the New Brother. "And he could have done it, just as easy. . . . "
"Tell me about it," suggested the Old Tiler. "Maybe there are extenuating circumstances!"
"That's just what I told him!" replied the New Brother, hotly. "At the funeral of Brother Picus, two weeks ago, I was a pallbearer. I was late, and didn't go to the temple to see the lodge opened, but drove my car directly to the church. There was a big crowd, of course; Brother Picus was much beloved. I couldn't find a parking space. I drove around the block and finally found one and backed in. When I came out of the church a cop was standing by my car and I had a hard time to keep him from taking me to the police station! I finally convinced him that I had to act as a pallbearer, but I got a summons to go to court the next day.
"I took it up with the Master. He knows the Captain of that precinct. All he needed to do was to see him, but he wouldn't move in the matter. I think that was mean and maybe un-Masonic."
"Sounds very bad, to me," answered the Old Tiler, noncommittally. "What did the cop say you did?"
"Parked in the wrong place," answered the New Brother. "I didn't see any sign!"
"That all?" asked the Old Tiler.
"No -- he said I had left my engine running and he had stopped it."
"Well, did you?"
"Why, yes, I did. I knew I'd only be a minute in the church. The old car starts so hard so I just let her run."
"Oh, you did. Well, now, that makes it look even worse!" grinned the Old Tiler.
"I don't think I understand . . . "
"You will in a minute!'' answered the Old Tiler, grimly. "The Master has a right to complain to me that you are a mean Master Mason! You go to a funeral and break two regulations; one of no, one of great importance. Then you ask the Master to intercede, ask that the police Captain elude his duty, all because you are a Mason! You try to make Masonry the father of special privilege and hide behind your apron, while a profane would have to pay the penalty of lawlessness! It looks very bad, my brother, but not for the Master."
"Oh, I say, Old Tiler! You are rough!"
"I haven't started yet," answered the Old Tiler. "Let me tell you . . . "
"But they were such little violations!" interrupted the New Brother.
"They were not!" answered the Old Tiler sharply. "You were a menace to society. Parking wrong is no crime; it is merely an inconvenience to others. But leaving your engine running is a serious offense because of the possibility of damage. Gear shift levers have been known to engage themselves. Small boys who want to drive a car like Dad have been known to get in cars with engines running and damage themselves and other people. I'm glad the Master had sense to let well enough alone. What did the judge say?"
"Well, he said pretty much what you said!" answered the New Brother, shamefacedly. ''He only fined me ten dollars, although he might have plastered fifty on me. Said he would have turned me loose for the wrong parking, considering the reason for my haste, but that there was no excuse for leaving the engine running."
''Sensible judge!" remarked the Old Tiler. "Masonry is no mother of special privilege. There is no reason why a Mason should be permitted to get away with anything his profane brother can't do. Masons are supposed to be the pick of the community. They are taught to revere their country and its laws. Oh, I know this is a mere police requirement. But police regulations are as necessary for comfort and safety as amendments to the Constitution. Of all people, Masons ought to observe them.
When a Mason breaks a regulation, he should take his medicine. Your Master showed good judgment not to interfere. Had he done so successfully, he would have taught you that you could break the law with impunity, because Masonry would 'square' it for you. Instead of being the 'meanest' Master, I am inclined to think we have the most intelligent Master in captivity."
"I suppose you are right. Somehow, I never see the things the same way after I talk with you. I guess I'll have to speak to him, after all." "Speak to who?" asked the Old Tiler.
''I had about made up my mind I wouldn't speak to the Master any more!"
"We sure did make a mistake!" answered the Old Tiler.
"Who did?" "We did. We took in a child, and the Masonic law requires us only to accept grown up men. grinned the Old Tiler. "Next you'll be sticking your tongue out at me, or slapping me on the wrist, or refusing to play in my anteroom!"
To his credit be it said, the New Brother blushed.
No © Copyright. Free To Use.