Worshipful Master Bart Harvey - Secretary & Editor John "Corky" Daut
The February 2011 Issue
It's Happening At Waller Lodge
By Corky
Regarding Waller Lodge's new annual Scholarship awards, it was decided to give two $1,000.00 awards instead of 3 $500.00 ones
- - - - - - - - - - - - - - - - - -
Our annual Valentine party will be held on Saturday the 12th of February
- - - - - - - - - - - - - - - - - -
The vote was unanimously for the petition, for the new Freedom Lodge #1460 AF & AM to be created, in Houston.
- - - - - - - - - - - - - - - -
The Lodge is planning to have a Spaghetti Supper and Silent Auction on the 19th of March.
+ = + = + = + = + = + = + = + = + = +

SICKNESS AND DISTRESS
Please say a prayer for,

+ = + = + = + = + = + = + = + = + = +
None this month.

Decline Of Service Clubs A Worrying Trend

By Dave Brown-Ottawa Citizen




Everything changes and usually for the better, but one change that worries me is the falling membership in service clubs. If society loses the great contributions made by these voluntary organizations, will it be able to absorb the damage?

That's why on 9 January we were watching men in Arab robes, clown suits and familiar red fezes gather for ceremonies kicking off another year of operation for Tunis Shiners. We're at the Ottawa Masonic Centre, 2140

Walkley Road, and for those who've never been in the place, it's a surprise. The centre is huge and divided into many rooms. Three of them are big enough to serve as churches.

Two of the rooms look a bit like courtrooms, and the installation service with the mystical air is being performed in a room set up almost like a church. To the uninitiated, of which this reporter is one, it at first seems spooky, but then it becomes clear. This is a boys club for men who still want to have fun.

Peter Rippstein, a researcher at the University of Ottawa Heart Institute, is being formally installed as Tunis's "potentate." The Middle East flavour of everything stems from the organization's name at its 1870 founding in New York City -- The Ancient Arabic Order of the Nobles of the Mystic Shrine.

They were Freemasons who decided, maybe just for the hell of it, to establish a club that would encourage a little nonsense, as long as it was fun. It would be fraternal and philanthropic, like the organization it sprang from. The fun spread and today there are 350,000 members in North America, raising $735 million annually to run 22 children's hospitals in the US, Canada and Mexico.

In Ottawa, here are 735 members contributing to a national budget of $15 million. The women's arm of the operation is called Daughters of the Nile and it commits itself to $2 million annually.

The service begins with a farewell to 18 "nobles" who died last year. In Shriner talk, they don't die, but are "visited by the black camel" that helps them pass through "the invisible forest."

Like everything else, Shriners have changed. They used to be a rowdy bunch. In full party mode they were known to ride motorcycles into hotel lobbies and party hearty.

Now the emphasis is on things like "freedom with responsibility" and its main philanthropic thrust is still aimed at children. Like all service clubs, the main aim is giving back -- supporting the community that supports them. To be a Shriner, one has to first be a Mason. The Shriners are starting a major membership drive, and don't appear to be worried about topping up their ranks.

Things are different for other major service clubs, and in Ottawa there's talk of merger. At this point nobody seems to want to go on record.

Kiwanis Club of Ottawa, founded in 1917, has always been one of the biggest and busiest. In 1995, it had 248 members. Last year, it was down to 161. There are exceptions. Manotick Kiwanis last year saw a leap in membership to 50 from 16.

Ottawa Rotary at its peak had about 150 members, and is now down to less than 70. But it wouldn't be fair to rely on a headcount, says president Brian Barr. As the city grew, the Ottawa club established other clubs in suburban communities. Like executive level members in other clubs, he agrees there's pressure from shrinkage. He also sees irony. "It's happening at a time when the need (for volunteerism) was never greater." Is it a sign of a citizenry becoming more self-centered and falling away from the idea of giving back? Norm Morrison doesn't think so. He's director of public relations for Tunis.

"Society is changing and there are new pressures and responsibilities." But he's confident there are still many willing to keep payback on their list of things-that-must-be-done.

This is not intended to be an-depth look at the future of service clubs. There are other Shrine "temples" in Ottawa, and many service clubs. Some are doing better than others, but most are being squeezed in the membership department. When I started writing a newspaper column in the capital in 1966, I tried to make sure service clubs got more attention than they had before. That they worked hard and performed wondrous service for their communities became taken as a given, so it wasn't news anymore. Members can't be blamed for feeling they've been working in the dark.

In another bit of irony, they'll make headlines if we lose them.



The Word "Mason"

By Bro. Watson Kirconnell

The history of the name for a Mason carries one back through strange and unfamiliar territory.

Six and one half centuries before speculative Masonry began in the reign of George I, the word mason was brought to England by those great builders, the Normans. The English term is derived from the Old French masons (Modern French Maçons) and this goes back to the medieval Latin machiones, of which Isodore of Seville (who died in A.D. 640) explained that the masons were so called from the machinae (scaffolding) on which they had to stand because of the height of their walls.

With classical Latin we encounter an entirely new set of words: structor ("a builder" later lengthened to constructor); caementarius ("Maker of a rough ashlar," or caementum, from caedo, I cut); and latomus ("stone-cutter", a word borrowed from the Greek). Classical Greek had at least four words for 'mason,' based on two words for stone, las and lithos. They were latomos and lithomos (both meaning "stone-cutter"); latypos ("stone-striker") and Lithourgos ("Stone-worker").

Remembering that in II Samuel, Ch.5, v. 11, King Hiram "sends masons" to King David (This is earlier than his more familiar help to King Solomon), I looked up the Hebrew text to find what the original term was. It turned out to be a triple compound, haraash-ebhen-qir ("Cutter of stone for a wall"). Unlike the scaffolding of the mediaeval machiones, the term in Latin, Greek and Hebrew are aptly related to Speculative Freemasonry.

But stone-masonry did not originate in either Tyre or Jerusalem, not as late as 1000 B.C. Its beginnings were rather in Egypt, around 3,000 BC, when it was created by the genius Imhotep. I therefore turned to Dr. Wallis Budge's Egyptian Language (London, 1922) to find the hieroglyphic sign for a stone-mason. It is pronounced "hus", and shows a worker with bared arms and lower legs, standing beside a three-foot wall and testing it with a plumb-line! He even seems to be wearing an apron. He is a striking anticipation of Amos, 7:7, in a hieroglyphic that goes back to 3,000 BC., or 2,000 years before that prophet. In the Jerusalem Bible, more accurately translated than the King James Version, verse 7 of Chapter 7 reads: "This is what the Lord Yahweh showed me: a man standing by a wall, plumb-line in hand." In other words, what the Lord showed to the prophet Amos of Tekoa in this third vision was a fellowcraft mason at work, as carved by the Egyptians on obelisks and pyramids almost 5,000 years before our time.

The Junior Warden may well take pride in his symbolic jewel!
A Book Review - The Templar Pirates: The Secret Alliance to Build the New Jerusalem
The author reaches some striking conclusions about the involvement of Freemasonry, the Templars, and the European governments in underwriting/encouraging various forms of piracy up to the early 1700s.
Evidently, piracy started out as a form of anti-Papism, with the merchant vessels of the Papal States being the target. (Frers thinks the Templars, with their jolie rouge flag = the Jolly Roger, were behind this game plan. He believes that the fleet that sailed from LaRochelle in October 1307 into thin air actually resurfaced as pirate vessels.) Then as Spain and Portugal began to colonize all over the globe, attention shifted from robbing the Pope to hitting their ships, especially the ones returning from the New World loaded down with gold and gems.
Anyhoo, a pseudo-masonic group of pirates formed the Brotherhood of the Coast on all the Masonic principles except belief in God. It provided cooperation and safe havens for marauding members throughout the Caribbean.
This book was originally published in Spanish, and I'm willing to bet the occasional misconstructions about the __th century (actually referring to the wrong 100-year period) and other inconsistencies are the result of either bad or no editing to the Spanish text or a sloppy translation. But it's still worth a look.
There's more about piracy than the other elements. And the author speaks of the Priory of Sion as a simple fact, which I know many Masons don't credit. New Yorkers will bridle at the author's discussion of Robert Livingston's involvement in bankrolling Captain Kidd and involving a known Mason, Richard Coote (earl of Bellomont), in their master plan "to capture pirate ships in the name of the Crown, but keep the booty instead of returning it to its owner." Oddly enough, Frers does not remark that Livingston was a Mason - rather a surprising gap in a book that drops lots of other names from the early days.
Masonic Anniversaries
Brother
Years
Floyd Dennison
62
John W. Reese, Jr.
54
Michael W. Risley
32
Ted "Trey" Wren, III
14
Curtis Gilgan
02
Happy Birthday To
Brother
Age
John L. Thompson
84
Wayne Shultz
83
George A. Chudleigh
81
Harold A. Thomas
68
Clovis M. Wade
68
James B. Riley
55
Mark L. Seeman
50
Membership Dues, Our Sometime Neglected Duty
Chapter 18 – Title II (Grand Lodge Of Texas Law Book) "Art. 319. (354)
"Lodge dues are due and payable one year in advance on January 1st of each year (unless otherwise exempt) and if not paid on or before that date a member shall be in arrears for his dues;"
As of this date, 10 members have still not paid their 2011 dues. That means those 10 members do not have a valid dues card, are not currently members in good standing and legally can not be allowed to attend any Lodge meetings.
It appears that since members are not suspended for non-payment of dues until June 14, some members mistakenly think that is the due date.
Masons Keep Finding New Ways To Give
Castle Lodge is more than 100 years old. The good stuff lasts.
The Masonic Lodge installed its newest set of officers in the county's oldest civic/service organization. Its mission has not changed in the last century.
"We find ways to raise money, so we can give it away," said Dave Darrough, elected to lead the Lodge for the second straight year. "We do all kinds of other things, too, but almost all of it's geared toward helping people who need it."
Toward that end, the Masons partner with a few other local organizations to give away Christmas presents to families who need it.
They do it every year, quietly, or as quietly as they can when they're collecting tens of thousands of dollars worth of toys, food and cash. When they swing open the doors, the Lodge basement looks like Santa's workshop, only the elves look like these guys.
Some children flounce down those stairs. Some children walk in warily, not sure it's real. They're quickly assured that it is, and they're welcome there.
"Do you have a bicycle?" the children are invariably asked.
The children look at these guys, again, like it cannot be real.
In addition to all the toys, food and cash, the Masons collect used bicycles and fix them up, just so they can give them away.
This year, more than 860 children received Christmas presents. Mostly they come from single-parent homes.
"Some are referrals from other organizations, some are people we know about," Darrough said.
Bindley to Bindley
Castle Lodge No. 122 opened just over 100 years ago, and for most of those years a Bindley has been handling its day-to-day operations.
Lodge leaders, called "Worshipful Master," rotate through every year or two. But like most organizations, it's the secretary who really runs things.
Ira Bindley joined the Lodge, rose through the officer ranks and led it in 1957. He took over the secretary duties from his father, Elmer "Jack" Bindley, a year later, after Ira's year as Master was done — the same way Ira took over their barber shop on Broadway in downtown Eagle.
Bob Shelton headed the Lodge. So did George Luby. He owned the Chevy dealership in Eagle for years.
Leslie Randall led the Lodge in 1948. His son, Wayne Randall, led it in 1971.
George McCollum led it seven times. When asked, McCollum just smiles and says it was "several assorted years."
You know George. If you or your kids learned math at Eagle Valley High School, and learned it right, chances George taught them.
Along one wall in the Lodge room are portraits of some of the local men who've led the Lodge. There's a sea captain. Some went to war when their country called — these men returned from the death of war to be about the business of life.
Around the room during this week's officer installation were fire chiefs, mayors, business leaders, law enforcement professionals — men working to improve themselves and their community.
Masonic rituals and ceremonies are supposed to be secret. All over the Lodge room are objects and artifacts that mean something to Masons, but if they tell a non-Mason what they are, the oath they took when they joined requires them to be disemboweled in the most remarkable and creative ways.
Of course, no one ever is, and the secrets aren't really all that secret.
Giving away $2 million a day
Masonry is thought to have originated with the guilds of stone masons who built the majestic castles and cathedrals in the Middle Ages.
The first regional Masonic organization was founded in 1717 in London, England.
By the time Benjamin Franklin became a Mason in 1731, there were already several Lodges in the American colonies.
Most of our country's Founding Fathers were Masons.
Masonry has grown to become one of the world's most philanthropic organizations. In North America, Masons and their affiliate organizations give away more than $2 million a day to charitable causes.
Shriners, for example, operate a network of hospitals for burn victims and orthopedic patients. The Scottish Rite operates more than 150 childhood language disorder clinics and programs.
The Small Town Texas Masons E-Magazine
Don't miss reading the monthly Small Town Texas Masons E-Magazine at,
http://www.mastermason.com/STTM-Emag/
This Month features the Phoenix Masonic Lodge #275 A.F & A.M. and Texas Masonic History - Washington On The Brazos

This Month's Humor
It's late fall and the Indians on a remote reservation in South Dakota asked their new chief if the coming winter was going to be cold or mild.
Since he was a chief in a modern society, he had never been taught the old secrets. When he looked at the sky, he couldn't tell what the winter was going to be like. Nevertheless, to be on the safe side, he told his tribe that the winter was indeed going to be cold and that the members of the village should collect firewood to be prepared.
But, being a practical leader, after several days, he got an idea. He called the National Weather Service on his cell and asked, 'Is the coming winter going to be cold?'
'It looks like this winter is going to be quite cold,' the meteorologist at the weather service responded. So the chief went back to his people and told them to collect even more firewood in order to be prepared.
A week later, he called the National Weather Service again. 'Does it still look like it is going to be a very cold winter?'
'Yes,' the man at National Weather Service again replied, 'it's going to be a very cold winter.'
The chief again went back to his people and ordered them to collect every scrap of firewood they could find.
Two weeks later, the chief called the National Weather Service again. 'Are you absolutely sure that the winter is going to be very cold?'
'Absolutely,' the man replied. 'It's looking more and more like it is going to be one of the coldest winters we've ever seen.'
'How can you be so sure?' the chief asked.
The weatherman replied, 'The Indians are collecting a ton of firewood.'
<! -------------------------------------------------------------------------------------------------------------------------------------------------------------- >

The Waller Lodge Electronic Newsletter Subscriber's Extra Features

<! -------------------------------------------------------------------------------------------------------------------------------------------------------------- >


Covington Landmark For Sale

By Jeff McKinney
The Scottish Rite building in the 1500 block of Madison Avenue is a landmark in Covington.
For more than a half-century, the massive, granite-trimmed white stone Scottish Rite building on this city's East Side was the hot spot for Masonic lodge members.
When the building at 1553 Madison Avenue was completed in 1956, more than 1,100 Scottish Rite members from Kentucky, Ohio and Indiana attended a four-day spring reunion there.
"In its heyday, it was the place to be," said Fred Bryant, secretary of the Covington Scottish Rite.
But rising operating costs and a need for a smaller building that would help it better fulfill its mission of providing charitable services to the community have prompted the fraternity to try to sell the landmark 72,525-square-foot, three-floor structure.
Bryant hopes the building is sold soon because his fraternity needs the money to build a new facility in Kenton County near Interstate 275 to make it more accessible to members.
He said a new building would be half the size of the current building and is mainly being built to provide space for Rite Care, the group's charitable program that provides therapy for underprivileged pre-school children with speech and language disorders.
He said the group now pays Cardinal Health in Florence to operate Rite Care.
The group has not selected a site yet for its new building.
"The current building would not allow the fraternity to convert the building and have an on-site Rite Care clinic without extensive renovations," Bryant said. "It's more cost-effective for us to sell and open a clinic in the new building."
He said the building is not being sold because of lack of use or falling membership.
Fred Bryant, secretary of the Scottish Rite, holds a replica of the Masonic emblem made from tools. The Masonic building in the 1500 block of Madison Avenue, Covington, is for sale..
Bryant said his fraternity now has about 2,500 members, a figure that has remained fairly steady in recent years.
The organization filled its velvet-seat auditorium with an average attendance of 500 member candidates and active members twice a year until the mid 1970s. Now, the group typically draws 100 potential and active members to its events.
Don Yankey, grandmaster of the Grand Lodge of Kentucky in Louisville, a Masonic fraternity with 406 lodges statewide, said Masonic lodges in general the past few years have lost membership for several reasons, including death and declining interest, causing many of them to sell their lodge buildings.
He said the current trend is occurring even as overall lodge membership has started to pick up again in recent years.
"Some of the buildings within our group in many cases are being sold or consolidated into single offices because of the high cost to upkeep them," Yankey said.
The Covington Scottish Rite even grew so popular that Col. Harland Sanders, the legendary founder of Kentucky Fried Chicken, joined as a member in 1965, Bryant said.
The creator of the "finger-lickin' good" chicken donated an oven, stove and other appliances that remain in the building's restaurant-type kitchen.
Over the years, many public figures have spoken at the building, including former well-known Kentucky politicians like Jim Bunning, Burt T. Combs and M. Gene Snyder. Combs and Snyder also became members.
Bryant figures more than 1,500 meetings have been held at the building, also known as the Scottish Rite Temple. The Covington Scottish Rite is among four separate bodies of the organization in Kentucky, with the others in Louisville, Lexington and Madisonville.
The building is listed for sale at $850,000, down from its initial asking price of $995,000 around August 2010 to boost the number of potential buyers, said David Knock, the listing broker for Century 21 Stellar Real Estate in Florence and a Scottish Rite member.
Among the building's features: A giant basement that can serve as a ballroom or reception hall and a 700-plus seat auditorium that could accommodate plays or musicals. The building is still used for monthly meetings by six local Masonic groups and meetings and events by the Scottish Rite.
The building features door knobs with the engraved double-headed eagle Scottish Rite emblem. A red, white and blue-framed portrait of George Washington painted by Mel Tillis, the American country singer, hangs in the foyer. Two huge Sphinx-like statues overlook the entrance way.
The building includes a "blue room" and "red room" for Masonic meetings and a replica of the Liberty Bell in the foyer.
Knock says the building could be used for multiple purposes by religious groups, promotional firms, performing arts groups and for office space. He said the lack of parking at the site and the surrounding area has presented a challenge in selling the property.
The sale also comes when the outlook for activity in the commercial real estate market in general is uncertain given the slow economic recovery.
He estimates that about 10 potential buyers have viewed the property.
"Despite the current economic conditions, we continue to solicit for an end user," Knock said.

Surviving The Big Ones

By John "Corky" Daut

The big ones for me were that 16 year period between the Great Depression and World War II. Being born in 1928, I grew up during the hard times between the stock market crash of 1929 and the end of World War II in 1945.
Corky Back Then
Old Sam Houston High School in downtown Houston was a light colored three story brick building. It was horseshoe shaped and covered most of the city block behind the old main post office (now the U.S. Customs building) in downtown Houston. The old school extended right up to the sidewalk on three sides. It fronted on Capitol Avenue with Caroline and Austin streets on each side and the open back side of the horse shoe faced Rusk Avenue.
Old Sam Houston was built, almost on the ashes of Central High, as a replacement for Central High after it was destroyed by fire. Central High was the Houston high school where a young Lyndon Johnson taught before he entered politics.
Physical Education classes were really different at old Sam Houston. The boy's combination gymnasium, playing field and ROTC practice field was the asphalt paved courtyard between the wings of the building. The area was walled in on three sides by the U shaped building and on the open side by a chain link fence around the boiler room. There were also two small asphalt paved areas behind the wings of the building, on each side of the boiler room building, Each small area had a pair of basketball goals.
Most of the boys used gym period to engage in a sport unique to Sam Houston. You tried to kick the football on the roof of the building. Then you and a buddy would have to go up to the third floor boy's rest room and climb the ladder up to the roof. You could see for blocks around up there and sneak a smoke without getting caught.
The girls Physical Education classes were nice however, they used the facilities of the YWCA across the street on Rusk Avenue. They could use a real gym with wooden floors and the ultimate P.E. equipment for a city kid, a heated swimming pool.
The Old Sam Houston High School
The ventilation system of the building was different, as I well know. The war had encouraged many boys to join the ROTC. The main requirement was that you had better have your shoes shined for the ROTC class. My last class before ROTC was an honor study hall (no teacher). It offered a great opportunity to slap a little liquid shoe polish on scuffed shoes. But, it was extremely awkward to carry a glass bottle of shoe polish around in your pocket all day. Somehow, one day I discovered the bottle could be hidden on a ledge in the ventilator shaft.
The ventilators were an opening in the wall, just above the floor in each classroom. They were roughly 2 and 1/2 foot square. A square metal duct formed the floor and sides, with the floor curving upward to form the back. The metal duct work stopped about six inches above the front opening and formed a narrow ledge around the shaft. Hollow brick tiles formed the shaft continuing on up to a roof opening.
Once while retrieving the bottle of shoe polish it seemed a good joke on the class to crawl in the opening and stand up inside the shaft. The resulting oohs, aahs and giggles were encouragement enough to carry the joke further and step up on the ledge to disappear completely.
Who could have dreamed that some undoubtedly crooked contractor had build the shaft's walls using inferior mortar. It wasn't even strong enough for a teenage boy to brace himself against.
The falling mortar and brick tiles sounded like thunder as they rained down on the metal floor of the duct in the classroom next door. I was in my seat and some of my fellow students had brushed all the dust off me before the teacher from the neighboring classroom burst through our door.
"Did something hit this wall?" she asks in a very accusing voice as she inspected our wall and our ventilator shaft opening.
"No mam." A chorus answered.
"Did y'all hear a loud noise?" "Yes mam," the same chorus answered. "It scared the heck out of us," someone added, "it sounded like the whole building was falling down."



"Building Solomon's Temple" at London's
Library and Museum of Freemasonry

The Spanish online publication El Confidencial has reported a story that has been picked up by bloggers around the world, in the wake of the current very public meltdown of the Grande Loge Nationale Française and its Grand Master, François Stifani. The Spanish tale is that 10,000 French Masons are fleeing the GLNF and are seeking membership in lodges of the Gran Logia de España (Grand Lodge of Spain).

From "Unos 10.000 masones franceses quieren afiliarse a la Gran Logia de España" (Google translation):
[A] sector of the GLNF Masons have initiated contact with their Spanish counterparts of the Grand Lodge of Spain to probe the possibility of leaving the institution militancy in French and Spanish to join the lodges, especially those found in areas near the country neighbor as Catalonia, Aragon, Navarra and the Basque Country. Between the French and Spanish organization there are strong links, both are considered "regular lodges, which depend on what is known as English obedience," the oldest and largest in the world.

Sources of the Grand Lodge of Spain consulted by El Confidencial suggest that "what has been, so far, are some contacts of the brothers of France to see if the Grand Lodge of Spain would open its doors, as the organization in that country has suffered hit hard by the actions of its Grand Master. " These sources emphasize that "the crisis in the GLNF is very strong and many members have sent us their intention not to be affiliated with the organization since they are very disappointed by the political manipulation that has been made of the institution. One thing that may have Masons in policy and quite another to put such an institution serving some interests, which is prohibited. Stifani Freemasonry has betrayed. "

In Spain, the GLE is currently headed by lawyer Oscar Alfonso Valencia, which has been calm the waters within the organization after a turbulent period for some actions of the former Grand Master, Joseph Carter Tarragona. The number of Masons affiliated with GLE is about 2,500. Still, is the largest of the lodges that exist in our country. Therefore, a massive influx of members from the neighboring country could open a doubt about the future of the organization, as they could clearly dominate the caucuses. "While ultimately not the 10,000 who escaped from France, yes there are several thousands who are willing to take the plunge. But first we need to see how they could integrate without endangering the stability of the GLE. The limitation of the vote or certain conditions of eligibility could be the solution to accommodate this major injection of human capital.
An emphatic message of denial of this supposed French invasion of disaffected GLNF Masons has been posted today by Oscar de Alfonso Ortega, Grand Master of the Grand Lodge of Spain (Google translation):

In relation to information published in the secular press of Spanish, I say:

It is completely untrue that 10,000 French Brothers want to join the Grand Lodge of Spain. As of today, January 31, 2011, the number of French brothers who have applied for membership of the Grand Lodge of Spain that I have the honor to lead is ... zero. Again, zero. Indeed, there has been no request to that effect, contrary to what has transpired in the secular press. The contents of the article in a digital media does not correspond to reality and can only be understood as a sort of trial balloon launched by someone, I fear that a Mason in lower case, which is still far from certain polish stone to heat up the atmosphere and create an environment conducive to that possibility. But reality is stubborn and, as I said, there has been no movement of French Brothers to join the Grand Lodge of Spain. In this regard I must reiterate that, in my opinion, every Grand Lodge is sovereign and independent, so that should be resolved internally the events that occur within it, and no other Grand Lodge should interfere or meddle in matters that concern them.

I take this opportunity to make some publicity: on March 12, 2011 held in Barcelona (Spain) Great Regular Meeting of the Grand Lodge of Spain and would be a great honor for Spanish Brothers have the assistance of our Latin American Brothers. So far seven Great Masters of Europe and Latin America have confirmed their attendance, with their respective delegations. Hope to see you soon if your time and possibilities permit.

A fraternal hug,
A Little Military Humor?
Break Time.

Gipps St. Capital Works
From Damien Hudson
The Lodge Devotion #723 F & AM
February 2011 Newsletter
Victoria Australia
Painters transforming the South at 141 Gipps Street
Our Masonic forefathers bequeathed a wonderful asset and tool to us in a quality brick building at Gipps St which has rested on it's bluestone foundations since 1928. They sacrificed much and worked hard to gift us an asset we could no longer afford purchase today. Generations who followed preserved that heritage, and in recent decades men like Tim Dunlop and David Yole worked hard and tirelessly to preserve that gift as custodians of the future. It falls to us today to take up the challenge and ensure we too leave this legacy for future generations of Freemasons by safeguarding and improving Gipps St.
Since the departure of the Buddhists who used the South every Sunday and the slow erosion of the number of lodges meeting at Gipps St, the income to support the building has fallen. It is not just enough for a Committee of Management to pay the rates and effect any repairs, the building must be kept up to date in plant and presentation. They key ingredient beyond will and talent is cash flow, and it is to this the current Committee of Management will focus its attention.
In January Professional carried out works
Efforts to find new tenants have been frustrated by the condition of the building. Other issues like concern over safety equipment like exit signs and door handles have also been noted.
Towards the end of 2010 the Committee of Management forwarded a submission to Grand Lodge and a combination of Grant and Loan was approved by Grand Lodge. These funds will be used in a staged building program. The completion of this program, which includes a lift in later stages, will be dependent on securing cash flow from non-masonic tenants.
While it is not for Grand Lodge to "save Gipps St", the funds GL have made available will facilitate Gipp St saving itself. In partnership, together our goal is to preserve and improved the building for current and future Freemasons. Contactors have been engaged and roof repairs completed. Problems with Emergency exit signs and lighting have been remedied and the South has been painted. Works have prioritized with the view of safety then creating a lettable space which will generate cash flow for subsequent works, remembering always that Gipps St is there to serve all tenant lodges as a meeting place.
With the help of Grand Lodge and the Commitment of the Committee of Management, Gipps Street is now on a path towards a bright future.



Here are some of the "funnies" our grandparents enjoyed.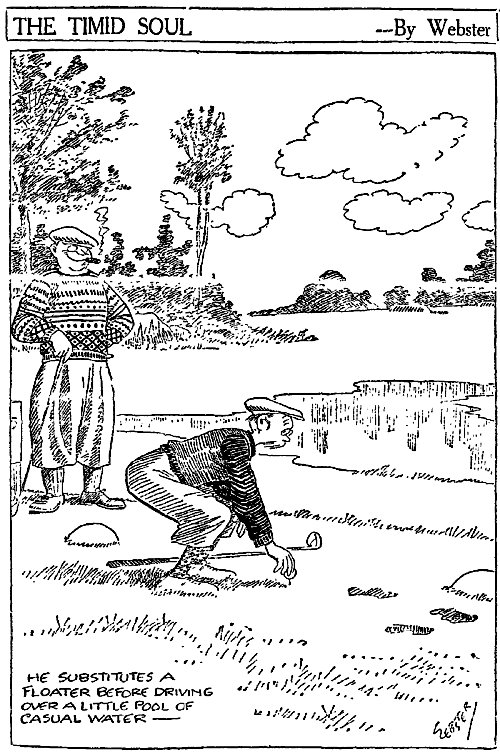 Poor Fish
From the Old Tiler's Talk - by Carl H. Claudy, The Temple Publishers



If I didn't love the old lodge so much I'd dimit and go to a live one!"
The New Brother spoke disgustedly to the Old Tiler. He laid down his sword, hitched in his chair and snorted. "S'matter with the old lodge now?" he asked belligerently.
"Oh, same old thing. Same old gang. No possible chance of doing anything different than we ever did. No pep. No costumes. No new expenditure for anything. We have died on the vine and don't know it!"
"Someone step on a resolution you offered?''
"Didn't offer any. Knew better. No use asking that bunch to do anything."
"Listen, brother, while I give you some advice. Look at an aquarium and consider the fishes."
"Huh?"
"Consider the fishes – the poor fishes. I asked the master of the aquarium what kept a bass in a glass pot full of water from eating up his small minnow companions. He told me he had trained the bass not to eat minnows. I asked him how he could do that. He said he put a plate glass partition in the aquarium, with the minnows on one side and the bass on the other. The bass made a nose dive after a mouthful of minnows and got a noseful of invisible plate glass. That made him pause for a moment but he soon returned. For three days that determined bass tried to dive through the glass he couldn't see. After the third day his nose was so sore he gave up. Decided, probably, that the minnows were ghost minnows and couldn't be eaten! He has lived with them a year since and never tried to eat one, even when it rubs against his nose.
"Now, brother, you consider the poor fish. He doesn't try anything because once he did and got a sore nose. You think the old lodge is dead because it won't spend money for costumes or stage an entertainment or buy a new temple or something. You are convinced it has withered on the vine, because it hasn't done anything progressive. Every brother in it talks the same way. Everyone wants to do something, but a few years ago a crowd of standpatters put a plate glass between the membership and any minnows of progress. The plate glass is long gone and the standpatters are a ring no more. But you and all the rest are afraid to offer constructive programs because you think the plate glass is still there. Between you and the bass, there's little difference in wealth."
"Wealth? I don t get you.
"I said wealth. You are both poor fish.
"That's handing it out pretty straight," commented the New Brother. "Now tell me, Old Tiler, why you think this old lodge doesn't spend money for anything except necessities and charity? You think it is a good lodge, a flourishing lodge, an old lodge!"
"Got any loose change in your pocket?" asked the Old Tiler.
"Sure, a handful," said the New Brother, pulling it out.
"Hold a dime in front of one eye and close the other. What do you see?" commanded the Old Tiler.
"Why, I sec a dime, of course!" was the surprised answer.
"Exactly. You see a dime. You don't see the $1.87 on the chair. A dime is close so that you can't see $1 a foot away. That's the idea of brethren who won't spend lodge money for anything they don't have to. They see the treasury full to bursting and investments piling up, then they try to look through a dime and are so scared to spend a dollar they don't dare read the treasurer's report aloud for fear someone will steal it!
"It was a fine lodge; now it is running on its reputation. It used to spend money wisely. Everything we needed we had. We had jamborees and smokers and entertainments; we had picnics and outings; we had educational lectures and a library; instructive talks were given new brethren and candidates. We spent what we took in and made better Masons by so doing. Gradually we began to look at the thin dimes so hard we couldn't see the success, progress, reputation, we had bought with dollars. So we stopped spending. Now we have money and a reputation of having died on the vine. What shall it profit a lodge if it lay up large numbers of dollars in the treasury, and lose its hold on its members? Where is the profit of penuriousness and lack of progress, even if we have money? What good is money unless you spend it? A million dollars at the North Pole isn't as valuable as one fur coat. All the money in the world on a desert island wouldn't buy one newspaper. You must spend money to get the good of it. You must spend money to make money. And you must spend money to keep your lodge alive and make your members better members and your Masons happy Masons. ''
"I never thought of it that way, Brother.
"I think I'll start a public aquarium," continued the Old Tiler.
"What for?" the New Brother was unwise enough to ask.
"For the poor fish, of course," snapped the Old Tiler. "I've got one here to start with."
"Come on in that lodge room with me," commanded the New Brother firmly. ''No Old Tiler can call me a poor fish and get away with it!"
"What are you going to do?" asked the Old Tiler.
"Offer a resolution to spend $1,000 in the next six months in educational work among our members, and you are going to second it."
There goes the start of a perfectly good aquarium," sighed the Old Tiler.
No © Copyright. Free To Use.