A Message From Ben Stein
The following was written by Ben Stein and recited by him on a CBS Sunday  Morning  Commentary.
Editor's Note;OK, I know it's not Freemasonry, but maybe Masons should read it.
I did check with Snopes.com and the story is genuine.
My confession:
I am a Jew, and every single one of my ancestors was Jewish.  And it does not bother me even a little bit when people call those beautiful lit up, bejeweled trees, Christmas trees.  I don't feel threatened.  I don't feel discriminated against. That's what they are, Christmas trees.
It doesn't bother me a bit when people say, 'Merry Christmas' to me.  I don't think they are slighting me or getting ready to put me in a ghetto.  In fact, I kind of like it.  It shows that we are all brothers and sisters celebrating this happy time of year. It doesn't bother me at all that there is a manger scene on display at a key intersection near my beach house in   Malibu  .  If people want a crèche, it's just as fine with me as is the Menorah a few hundred yards away.
I don't like getting pushed around for being a Jew, and I don't think Christians like getting pushed around for being Christians.  I think people who believe in God are sick and tired of getting pushed around, period.  I have no idea where the concept came from, that America is an explicitly atheist country.  I can't find it in the Constitution and I don't like it being shoved down my throat.
Or maybe I can put it another way: where did the idea come from that we should worship celebrities and we aren't allowed to worship God as we understand Him?  I guess that's a sign that I'm getting old, too.  But there are a lot of us who are wondering where these celebrities came from and where the America we knew went to.
In light of the many jokes we send to one another for a laugh, this is a little different:  This is not intended to be a joke; it's not funny, it's intended to get you thinking.
Billy Graham's daughter was interviewed on the Early Show and Jane Clayson asked her 'How could God let something like this happen?' (regarding Hurricane Katrina)..  Anne Graham gave an extremely profound and insightful response.  She said, 'I believe God is deeply saddened by this, just as we are, but for years we've been telling God to get out of our schools, to get out of our government and to get out of our lives.  And being the gentleman He is, I believe He has calmly backed out.  How can we expect God to give us His blessing and His protection if we demand He leave us alone?'
In light of recent events.... Terrorists attack, school shootings, etc.  I think it started when Madeleine Murray O'Hare (she was murdered, her body found a few years ago) complained she didn't want prayer in our schools, and we said OK.  Then someone said you better not read the Bible in school.  The Bible says thou shalt not kill; thou shalt not steal, and love your neighbor as yourself.  And we said OK.
Then Dr. Benjamin Spock said we shouldn't spank our children when they misbehave, because their little personalities would be warped and we might damage their self-esteem (Dr. Spock's son committed suicide).  We said an expert should know what he's talking about.  And we said okay.
Now we're asking ourselves why our children have no conscience, why they don't know right from wrong, and why it doesn't bother them to kill strangers, their classmates, and themselves.
Probably, if we think about it long and hard enough, we can figure it out.  I think it has a great deal to do with 'WE REAP WHAT WE SOW.'
Funny how simple it is for people to trash God and then wonder why the world's going to hell.  Funny how we believe what the newspapers say, but question what the Bible says.  Funny how you can send 'jokes' through e-mail and they spread like wildfire, but when you start sending messages regarding the Lord, people think twice about sharing.  Funny how lewd, crude, vulgar and obscene articles pass freely through cyberspace, but public discussion of God is suppressed in the school and workplace..
Are you laughing yet?
Funny how when you forward this message, you will not send it to many on your address list because you're not sure what they believe, or what they will think of you for sending it.
Funny how we can be more worried about what other people think of us than what God thinks of us.
My Best Regards,  Honestly and respectfully,
Ben Stein
The Computers For Masons Series


This Month By Debra Littlejohn Shinder
(Editors Note: The beliefs, ideas and opinions expressed in this article are strictly those of the author.)
10 email scams to watch out for
If it seems like you're getting hit with more email scams than ever, you're right. Deb Shinder explains what you and your users should watch out for to avoid being duped.
Spam is one thing. It's annoying to get email messages that are nothing but blatant attempts to sell you something. But other than using up your bandwidth, they don't really cause you any harm. Email scams are quite another thing. They aren't trying to sell you something; they're trying to steal something from you, con you out of or into something, or just scare you.
Email scams have been with us since the Internet went commercial back in the early 1990s. I remember getting those Nigerian scam messages back then. And believe it or not, they're still around. But scammers have gotten more sophisticated, and some of the more recent email scams are harder to detect — unless you know what you're looking for.
The holiday season seems to bring even more scammers out of the woodwork, perhaps because the average computer user is more vulnerable this time of the year. We're busy and in a hurry and may be less likely to notice the signs that a message isn't legit, and/or we're in a generous and giving mood and may be more likely to fall prey to a well crafted story that plays on our sympathy. Let's look at some of the email scams that are currently going around the Internet and how you (and your users) can recognize them and keep from being victimized by them.
1: Fake Facebook "friend" messages The popularity of social networking has surged, and scammers have jumped on that bandwagon to take advantage of the way the social sites work. For example, depending on your account settings, you may get email messages whenever someone posts to your Facebook wall or sends you a private message. Recently, I received a message with the subject line "Caroline sent you a message on Facebook." As with real Facebook messages, there was a link to click on to reply. But I get a lot of those messages, and this one didn't look quite right. Figure A shows the fake message.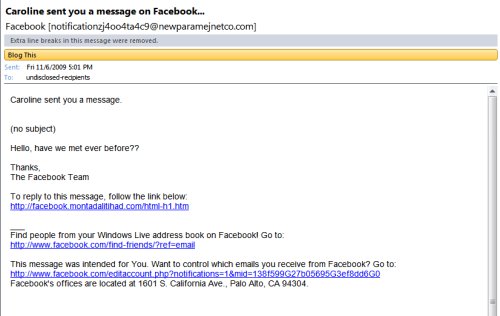 Figure A
Fake Facebook message is close, but not close enough. I clicked back to a Facebook notification that I knew was real to compare the two. Figure B shows real message (with the content blacked out to protect the privacy of the sender).

Figure B
The real Facebook message has subtle differences. The first thing that caught my attention was the Reply To address. I expected the URL domain to be www.facebook.com, but the one in the fake message was facebook.montadalitihad.com. If you know how domain naming works, you know that means "facebook" is just the name of a Web server in the montadalitihad domain. As if that weren't enough, I also noticed that the To field in the message didn't show my name; instead it said "Undisclosed recipients," indicating this message was sent to multiple people. All this was enough to cause me to check out the message headers (in Outlook 2007, you do this by clicking the Options icon. Figure C shows the headers.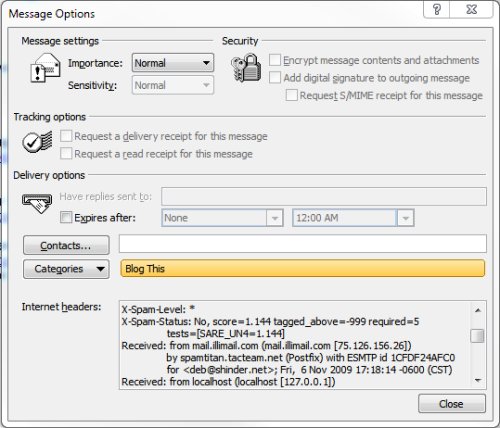 Figure C
The Internet headers show that this message did not come from Facebook.
In a real Facebook message, the Received: field in the header would be from mx-out.facebook.com. In this one, it's mail.illimail.com. Now I knew for sure that it didn't come from Facebook.
I had opened the message in a virtual machine, so if there was malicious code attached, it wouldn't affect my real OS. Now I clicked the Reply To link and found that it opened a page that looks very much like the Facebook login page. The red flag here was that I was already logged into Facebook with that Web browser. You should not get the login page if you're already logged into the service. I did not, of course, enter my credentials. That's the scam. If you do, the scammer will now have your Facebook user account and password and can hijack your Facebook site.
Of course, variations on this scam may use other popular social networks, such as MySpace or LinkedIn. If you're in doubt about the legitimacy of any "friend" message, just log in to your social network account via your browser (not by clicking the link in the email) and check your Inbox. If the message is real, there will be a copy of it there.
2: Fake admin messages
You might just ignore a "friend" message (especially from a friend you've never heard of). But scammers know that a message from the site administrator is more likely to get your attention. This message pretends to be from "The Facebook Team" and purports to notify you of a policy change that requires you to submit a new account agreement. They try to scare you by warning that your account might be closed down or restricted if you don't do it. Figure D shows this message.

Figure D
Scammers up the ante by sending fake administrative messages.
This time, the scammer did a better job with the From name, which shows to be from facebookmail.com, just like a real Facebook message. But the first clue that it's a scam is the To address. That's not my name, and that's not the name of anybody in my domain. I have our Exchange server set up to forward messages to me when they're sent to nonexistent addresses (assuming they don't meet other spam criteria, which would block them at the server's spam filters). Spammers and scammers often get hold of an email domain name and send messages to random names at that domain in hopes they'll hit on a real one.
The second warning signal is the attachment. Facebook agreements don't come as attachments; if this were real, it would direct me to a web page where I could read the new terms and click Agree. Attachments from strangers should always put you on alert. I copied the attachment into a virtual machine and ran a virus scan on it. Sure enough, it was infected with a virus called VirTool:Win32/VBInject.gen!CN. Luckily, most antivirus programs that are up to date will be able to detect it. A check of the Internet headers on this message indicated that the Reply To address is somewhere in Germany.
3: Fear-mongering messages
While we think of scam messages as those by which the scammer profits, some don't benefit the scammer at all — except for whatever gratification a person gets from causing others to be upset or afraid. Unfortunately, this makes some individuals feel powerful.
There are many examples of these types of messages, and they usually seem to play on the current headlines. A few years ago, there was a flood of such messages warning that if you saw another car on the road at night with headlights off and blinked yours to signal to the driver, you were in dire danger of being shot as part of a gang initiation. This article details the history of this email hoax.
Similar fear-mongering scams have warned about a serial killer who lured women out of their homes by playing a recording of a crying baby and a rapist who would approach women in parking lots claiming to have picked up a five dollar bill the woman dropped.
The latest in fear-mongering messages like to play on health fears caused by all the recent media attention to swine flu (H1N1). An email message has been going around the Internet for several months warning that "The CDC says H1N1 is wiping out entire villages in Asia and expect it to hit the U.S. in January, where it will kill 6 out of 10 people." The message goes on to predict that martial law will be declared and you'll be shot if you leave your house to buy food, and urges recipients to stock up now and to buy face masks, use Purell, and take Enzacta products to "keep your immune system strong." If you weren't already a little suspicious, you probably will be by the time you get to the end, where the sender says the pandemic was predicted years ago by a Russian mathematician and that it was caused by a tsunami. Here's the full text of the message.
They always say that if something seems too good to be true, it probably is. The same goes for over-the-top bad news — especially if you're hearing it for the first time in an email message. You can bet that if the CDC had really put out such an announcement, it would be all over the mainstream news outlets.
4: Account cancellation scams
It seems that around the holidays, more of these than usual start popping up. I've received a number of messages telling me that my account has been or is about to be cancelled — purportedly from Amazon, PayPal, even from the bank. Close examination of the messages show them all to be bogus. Of course, in many cases, I already knew that, because I don't even have an account with the organization.
Here's another clue: The message contains a link that looks legit, such as www.mybank.com, but when you hover your mouse pointer over it to show the actual URL, it's something different, often with a foreign country code such as .ru (Russian) or .cn (China).
Still another clue is that these scam messages often contain typos or grammatical errors you wouldn't expect from a legitimate company.
5: Bogus holiday cards
There are numerous Web sites through which you can send virtual holiday cards to your friends, and many people take advantage of this quick and easy — and inexpensive (no postage stamps required!) — way to send season's greetings at this time of the year. Scammers have co-opted the idea, though. They know that many computer users won't think twice about clicking a link to view a card from a friend, so they send out messages notifying you that you've received a card, with a link to a Web site that will download malicious software to your computer if you aren't properly protected.
So how do you tell the real card services from the scams? For one thing, when a friend sends you a card from a real service, it will almost always tell you the name of the sender. Scam messages are more likely to use the generic "A friend sent you a greeting." The safest way to check is to do a Web search for the card service and read about it to find out if it's a legitimate one. Or to really be safe, just ignore the card notification and send holiday greetings to your friends the old fashioned way (through the postal service) or by personal email, instead of using a Web service.
6: Phantom packages
Any other time of the year, you might be suspicious if you were notified that you had an unexpected delivery from DHL, FedEx, or UPS. During the holidays, it's a common occurrence. Scammers know this, so they're seizing the opportunity and sending email messages telling you that you have a package that couldn't be delivered because of some problem with the shipping address. This particular scam contains an attachment that's supposed to be a form you need to print and fill out so you can pick up the package. However, there is no package and when you open the attachment, it infects your computer with a virus.
Also beware of variations on this theme. Many people know not to download email attachments, but they'll readily click a link to go to a Web site. So more sophisticated scammers will send you to a site that looks like that of the delivery service, but that delivers only malware — straight to your system.
7: Threats from the government
A sharply divided partisan political system has resulted in a growing distrust of government in many circles. Some scammers are now playing on those sentiments. A recent scam email has been going around that purports to warn you that the Department of Homeland Security and the FBI have been informed that you're allegedly involved in money laundering and/or terrorist activities. The email goes on to say that you can avoid prosecution by obtaining a certificate from the Economic Financial Crimes Commission Chairman — for only $370. Who wouldn't jump at that deal?
Many similar scams use the names of government agencies. Of course, they're all hoaxes. If you were really the target of a DHS or FBI investigation, you wouldn't be able to buy your way out of it for a few hundred bucks. And those agencies would be contacting you in person, not sending threatening email messages.
8: Census survey says…
Another recent email scam also involves the federal government, but instead of accusing you of a crime, it uses your knowledge of real, routine government activities against you. Everyone knows that the U.S. government conducts a census every 10 years, and 2010 is the year. Citizens are required by law to answer the census-takers' questions. Most people also know that many government-related tasks can now be done online.
Scammers are taking advantage of this to send phishing emails that claim to be from the Census Bureau, making it "convenient and easy" for you to fulfill your census obligation, either by filling out an attached form and emailing it back or by visiting a Web site to fill in a form. The form asks for all sorts of personal information, including the social security number and date of birth of everyone in your household, which can be used for identity theft.
In addition to asking you these personal questions, the emails may include attachments containing malicious code that can infect your computer. The same goes for the Web links contained in the email message. The Census Bureau does, in fact, send email regarding your participation in a survey — but it does not ask for detailed personal information.
9: In Microsoft (or Apple or Dell or HP) we trust
There are dozens of email scams out there that attempt to exploit users' trust in the vendors that make their computer software or hardware. These messages say they're from the vendor and range from fake security warnings with attachments that claim to be vulnerability fixes (but are really malware) to bogus "special offers" to "payment requests" that require you to download and install a "transaction inspector module" (which is really a Trojan) if you want to decline to have the payment charged to your credit card.
10: You're a winner!
There are many new twists on an old theme: You're a winner in the lottery, contest, or drawing. All you have to do to claim your prize is fill out a form and email it back. Of course, the entity awarding the prize needs your social security number because the value of the prize must be reported to the IRS.
The bad thing about this scam is that you will indeed have to provide such information to claim a prize in a legitimate contest. As a Microsoft Windows 7 Launch Party host, I was automatically entered in a contest to win a Dell laptop — and I won. When I got the email notification, you can bet I was suspicious. Before doing anything, I checked it out with my contacts at Microsoft. Even after confirming that the notice was real, I declined to send my personal information back via email; I printed out the form and sent it via snail mail (registered and certified) instead.
Even if you really did enter the contest that you're being told you won, don't get careless. Check into the legitimacy of an email notification of the good news. And I recommend never sending your social security number or other sensitive information in unencrypted email. A legitimate contest will almost always have alternatives methods by which you can submit your information.

LDS Film Fest: Mormons, Masons
By Daron Letts
From The

Provided by Brent Leavitt
By Trent Toone
LDS Film Fest: Mormons


OREM, Utah -- "Walking through a mine field."
Provided by Brent Leavit
That was the best description author Matthew B. Brown could come up with as he explained the challenges of writing his 2009 book, "Exploring the Connection Between Mormons and Masons."
As part of the Mormons and Masons project, Brown also held a prominent role in creating a 39-minute documentary on the topic, which was shown at the ninth annual LDS Film Festival on Thursday.
In the documentary, which was produced in three weeks, Brown, former Mason grandmaster Glen A. Cook, and other historians detail the connections of Joseph Smith and other church members to Freemasonry. They also explore a possible relationship between the Masonic lodge rites and Mormon temple ordinances.
Following the special screening, Brown and 28-year-old director Brandon Smith fielded a variety of questions from the audience.
Sacred Walls, is a film from the 9th LDS Film Festival. Provided by Brent Leavitt, LDS Film Festival
"It's a difficult situation to deal with because of issues of privacy and issues of sacredness," Brown said. "So you have to tip toe through the mine field when you go public with these things. Fortunately we found a way we can do that."
Smith said the project was partially sparked by the release of Dan Brown's latest novel, "The Lost Symbol." He hopes the film will motivate people to read Matthew B. Brown's book.
"The film is really just an introductory piece. There is nothing scary about the Masons and nothing scary about what the Mormons do. Neither are crazy societies," Smith said. "One promotes brotherhood and the other promotes eternal life and families."
The 2009 film "Exploring the Connection Between Mormons and Masons" was informative, interesting and thought-provoking. It caters well to a curious audience.
A Little Military Humor
The Knights Of New.

Holy Night The Little-Known Jewish Holiday Of Christmas Eve, Seriously.

By Benyamin Cohen

'Twas the night before Christmas, and all through the house, Jews were playing dreidel, being celibate, and tearing toilet paper.

Allow me to explain. Please.

The Jewish community has long had a tense relationship with Christmas. You wouldn't know it by the two main customs observed by many 21st-century Jews on Dec. 25: eating Chinese food and being the first to see the Christmas blockbuster. But less well-known are the more historic—and, to be blunt, more bizarre—Christmas Eve customs that Jewish communities have kept secret, even from most Jews. As a public service announcement, I'm here to let you in on what the rabbis thought about Christmas Eve. Gather round, little ones. This is a scary tale.

The Talmud, with its share of rabbinic repudiations against Jesus, was never a big fan of Christmas. Call it the Grinch. Indeed, the rabbis looked at it as a day of mourning—perhaps due to the suffering that Jews encountered in Jesus' name throughout history. And Christmas Eve—named "Nittel Nacht" by Jewish scholars in the 17th century—took on a life of its own. Some Jewish mystics were under the impression that many apostates were conceived on Christmas Eve (which is one reason the rabbis forbade sex on Dec. 24; more on that later). In Europe, the Jewish community was victim of more acts of violence on this night. All in all, it didn't end up being a festive evening for Jews.

And so the rabbis decreed that the public study hall be closed and that no Torah learning take place on this night. I guess it's our version of "Silent Night"—literally. The edict came about partially because of pogroms, but the leaders were also concerned about the popularly held belief in Judaism that studying the Torah brings spiritual benefit to the world at large. Many didn't want to make this positive contribution on what they considered a "pagan" night.

Although there is no exact demarcation as to the genesis of this odd holiday, the renowned Talmudist Rabbi Samuel Eides (commonly known as the Mahrasha in Torah circles) observed Nittel Nacht as early as the late 1500s. The Baal Shem Tov, a famous Jewish mystic and the founder of Hasidism, popularized the holiday in the 1700s. Many rabbis after him added on their own special rules. By the mid-1900s, when Judeo-Christian relations matured, the Christmas Eve customs fell mostly by the wayside as the Jewish community wanted to show their support for their Christian neighbors. While there are still some Orthodox groups that observe Nittel Nacht, these are not widespread customs among modern Jews. Indeed, in doing research for this article, I found that asking for information on Nittel Nacht was sort of equivalent to asking for directions to the nearest Freemasonry.

Although Torah study was forbidden, some privately studied what's called Toledot Yeshu—a medieval manuscript that tells the story of Jesus from a non-Christian perspective. A few didn't even sleep on Christmas Eve for fear that they might dream about Torah study. It's probably the only time the rabbis would prefer visions of sugarplums dancing in your head. Hassidic legend says that dogs, often and quizzically seen in ancient Jewish texts as a symbol of evil, appear to those who study Torah on this night.

The rabbinic sages behind Nittel Nacht also decreed that a married couple should not have sex on Christmas Eve. I guess they would shudder at all the unmarried Jews today who use the night to hook up at Jewish singles events. (There are similar customs—no Torah study, no sex, etc.—on the ninth day of the Hebrew month of Av, the historic date on which both of the Jewish Temples were destroyed. Ironically, many rabbinic authorities actually suggest this was the actual day of Jesus' birth.) In classic Talmudic fashion, there are debates as to when Nittel Nacht actually begins. Chaim Saiman, a law professor at Villanova who specializes in Jewish legal theory, calls it the "Russian nesting doll" theory. Ask one question and several others pop out. You can't study Torah on Christmas Eve? Great … when does that start? Midday? Sunset? Nightfall? And since Orthodox Christians observe Christmas in January, there was actually a rabbinic debate about when to "celebrate" Nittel Nacht. Not surprisingly, extra-strict Jews decided to hedge their bets and observed Nittel Nacht on both nights.

So what would Jews do on Christmas Eve?

1) Tear toilet paper. I kid you not. Bear with me, as the reason is a bit convoluted: Observant Jews do not tear anything on the Sabbath as they consider it a form of "work." As such, they either don't use toilet paper on Saturdays (opting instead for pipe-clogging tissues) or pre-rip toilet paper before sundown on Friday. (I reluctantly confess, this is something I was exposed to while growing up the son of an Orthodox rabbi.) Since Jews were not allowed to study Torah on Christmas Eve, the rabbis still wanted the community to be doing something, um, productive. So they suggested people spend the time pre-ripping toilet paper for the entire year. I wish I was joking but, alas, I am not.

2) Play cards, play chess, spin a tiny top. Many synagogues held poker games on Christmas Eve; some say this is where the custom of spinning the dreidel on Hanukkah matured from, as a way for Jews to pass the time.



Here are some of the "funnies" our grandparents enjoyed.






New Cut Trails
From the Old Tiler's Talk - by Carl H. Claudy, The Temple Publishers



Old Tiler, I have made up my mind that there is a fundamentalism and a modernism in Masonry, as well as in the church. And I am a Masonic fundamentalist," began the New Brother.
"That's a fine mouthful of an expression," commented the Old Tiler. " 'Masonic fundamentalist.' If I just knew what it meant, now, I'd go spring it on someone."
"Don't make fun. This is serious!" protested the New Brother.
"Then be serious and tell me what kind of an animal, if any, a Masonic fundamentalist is," begged the Old Tiler.
"Why, he is one who finds the ritual all-sufficient as a source of Masonic light; one who doesn't hold with the higher criticism of Masonic documents and the old charges and constitutions; one who believes in the exact truth of the Masonic legends; one who can bridge the gap between written history since Grand Lodges and the time of King Solomon without a mental effort; in other words, one who has faith without proof in the reality of the continuance of Masonry as a system of morality and philosophy right down from Solomon's time to now!"
"Guess I can't use the expression after all," answered the Old Tiler. "Too much of a mouthful."
"Don't you agree that a Masonic fundamentalist is the happier and better Mason than the modernist Mason?"
"You ask me if I think the ignorant Mason is happier than the educated one!" returned the Old Tiler, vigorously.
"If a cow is happier than a philosopher, I'll agree. But what is happiness? If it makes you happy not to use your mind, to believe legends and fairy tales, I suppose Masonic fundamentalism is your proper, meat. I am not built that way. I have found the real story of Freemasonry, as it has been patiently unfolded from the mists of the dim past by earnest students, a great deal more fascinating than the legendary history. I have loved the legends more as I have been able to distinguish between legend and fact. Santa Claus and Hans Andersen's fairies are much more real to me now than they were when I was a little boy.
"Instead of being a Masonic fundamentalist, I like to think of myself as a Masonic adventurer. And that reminds me of something I cut out of a magazine; maybe you'd like to read it." The Old Tiler produced a well-worn pocketbook, from which he extracted a clipping. "Listen to this and see if it doesn't fit-almost. - He read softly Marie LeNarl's beautiful verse, "The Adventurer."
"God, in the name of Jesus' blood and tears, Loose us from slavish bondage to dead years, To dogmas that, encrusted in the mould Of age, no virtue have, save to be old. Lo! A new era has been ushered in. Lo! now the new wine bursts the ancient skin. Then gird us, Lord, dispel our cowards' fears, Give us the daring hearts of pioneers. What though in quest of truth we sometimes stray? Better to seek fresh morsels day by day Than feed, like swine, on husks before us thrown From which the inward nourishment has gone. Better to stray-and struggle back again If we too far surpass our mortal ken Old paths for sheep, but new-cut trails for men!"
"Old paths for sheep, but new-cut trails for men," repeated the New Brother, softly, as the Old Tiler finished.
"That's rather fine, isn't it?"
"It seems fine to me, whether we speak of religion, or Masonry, or science, or kn6wledge, or politics, or government. That which is good and also old, is not good because it is old, but old because it is good. If it isn't good in itself, we ought to toss it overboard, regardless of its age. To persecute those who think differently from constituted authority is an old doctrine. It was old when the Inquisition made it new. But it wasn't good, was it, just because it was old? Slavish obedience to a king, regardless of right and justice, was an old idea when the Magna Carta was signed; it was older when the Liberty Bell first rang in this country, but it wasn't good just because it was old.
"Brotherly love was known long before King Solomon; it is as good today as it was then, but not because Of its age, but because of its goodness.
"'Old paths for sheep.' I am no sheep! As best I can, I keep my feet upon new-cut trails. But I hold fast to the staff of the Ancient Landmarks, and all that is good in our order; I try to cast overboard the superstition and the slavish adherence to doctrine. I do not, for instance, believe that certain consequences which we agree shall follow failure to keep our obligations are to be taken literally. If William Morgan was slain by Freemasonry in 182-6 (which he was not!) I don't believe it was right, even though it was deserved. Neither did the Freemasons of that age believe it was right. But a Masonic fundamentalist must take such things literally. I do not believe that Solomon established a Grand Lodge, and met, as Grand Master, with two other Hirams, also Grand Masters. Yet I believe in the essential truths contained in the Solomon legend, and in the essential truth and beauty of the Hiramic legend.
"What difference does it make whether George Washington did, or did not, cut down a cherry tree, and refuse to tell a lie about it? Washington is an ideal, an embodiment of truth. If that ideal can be taught to children with a story, then the story is true, whether it ever happened or not. If men are taught fidelity and loyalty and bravery and honor and honesty by the Hiramic legend, it is true, whether it ever happened or not. Santa Claus is true, whether the children's saint be an actual fat old man living in a toyshop at the North Pole, or just happiness in men's hearts.
"To my mind the more of the truth we know, the more we value the legends. Therefore, I try to be a student of the real history of Masonry, that I may love its stories, its myths and its symbols the more. No sheep, the new-cut trail is under my feet and will be, while these old eyes can follow it-." The Old Tiler's voice trailed off into silence.
"I'm following after, if you'll give me a hand," answered the New Brother, gently. " 'New-cut trails for men!' "
No © Copyright. Free To Use.