Boys And Girls From The Other Side Of The Park
From; Backyard Pit at http://www.kera.org/tv/productions/nowherebuttexas/
  "I'll put you outside that fence with the city guys!"
No other words from Dean William Henry Remmert more terrified the orphans at Fort Worth's Masonic Home than these.
Beginning with their arrival they were daily reminded of the dread "City Guys" who lurked beyond the fence. While Home Guys fight for honor, women, kids and the American flag, City Guys mistreat girls, have no manners and won't fight for their country.
The school's age-old "Us vs. Them" method of social control only partly explains the Mites' football-field ferocity. Adding to their aggression was the subconscious anger they must have felt from having no fathers to watch them play, no girlfriends to meet them after the games and the indignity of being called "dirty orphans" everywhere they went. So they went out, not just to win football games, but to fill hospital beds with opposition players.
Like Spartan soldiers, they lived, ate, studied, worked and slept together in the dormitory. Many Mites, like Hardy Brown and Leon Pickett, carried the festering psychic trauma of seeing their fathers die.
Hardy's mother, instead of comforting him and his siblings, abandoned them. As a 185-pound fullback Hardy played with ruthless, relentless fury. He used the infamous, now-outlawed, "Humper" block to loosen teeth, pulverize noses and shatter cheekbones. He may have been the most vicious player in football history.
It is said that his blocks initiated the use of face masks.
Coach H. N. "Rusty" Russel In The Middle
In their heyday from 1928 to the onset of the Second World War, the "Twelve Mighty Orphans" built a record of 127-30-12 under coach H.N. "Rusty" Russell and his sidekick, Dr. E.P. "Doc" Hall, a Fort Worth physician who tended the Home boys and girls free for 45 years.
Though sponsored by Texas Masons, 450,000 strong, the Home could allot Coach Russell a meager salary but no football budget and no football.
In the beginning they used a soup can. But they overcame poverty, constant battles with the Texas Interscholastic League, jealous rival coaches and their spies, and unlucky coin tosses to beat the stuffing out of high school Goliaths with up to nine times their enrollment. They traveled to games in a smoky flatbed truck with newly installed side rails, "to keep the orphans from bouncing out." Their equipment was so inferior that Highland Park gave them new uniforms to wear in the 1938 playoff games, but the orphans never wore them. They did not accept gifts from City Guys.
They just continued to beat their would-be benefactors, twice in 1938, raising comparisons that year with another champion of America's little guy, the short-legged, knobby-kneed racehorse that nobody wanted, Seabiscuit. Seabiscuit surprised the bluenoses of the horsey crowd that year by beating Triple-Crown winner War Admiral by four lengths. The Mites were outweighed on average by 30 to 50 pounds per player in every game but had 30 to 50 times more grit and gristle and Seabiscuitosity. Most of their opponents had multiple coaches. The orphans had only one coach, but he had 700 plays in his playbook while theirs contained a dozen or less.
Former Dallas Times Herald and Fort Worth Star-Telegram sportswriter Jim Dent, himself on intimate terms with adversity, has captured the underdog spirit of the Fort Worth Masonic Home's football teams and the depth of meaning they conveyed during the Depression era. His affection for the subject lights up the page like a modern scoreboard.
He follows Hardy Brown from the moment of the father-killing shotgun blast to Hardy's final ball-carrying rush toward the ice-covered Amarillo goal line, and the other boys are as vivid and familiar as their nicknames: Doug "Fairbanks" Lord, Cecil "Crazy" Mosely, C.D. "Wheatie" Sealy, Leonard "Snoggs" Roach, Clyde "Teague" Roberts, Floyd "Brownie" Lewis and John "Arizona Pete" Mayo. Arizona Pete endured merciless beatings from a sadistic dean until the dean mysteriously drowned in the Trinity River during an outing with the boys.
Eventually, the boys had to enter the world of the City Guys. But in doing so they no doubt improved its manners, honor and treatment of women.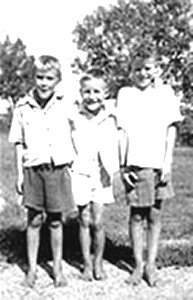 3 Masonic Home boys go on to University of North Texas
Doug Lord, played football under Russell in the early 1940s. He graduated from the Masonic Home in 1944 and received his bachelors and masters degrees in business in 1950 from North Texas State College.
Bruce Riddle was 4 years old when he went to live at the Masonic Home about a decade after the stunning 1932 season.  After graduating in 1956 he earned a bachelor of business administration degree from North Texas State University in 1961.
C.B. Sealey also played as a Mighty Mite on the very successful 1940 team. After graduating in 1941 he earned a bachelors degree in education at North Texas State College in 1948.
Twelve Mighty Orphans: The Inspiring True Story of the Mighty Mites Who Ruled Texas Football
Mighty Mites High school football has long been played beneath the Friday night lights, but the drama was never higher than when the Mighty Mites came to play. The Mighty Mites were the sons of deceased Master Masons who played for The Masonic Home and School on Fort Worth's southeast side. Small but agile, the team gained a secret weapon in Coach Rusty Russell. When he joined the team in 1927, he taught them how to use short passes and trick plays, leveling the playing field with their larger rivals. In 1932, the Mighty Mites tied with Corsicana for the state championship. Although they lost on penetrations giving the state title to Corsicana, these underdogs established themselves as the toughest team in the league, lifting people's spirits in the midst of the Great Depression.
Jim Dent, author of the New York Times bestselling The Junction Boys, returns with his most powerful story of human courage and determination.
More than a century ago, a school was constructed in Fort Worth, Texas, for the purpose of housing and educating the orphans of Texas Freemasons. It was a humble project that for years existed quietly on a hillside east of town. Life at the Masonic Home was about to change, though, with the arrival of a lean, bespectacled coach by the name of Rusty Russell. Here was a man who could bring rain in the midst of a drought. Here was a man who, in virtually no time at all, brought the orphans' story into the homes of millions of Americans.
In the 1930s and 1940s, there was nothing bigger in Texas high school football than the Masonic Home Mighty Mites—a group of orphans bound together by hardship and death. These youngsters, in spite of being outweighed by at least thirty pounds per man, were the toughest football team around. They began with nothing—not even a football—yet in a few years were playing for the state championship on the highest level of Texas football.
The Mighty Mites On The Field
This is a winning tribute to a courageous band of underdogs from a time when America desperately needed fresh hope and big dreams.
The Mighty Mites remain a notable moment in the long history of American sports. Just as significant is the depth of the inspirational message. This is a profound lesson in fighting back and clinging to faith.
The real winners in Texas high school football were not the kids from the biggest schools, or the ones wearing the most expensive uniforms. They were the scrawny kids from a tiny orphanage who wore scarred helmets and faded jerseys that did not match, kids coached by a devoted man who lived on peanuts and drove them around in a smoke-belching old truck.
In writing a story of unforgettable characters and great football, Jim Dent has come forward to reclaim his place as one of the top sports authors in America today.
Masonic Home Independent School District History
Masonic Widows and Orphans Home began with a resolution in 1885 to offer a permanent home for Masonic widows and orphans. In 1899, Masonic Widows and Orphans Home located at 3600 Wichita Street, Fort Worth, Texas, opens its doors to meet the needs of Masonic widows and orphans. Since 1911, while continuing to maintain financial support, the widows relocated to the Texas Masonic Retirement Center formerly The Home for Aged Masons in Arlington, Texas. In 1913, Masonic Widows and Orphans Home known as Masonic Home and School of Texas became recognized by the State Board of Education as Masonic Independent School District.
In 2005, Masonic Home and School of Texas closed its Fort Worth campus which included the residential childcare program and Masonic Home Independent School District. In 2007, the campus was sold and the administration offices were relocated to Hurst Texas.
Today
Masonic Children & Family Services of Texas (MCFS) continues to uphold the legacy of supporting children, families and widows by assisting in providing information, referral, and/or financial support.
The Computers For Masons Series


This Month By Scott Dunn Web Site
(Editors Note: The beliefs, ideas and opinions expressed in this article are strictly those of the author.)
Secure Flash Drives Keep You Safe On The Road
Scott Dunn
In a Sept. 24 Top Story, I described how to evade keyloggers when using a public PC by storing your personal information on a flash drive.
If you don't mind paying a little extra to maintain your privacy and security ($79.00), a specialized flash drive called IronKey can help you stay safe while using an untrustworthy computer.
Anyone concerned about security - and that's just about everybody - should consider using a flash drive to transport sign-in info and other personal data when traveling. Following my story on thwarting keyloggers, several readers suggested the IronKey flash drive as an even-stronger security measure.

Billing the device as the "world's most secure flash drive," the company claims IronKeys are waterproof, tamperproof, and able to endure extreme physical conditions.
Beyond the sheer ruggedness of its devices, each of which is encased in metal, the firm takes multiple approaches to securing your data. The first time you use an IronKey device, the product prompts you to create a master password and set up an account on the IronKey.com web site. As part of the sign-up process, you're asked to provide answers to personal questions that can be used to identify you if you forget your password.
You can also select images and provide a passphrase to help you authenticate e-mail sent to you by IronKey and thus avoid being fooled by a phishing mail. After you complete these steps, the product goes through its authentication routine and then is ready to use.
Hardened Flash Drive Is One Tough Nut To Crack.
The first time you use your IronKey flash drive, you need to enter the master password to do pretty much anything. If you forget or lose the password, you can sign in to the IronKey site to retrieve it. If you lose the drive itself, you can report it lost so that no one else can sign in to your account.
The setup routine creates an IronKey icon in the notification area of the Windows taskbar. When you click this icon, you're presented with a main menu and control panel. In this way, IronKey is similar to U3 flash drives and portable application suites such as winPenPack. (See my Oct. 18, 2007, Top Story for more on portable apps and U3 drives.) You can customize the IronKey menu by adding shortcuts to any other portable apps you install to the drive.
IronKey's identity manager lets you store user names and passwords for the sites you frequent, so you can sign in with a simple point-and-click. Because the IronKey device provides your password directly to any secure sites you visit, keyloggers see no keystrokes to capture.
IronKey preinstalls a version of Firefox on the drive, which means no cached or temporary files are left on the computer you're using. If, for some reason, you can't or won't use Firefox, not to worry. You can choose instead to open an Internet Explorer window while the IronKey drive is in place. The device inserts an icon onto IE's title bar to give you access to IronKey's menu choices.
These are only a few of IronKey's many security features. Others of note include the following:
§ You can store your work files in a folder protected with military-grade hardware encryption. IronKey will mount this folder as a drive, but only if you enter the master password.
§ The device's self-destruct feature obliterates your stored data if someone enters the password incorrectly ten times or tampers with the device.
§ The drive's built-in backup utility saves data securely to a folder on your computer. Not surprisingly, all these precautions don't come cheap. IronKey's personal version costs $99 for a 2GB drive and $149 for the 4GB model. The 8GB and 16GB drives will set you back $199 and $299, respectively. But the device might be a bargain for people who need to take their most-sensitive data and sign-in information on the road. If that describes you, an IronKey is one of the safest ways to go.
You'll find more information about the product on the IronKey site.
Create Your Own Secure, Bootable Flash Drive
If you don't want to shell out for an IronKey, you can still use a flash drive for added security when you have no choice but to use a shared computer. One strategy is to load an entire operating system onto a flash drive and then boot from it rather than the PC's hard drive.
Be aware, however, that many Internet cafés won't let you boot their computers using a flash drive. Even if you can boot a public PC from a flash drive, doing so is unlikely to evade hardware keyloggers.
Still, you may find booting from a flash drive useful in some cases. In my Mar. 20, 2008, Top Story, I discussed how to install a version of Linux on a flash drive . If you'd prefer to load Windows XP onto a flash drive, instructions are provided in WS contributing editor Mark Edwards's Mar. 27, 2008, PC Tune-Up column on the subject.

A Brother's Working Tools
From The Rural Lodge Newsletter
Henry O Studley (1838-1925) was an organ and piano maker, carpenter, and mason who worked for the Smith Organ Co., and later for the Poole Piano Company of Quincy MA.
Born in 1838 in Lowell MA, Studley is best known for creating the so called Studley Tool Chest, a wall hanging tool chest which cunningly holds some 300 tools in a space that takes up about 40 inches by 20 inches of wall space when closed. Studley joined the Massachusetts Infantry at the start of the Civil War and was captured in Galveston TX in 1863. After the war he returned to Quincy and joined the Rural Lodge. He died in 1925 and was remembered in his obituary in the Quincy Patriot-Ledger for his remarkable tool chest, among his other achievements.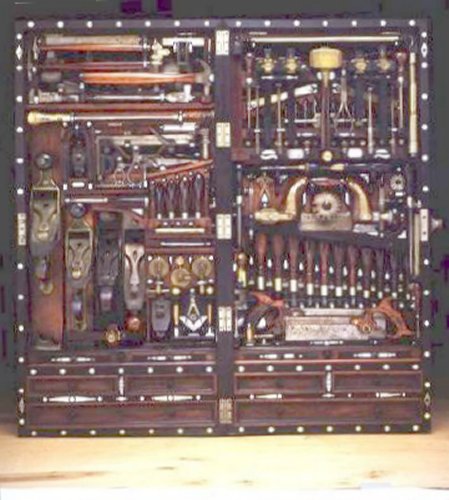 The Studley tool chest
The Studley tool chest was loaned by Studley's grandson, Peter Hardwick, as part of an exhibit at the Smithsonian Institution's National Museum of American History, until it was purchased by a private collector for an undisclosed amount of money. The current owner continues to lend the chest to the Smithsonian on occasion. It has been featured on an episode of The New Yankee workshop on PBS and is the subject of a May 1993 article in Taunton's Fine woodworking and a popular wall poster.
When closed and hanging on a wall it takes up an area of approximately 39 inches by 20 inches with a 9 inch depth. It opens to become a 40 inch by 40 inch tool chest. The chest is made out of mahogany, rosewood, walnut, ebony, and mother of pearl, materials that were probably taken from the Poole Piano Company's scrap material. The fine craftsmanship is exhibited by the fact that each tool fits snugly into its space, often with an audible click as the tool snaps into it's close-fit cavity. Sections of the chest swing out of the case to allow access to a second, and even third, layer of tools. The tool chest features Masonic symbolism, including the square & compasses.
A Little Military Humor
U.S. Navy discovers north pole.

It's Unclear Exactly When Freemasonry Established

By Robert Barron, Staff Writer


As steeped in tradition as the Masonic fraternity is, there seems to be no definitive date for the establishment of the organization.
One widely established theory is it came from stonemason guilds during the Middle Ages. The language and symbols are said to come from that era. Four lodges were established in London about 1717 and records are more accurate after that date.
Freemasonry quickly became popular in the United States. Historic figures such as George Washington, Benjamin Franklin, Paul Revere and John Hancock were Masons. A key concept of Masonry is the "the brotherhood of man under the fatherhood of God."
Today, Masonry is a worldwide fraternity emphasizing personal study, self-improvement and philanthropy. It is believed to be one of the foremost organizations in spreading the ideals of the enlightenment, the dignity of man and the liberty of the individual; the right of all people to worship as they choose; the formation of democratic governments; and the importance of public education. Masons supported the first public schools in the United States and Europe, according to the Masonic Service Association Web site.
Well-known Masons include Stephen F. Austin, colonizer and a leader in the movement to make Texas a state; Gene Autry, singer and actor; and American frontiersman and politician Davy Crockett.
Among Masonic blacksheep are American Revolution traitor Benedict Arnold; comedian Michael Richards, for his racial insensitivity; serial rapist Paul Bernardo; baseball player Ty Cobb for his racial and anti-semitism; Henry Ford for his anti-semitism; and politician Wilbur Mills for his frolic with a Washington, D.C., stripper.
Masons have been the subject of a number of conspiracy theories and "one-world government" influence. Those theories generally fall into three categories: political, alleging control of the government; religious, alleging anti-Christian or satanic beliefs or practices; and cultural, usually involving public entertainment.
Some writers have connected Masons and Knights Templar with worship of the devil. Masonic writing states those ideas were based on misinterpretations of their doctrines.



Here are some of the "funnies" our grandparents enjoyed.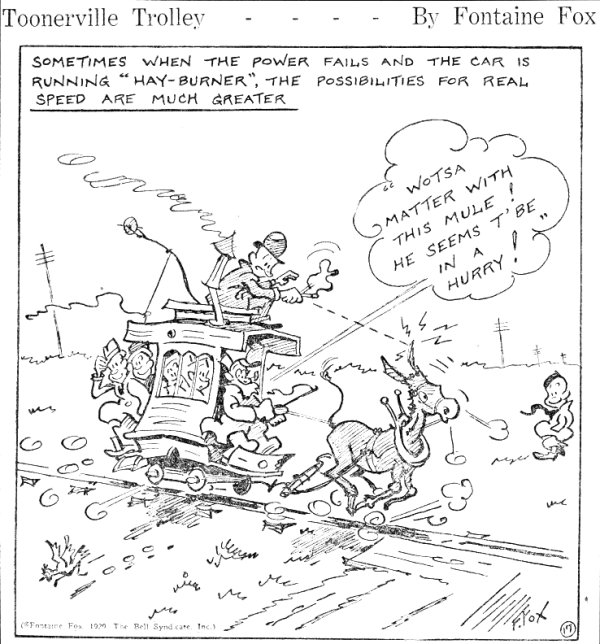 Hand Picked
From the Old Tiler's Talk - by Carl H. Claudy, The Temple Publishers



"I have been thinking," announced the New Brother to the Old Tiler.
"Interesting, if true," murmured the Old Tiler, crossing his legs and leaning his sword against the wall. "Sometimes people think they are thinking when they only think they think."
"Huh?" said the New Brother.
"I said, in other words, give me a cigar," answered the Old Tiler. "If you are thinking, or even if you only think you think and are about to tell me about it, I should have some nicotine as support."
"I have been thinking," went on the New Brother, holding out his cigar case, "that the Masonic fraternity writes one of its unwritten laws upside down. I understand it is un-Masonic for me to ask the best man I know to become a Mason. But if a man against whom I know nothing, except that he is only a fair, average sort of chap, wants to come into my lodge, it is equally against Masonic principles to blackball him, just because he isn't the best educated man in the world!"
"All that you say is true," responded the Old Tiler. "But I think you have only been thinking you thought."
"Ah, but I am not through!" countered the New Brother. "All that being so we stultify ourselves by that unwritten law. If it was the law that no man might apply for Masonry, and that only those who are asked could join, and we were careful whom we asked, what a wonderful personnel we could have!"
"Who, for instance, would you ask?" responded the Old Tiler.
"I know a lot of fellows I would ask!" was the immediate answer. "Dr. Bell, the famous eye man, and Jordan, the English professor, and Dr. Goodspeed, the eminent divine, and Tomlinson, the philanthropist; and that explorer fellow who did such wonderful missionary work...can't think of his name...and...and...oh, a whole lot of wonderful men! Think of the benefit to us all by having men like that in the fraternity."
"It would be wonderful, wouldn't it?" answered the Old Tiler.
"Of course it would! Well, why don't we?"
"Oh, that's simple enough. It wouldn't be Masonic."
"But why?"
"My son," answered the Old Tiler, "can you educate a man calling himself educated? Can you make a brick into gold be calling it gold? Can you make a silk purse out of a sow's ear by naming it a silk purse?"
"Of course not," was the ready answer. "But we...we Masons make things Masonic or not Masonic by the way we look at them."
"Oh, no, we don't!" cried the Old Tiler. "I have just been leading you on to see what you would say. Now I'll tell you what you want to know. We can't make a thing Masonic by calling it so because the principles of Masonry are fixed and unalterable. We agreed they were unalterable when we became Masons. Therefore, we can't alter them. While it would do you and me good if these fine men conceived a regard for the fraternity and became members, it would do us no good to make them Masons on our initiative. Then would then be above the fraternity, not humble members, glad of the blessings of the order. If we picked the men at our own pleasure we might get a higher type of personnel, but they wouldn't be Masons. They would be hand-picked men. We would deny its blessings to the men who need Masonry to shower them upon men who need them least.
"There is no man who cannot be ennobled by Masonic influence. No matter how good a man is, his faith and his morality and his righteousness may be strengthened by Masonic influence. But good men need Masonry much less than others not so good. I do not mean that Masonry should take in bad men, but men like you and me, the average man, the banker, doctor, lawyer, merchant, clerk, laborer, the everyday fellow, needs Masonry in his heart and in his life much more than the eminent men who devote their lives to humanity. Masonry is for all who want her blessings and can show that they deserve them. To restrict it to just a few, and those few picked by men with selfish interests at heart, instead of the interests of their candidates, would be un-Masonic, unnatural, and the death knell of the fraternity.
"There are plenty of clubs, associations, organizations, which hand-pick their members. They are useful, good to know and belong to. But they do no such work as do Masons. As well say no man may join the church of God or hear His ministers preach His word, save those who are invited and say, 'Let us have no candidates except those we choose.'
"After men apply for the degrees, then, indeed we can choose. But our choice should be dictated by the man's character, not his wealth or education or services. If he is a good man, able to afford the fees and dues, unlikely to become a charge on the lodge, and seeking Masonry, we want him. To give the blessings of Masonry only to those who need them least, would be un-Masonic."
"I guess you were right," answered the New Brother.
"Were right? I *am* right!" answered the Old Tiler.
"I mean, I guess you were right when you said I only thought I thought!" smiled the New Brother.
No © Copyright. Free To Use.