History of Person Lodge No. 113
219 Leasburg Street, Roxboro, N.C.

The existence of a Masonic Lodge in Person County can be traced back into the early 1800's by recorded history although Freemasons were present in the county prior to this period.
The first lodge in Roxboro of which there is a record was Temple Lodge U.D. A.F. & A.M. On December 18, 1816 a dispensation for a lodge was granted by Grand Master John L. Tyler of the Grand Lodge of North Carolina. However, due to unknown circumstances the dispensation was surrendered in December 1819 and Temple Lodge was never chartered.
It is entirely possible that some of the members of this first lodge became charter members of Person Lodge some 28 years later, when Grand Master Phineas W. Fanning granted a dispensation to this lodge in the summer of 1847. A charter was granted to Person Lodge No. 113 on December 7, 1847.
Rev. B. M. Williams, a prominent preacher in Person County was elected Master of the Lodge; Edwin G. Reade, a young up-and-coming lawyer and mayor of Roxboro was elected Senior Warden; William R. Denny was elected Junior Warden; James Drumwright was elected Treasurer; William R. Webb was elected Secretary; L. C. Edwards and Chesley Hamlin were appointed Senor and Junior Deacons: and W. O. Bowles was appointed Tyler.
In the proceedings for 1860, Grand Master Lewis L. Williams reported that he received a letter from Brother J. A. Bailey, Master of Person Lodge stating that on March 17, 1860 the lodge was destroyed by fire, its records, charter and contents having been lost in the blaze. A dispensation to assemble and resume their labors was granted by the Grand Master. On December 7, 1869 the Grand Lodge granted a new charter "with its original date and number".
The lodge was a victim of fire again in the 1920's, with only the charter being saved and a third time in the 1950's when most of the furniture and the charter was saved. This is the charter now in use.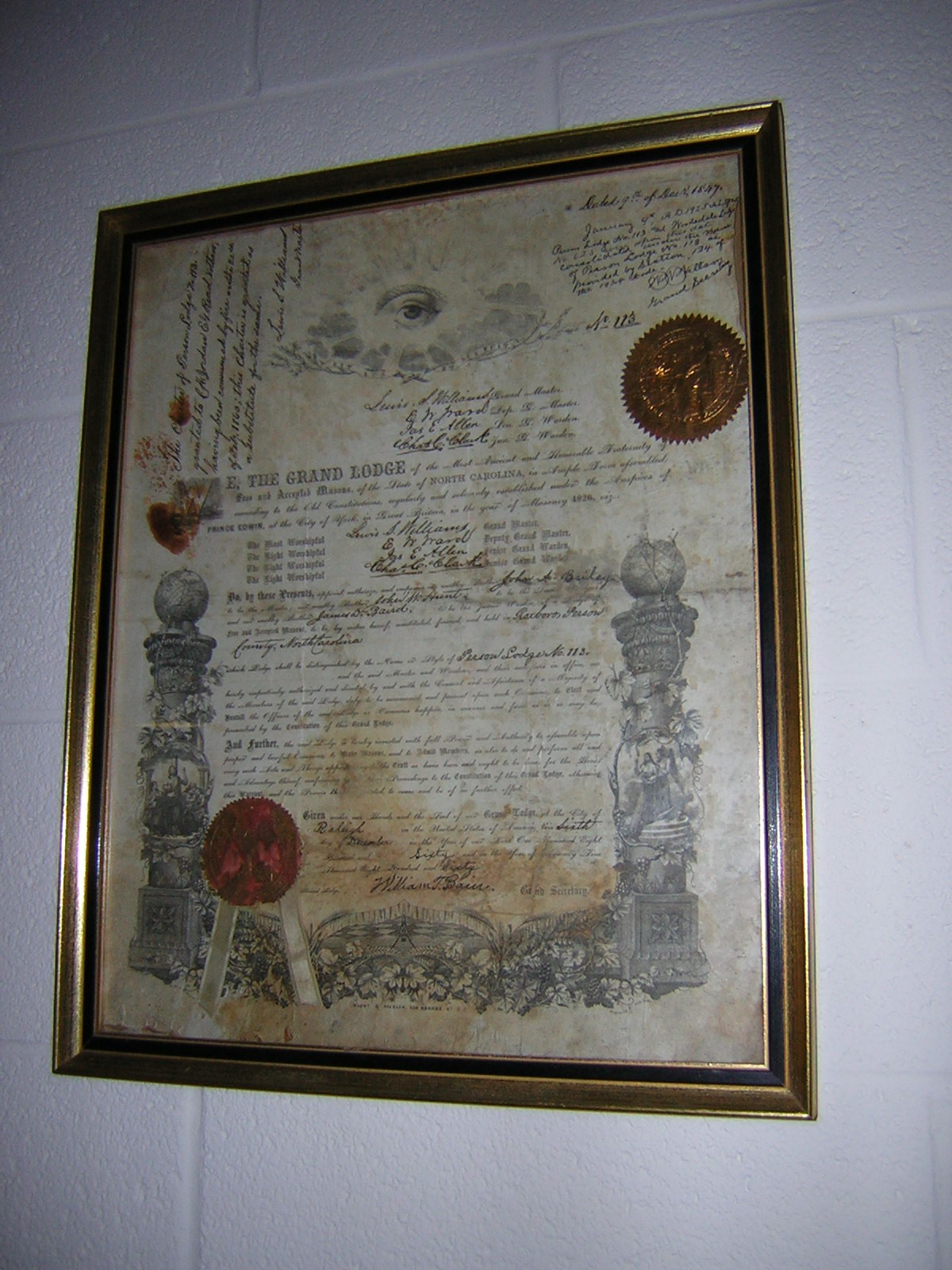 Person Lodge became dormant in 1872 and was revived in 1890 and given its old charter.
Two other lodges in Person County have recorded history; they are Mill Creek Lodge U.D. A.F. & A.M. and Woodsdale Lodge No. 625 A.F. & A. M. A dispensation from Grand Master Francis M. Moye was granted to Mill Creek Lodge in 1855, but was never chartered; the dispensation was revoked in 1897. Woodsdale Lodge No. 625 was granted a dispensation by Grand Master F. P. Hobgood on February 22, 1915 and received its charter from the Grand Lodge on January 19, 1916. This lodge was consolidated with Person Lodge No. 113 on January 9, 1925.
Person Lodge has numbered among its membership three men who have served North Carolina as Grand Master of Masons. Perhaps no other lodge in the state of similar size or in a town of similar population can boast of this record. The three Grand Masters of Masons were Clement Hobson Jordan, who served in 1853-1854; Edwin Godwin Reade, in 1865-1866; and Charles A. Harris, in 1957.
Dr. Jordan was an eminent physician and surgeon who lived in the Oak Grove Community and is buried in the Edwards family cemetery near the Oak Grove church. It is said that "he was always a step ahead of his profession," and that he was intensely interested in other activities in addition to the practice of medicine. He is said to have predicted the possibility of a wireless telegraph some 45 years before the discovery by Marconi, and described how it could be done. He was one of the staunch supporters of the establishment of Saint John's College, which later became Oxford Orphanage. He laid the cornerstone for the first building ever erected at that institution.
In the death of Dr. Jordan on July 11, 1875, Masonry in North Carolina lost an ardent supporter and valuable member.
Judge Edwin Godwin Reade began the practice of law in Roxboro in late 1835, when he was 23 years of age. In writing of Judge Reade some 47 years ago, Judge J. Wallace Winborne former Chief Justice of the North Carolina Supreme Court, told of his nomination to run for Congress in 1855 without his knowledge or solicitation by the Whig-American party. He was elected and served one term, electing to return to his law practice. Although he opposed secession in 1861 when his state seceded he threw his whole loyalty to the Confederacy, and was appointed to the Confederate Senate in 1863 by Governor Vance. Just before this appointment he had been elected to the Superior Court bench, which seat he assumed after one year in the Senate.
He was continued on the Superior court bench by Provisional Governor Holden, and in the winter of 1865, he was elected to the Supreme Court on N.C. by the General Assembly. The towering stature of this man, which rose above political differences, was revealed in 1868 when he was nominated by both parties and elected by the people to the Supreme Court. Judge Winborne said he was the only Justice of the North Carolina Supreme Court ever to serve in both United States and Confederate Congresses.
He died in Raleigh on October 18, 1894, and is buried at Mount Tirzah in Person County. North Carolina Masonry may well be proud that such a man rose to leadership in the fraternity.
Charles Anderson Harris was born July 27, 1900 at Roxboro, N.C. He attended Roxboro schools and old Trinity College, which is now Duke University. He was first employed by a Roxboro Bank and later by a Roxboro textile plant of which he became president and a major stockholder.
Charles Harris was along time member of Long Memorial United Methodist Church and served as Board Chairman and Church School Superintendent.
His Life long interests in the youth of America was evidenced by his many years of service to the Boy Scouts of America and by his many efforts in support of the Order of De Molay. He was signally honored by each of these organizations.
Charles Harris became a Master Mason February 5, 1924 in Person Lodge No. 113. He served Person Lodge five terms as its Master and for many years was Secretary of the lodge. He served the Grand Lodge as a Certified Lecturer and as a District Deputy Grand Master. His service, reputation and character was such, that in 1949 he was selected by Grand Master Wilkins P. Harton to be Grand Stewart of the Grand Lodge. Progressing steadily through the line of Grand Lodge officers he was elected Grand Master on April 15, 1957 and served Masonry with honor and distinction during his year in the Grand East.
In 1959 his brethren selected him to become Grand Secretary and for the next 15 years he served diligently in that post. Following his retirement he was elected Grand Secretary Emeritus.
In the twilight of his Masonic career, in 1977 he became a dual member, being one of the Masons chartering Masters Lodge No. 754 in Raleigh. He was then perhaps the only North Carolina Mason ever to simultaneously hold Life Membership in two lodges and to be issued the number one dues card by each lodge.
Further evidence of the esteem in which his brethren held him are the scores of Honorary Memberships to which he was elected by lodges in all areas of North Carolina, in other States and even abroad. His love and his generosity for Person Lodge are very evident by the many books. Pictures and personal Masonic items donated by him and his family to our Lodge.
He died on November 26, 1980 and was returned to Roxboro for interment with full Masonic Honors by the Most Worshipful Grand Lodge of North Carolina.
Brother Ernest M. Bailey, the oldest living member of Person Lodge No. 113 has the distinction of being the only known member to serve as Master of Woodsdale Lodge No. 625 A.F. & A.M. before it consolidated with Person Lodge No. 113 and to serve as Master of Person Lodge in 1935.
The beautiful furniture that adorns the East, West and South was procured form a Methodist Church in Danville, Virginia by Bother Charles Harris. These chairs were salvaged from the fire in the 1950's, refinished and remain a prized possession of our Lodge.
In 1948 Brother Rhyland T. Snapp, a dedicated Mason, died and bequeathed a generous legacy to Person Lodge No. 113. This, along with portions of land given on Leasburg Street by the William H Harris family, became a beginning for the construction of a new Lodge Temple.
Although we specifically recognize Bro. Snapp and Bro. Harris for their generous acts we have no thoughts of minimizing the contributions of others toward the building of this Temple.
In 1963 construction of the new Lodge Temple began. Brother Samuel A. Oliver, Jr. was Master of the Lodge and also an employee of the George W. Kane Construction Co. who was awarded the contract for the construction of the Temple. It is said that Brother Sam used the best materials and workmanship that he could muster during the construction and his employer Mr. Kane supported him wholeheartedly.
On the day of the Laying of the Cornerstone Ceremony, November 22, 1963 news was received that President John F. Kennedy, the 35th President of the United States had been shot to death. On the following day permission was granted by the Grand Master to reopen the cornerstone and place inside it copies of the Courier-Times and Durham Morning Herald newspapers containing the headline news of Kennedy's assassination.
The effects were consummated and the Temple was dedicated by Grand Master W. H. Burrier with a number of Grand Lodge officers on April 15, 1964. About 250 people were in attendance including notables from 13 other North Carolina Lodges. This was a very proud and joyous occasion for Charlie F. Gentry, Master of the Lodge, his officers and members.
The original building committee members were: W. F. Timberlake, J.W. Green, A. H. Rimmer, S. A. Oliver and W. B. Mewborne.
The original finance committee members were: M. Banks Berry, O. C. Hull, C. A. Harris, Emory Foushee, O. T. Kirby , D. R. Taylor and Manley Whitfield.
On Ladies Night, October 1, 1974 a celebration of "Burning of the Mortgage" was performed. The successful payment of the debt in ten years was an outstanding accomplishment by the Brethren. Brother Sam Oliver Jr., Master of the lodge recognized Brothers W. F. Timberlake and A. H. Rimmer for their effort in raising the funds for the payoff.
For many years our members and guests have enjoyed the outstanding Masonic poems written by Brother j. W. Green. His poetry has been an inspiration to all of us. Brother Green has served four terms as Master of the Person Lodge.
Due to the outstanding leadership of Masons, too numerous to name, Person Lodge No. 113 continues to practice Harmony through the strength and support of its membership.

August 20, 1986
Kenneth E. Paith P.M.