WALLER MASONIC
LODGE #808 AF & AM

2106 Main St. in Downtown Waller, Texas
Mail To;

PO Box 158, Waller 77484

(936) 372-3875
Stated Meetings Second Tuesday 7:30 PM
Study Nights Every Monday Night 7:00 PM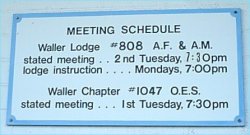 Waller Lodge is known as "The Good Time Lodge".
We believe that we are BROTHERS in every sense
of the word. We are a very close group of men
who love each other dearly. We take our laughter
very seriously, and love sharing our "good times"
with other lodges and visiting brethren whenever
we get the chance. So, come join us and see why
we are so deservedly called...
"THE GOOD TIME LODGE"
Waller Lodge History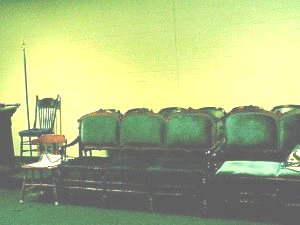 The beautiful old handmade furniture inside of Waller Lodge #808 was Donated by Holland Lodge #1 to the Waller Lodge in 1911 after half of the town of Waller burned in a disastrous fire. Of course the lodge building was included in the half that burned. Everything inside the building was lost.
Since the furniture was used in the first lodge in Texas it is very likely that when you sit in lodge in Waller, you are sitting where Sam Houston, Anson Jones and many other Texas heroes sat before you.

The Waller Lodge #808 was chartered on December 7, 1897 when 21 Masons submitted a petition for the new lodge. The charter members were,
E.A. Adams
T.J.Arendale
J.P. Byrnes
M.B. Birch
D.A. Cabeen
A.E. Claude
J.G. Dupree
J.R. Dupree
O.C. Dennis
J.W.Gallion
W.M. Glasscock
J.E. Mills
J.A. Martin
J.W. Phillips
T.A. Pope
C. Palm
George A. Race
J.E. Rawlston
W.L. Sledge
E.B. Womack
George P. Zeis
OFFICERS 2008/2009
| | |
| --- | --- |
| WORSHIPFUL MASTER | Robert "Bob" Podvin |
| SENIOR WARDEN | Dave Reagan |
| JUNIOR WARDEN | Bart Harvey |
| TREASURER | Michael "Mike" Risley. |
| SECRETARY | John "Corky" Daut |
| CHAPLIN | Doyle Sitton |
| SENIOR DEACON | Brack Whitehead |
| JUNIOR DEACON | Gary Mosmeyer |
| TYLER | Jimmy Hooper |
No © Copyright.
brookshire Lodge
Free To Use.

---
All material in this site may be used
to educate everyone, Masons and
non-Masons alike about Freemasonry
and for the promotion of Freemasonry.