BROOKSHIRE MASONIC LODGE #1066 AF & AM
Masonic Lodges In The
Waller County Area
Conroe Masonic Lodge #748
Rodger Sawyer W.M.
www.conroe748.org
email Alan McCollum admcc@suddenlink.net
Masonic District 28
Located in Montgomery County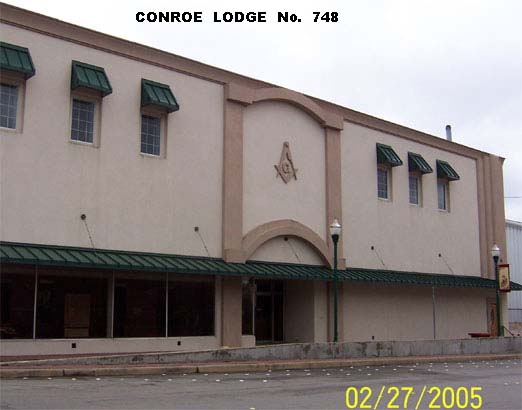 114 year old Lodge
( Charter granted December 6, 1894)
Members: 329
Lodge Address: 311 Simonton, Conroe 77301
---- Driving Directions -----
from I-45, go east on SH 105 to Frazier (SH 75), turn right (south). go one block to Simonton, turn left (east). go 2 blocks, Lodge is on right (south) side of Simonton.

Mailing Address: 311 Simonton
Meetings: Third Monday of each month, 7:00 p.m.
Meal: 6:30 pm
Floor School: every Monday and Wednesday 6:00 pm
Lodge Phone: 936-756-2435
Current Officers

Office

Name

email Address

Phone

Worshipful Master

Rodger Sawyer

N/A

936-321-1339

Senior Warden

D. Huddleston

49copperhead@sbcglobal.net

281-362-7326

Junior Warden

Dale Arquette

N/A

N/A

Secretary

Alan McCollum

admcc@suddenlink.net

936-756-1876
----- Lodge News -----
No © Copyright.
brookshire Lodge
Free To Use.

---
All material in this site may be used
to educate everyone, Masons and
non-Masons alike about Freemasonry
and for the promotion of Freemasonry.

Page Crafted By Corky


The Pine Island Webwright